Countdown to PCOM South Georgia Begins
July 26, 2018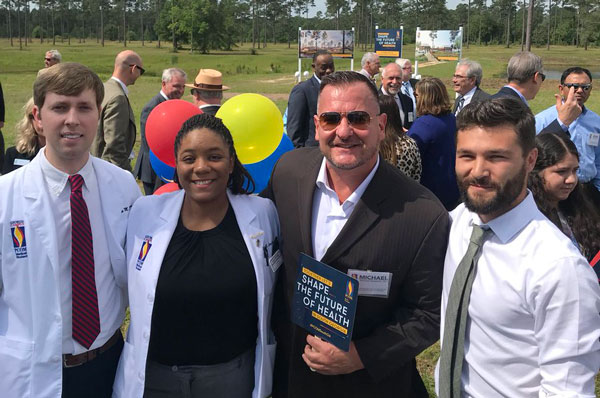 (L. to r.) Stephen Yarbrough (DO '19), Iza Jordan (DO '19), Dr. Michael Sampson and Rick Manrique (DO '19) are pictured at the April 2018 groundbreaking ceremony at PCOM South Georgia.
---
Philadelphia College of Osteopathic Medicine (PCOM) administrators, along with construction managers, prospective students and South Georgia community leaders are aware that the clock is ticking toward the completion of PCOM South Georgia in Moultrie, Georgia.
August 12, 2019 is the projected first day of class and, with that in mind, a countdown clock has been started. It notes the seconds, minutes, hours and days until classes begin at the additional location in Moultrie. In addition, construction progress can be viewed on a time lapse camera which can be seen on the PCOM website.
William Craver III, DO, FACOS, has assumed the position of vice provost for PCOM with academic responsibility for both Georgia Campus - Philadelphia College of Osteopathic Medicine (GA-PCOM) in Suwanee and PCOM South Georgia. Michael J. Sampson, DO, FAOASM, has been named the associate dean and chief academic officer for PCOM South Georgia. He will soon relocate to the region to begin the day to day operations of overseeing the establishment of PCOM's additional location.
In the meantime, the Office of Admissions is receiving applications from prospective students and will begin interviewing in late September, and the Human Resources department is accepting applications and interviewing candidates to fill open faculty and staff positions.
All interviews are currently taking place at GA-PCOM in Suwanee. However, a temporary office location in Moultrie has been selected and will soon be occupied by Dr. Sampson and other faculty and staff members while PCOM South Georgia is under construction.
The Office of Student Affairs has engaged Gail Dillard, PhD, to work with Dr. Sampson to plan for the 55 osteopathic medical students who will be accepted into the inaugural class in Moultrie. Dr. Dillard is the former interim vice president for academic affairs at Abraham Baldwin Agricultural College in Tifton.
The college is responding to requests for speaking engagements from a wide variety of community organizations, a function that is being coordinated by the Office of the Chief Campus Officer at GA-PCOM.
It's an exciting time for the college as the groundwork is laid for the new location in South Georgia. Before we know it, the time to welcome new students will have arrived.

You May Also Like:


About PCOM South Georgia
Philadelphia College of Osteopathic Medicine (PCOM) extended its commitment to the Southeast by establishing PCOM South Georgia, an additional teaching location in Moultrie, Georgia, which offers a full four-year medical program leading to the Doctor of Osteopathic Medicine (DO) degree. In addition, a Master of Science in Biomedical Sciences will be offered beginning in August 2020. PCOM is a private, not-for-profit institution which trains professionals in the health and behavioral sciences fields. Joining PCOM Georgia in Suwanee in helping to meet the healthcare needs of the state, PCOM South Georgia focuses on educating physicians for the South Georgia region. The medical campus, which welcomed its inaugural class of medical students on August 12, 2019, has received accreditation from the American Osteopathic Association's Commission on Osteopathic College Accreditation. For more information, visit pcom.edu/southgeorgia or call 229-668-3110.
For more information, contact:
Jordan Roberts
Public Relations and Social Media Specialist
Email: jordanro1@pcom.edu
Office: 229-668-3198 | Cell: 229-873-2003
Connect with PCOM South Georgia