Facilities

PCOM South Georgia
PCOM South Georgia is currently under construction on 31 acres off Tallokas Road in Moultrie, Georgia. The 75,000-square-foot, state-of-the-art facility will include classrooms, an anatomy lab, an Osteopathic Manipulative Medicine (OMM) lab, simulation center, small group study rooms, information commons and a café.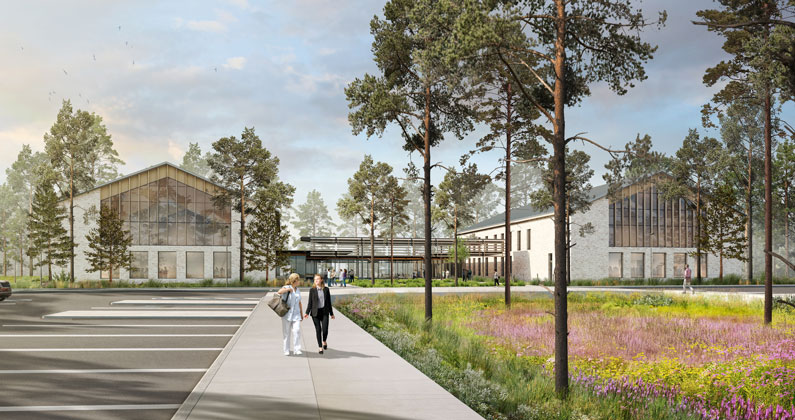 Principal architectural firm Sasaki, Inc. prepared architectural renderings for PCOM South Georgia—an additional location of Philadelphia College of Osteopathic Medicine (PCOM).
---
The building, shaped like an asymmetric "K", has four distinct wings stretching outward from a central common space that serves as the entry lobby and social space. On the north side of the building, at the public entry point, the wings of the building frame an entry courtyard which will feature native wildflowers and plantings.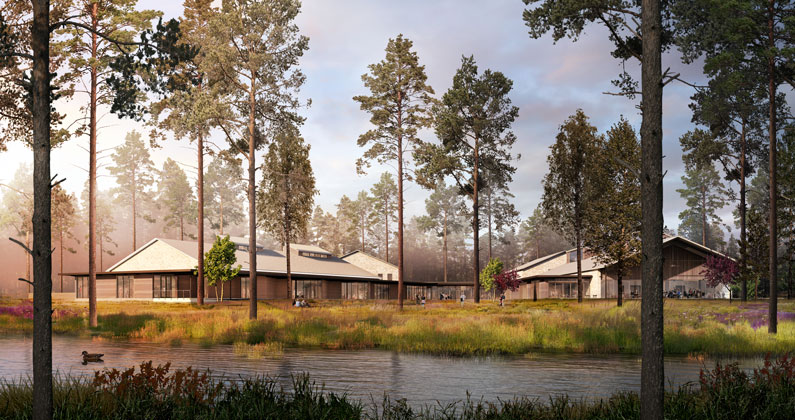 Bryan Irwin, an architect with Sasaki, Inc., described designing PCOM South Georgia as a "great opportunity for us to create a building that expresses the value and the principles of PCOM."
---
Inside the building, the entry lobby will afford expansive views of the surrounding landscape while creating a space of connection and collaboration for students, faculty, researchers and the public. Outside, a large covered porch will provide a shaded area to study, socialize and relax.
The natural setting of the building offers students a unique and relaxing environment. The building materials and features further complement this sense of serenity and calm. Natural wood will be used on the building exterior and in the interior. Large windows and roof lanterns harvest daylight and special care is being taken to provide a sophisticated acoustic environment throughout the building allowing for quiet study and active engagement as appropriate.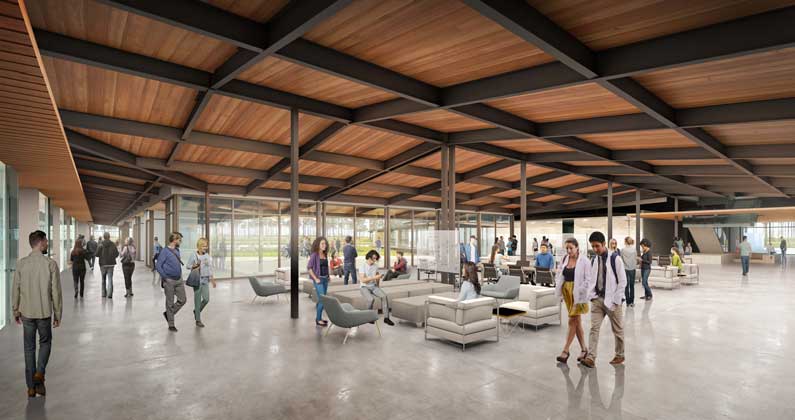 The building will feature abundant natural lighting and open spaces.
---
The educational spaces include four large classrooms featuring natural daylight and the flexibility to accommodate different uses and styles of teaching. In addition to the modern OMM lab and anatomy lab, students will train in a simulation center with six exam rooms and four acute care rooms.
PCOM South Georgia is expected to open in the summer of 2019.