Officials Reveal PCOM South Georgia Design
April 20, 2018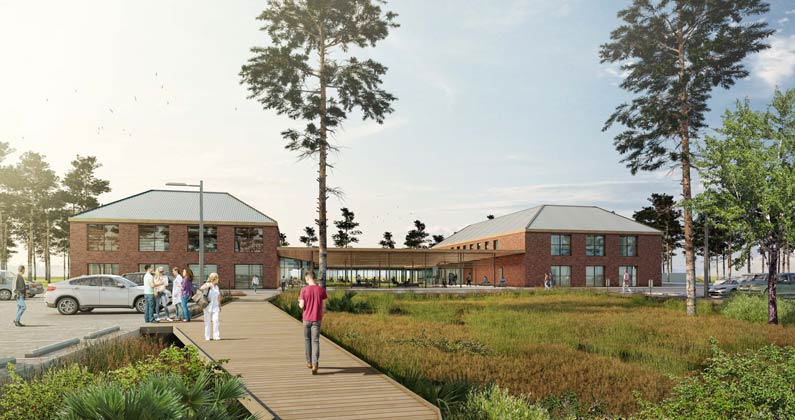 PCOM South Georgia is designed to showcase the power and uniqueness of a PCOM education.
---
Principal architectural firm Sasaki, Inc. has released architectural renderings for PCOM South Georgia—an additional location of Philadelphia College of Osteopathic Medicine (PCOM). The multi-million dollar facility in Moultrie, Georgia will house a four-year osteopathic medicine program.
Bryan Irwin, an architect with Sasaki, Inc., described the opportunity to design for the 31-acre location.
"When you look at the life of an institution, there aren't many times where you get an opportunity like this where you have a site that's a beautiful blank slate," he said. "It's a great opportunity for us to create a building that expresses the value and the principles of PCOM specifically, but also the larger opportunity to talk about what osteopathic medicine is all about and its more holistic view of the world."
The new institution, which will have an initial enrollment of approximately 55 students training to become doctors of osteopathic medicine, will include classrooms, an anatomy lab, a group study porch and a café.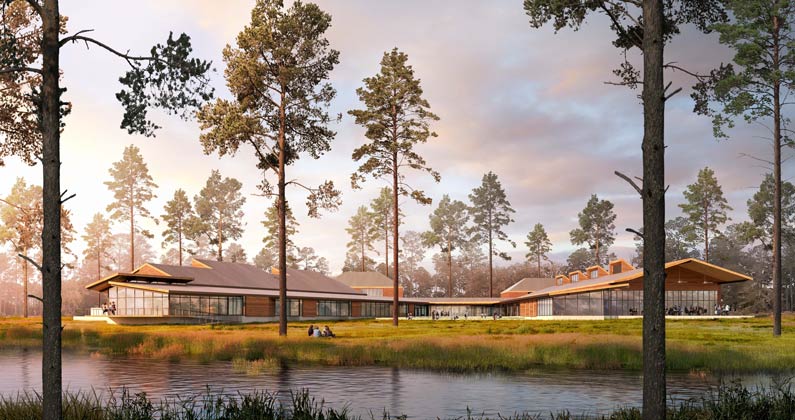 "What we want people to do when they come to this building is to realize the power of PCOM and the uniqueness of PCOM. That there's no other institution out there like PCOM and there's no other facility like this facility," Irwin explained.
A groundbreaking ceremony for PCOM South Georgia is scheduled for Thursday, April 26, 2018 at 11 a.m. in the 2100 block of Tallokas Road near the intersection of Veterans Parkway in Moultrie, Georgia.
PCOM will also host an information session on Thursday, April 26, at 4 p.m. at Abraham Baldwin Agricultural College.
You May Also Like:


About PCOM South Georgia
Philadelphia College of Osteopathic Medicine (PCOM) extended its commitment to the Southeast by establishing PCOM South Georgia, an additional teaching location in Moultrie, Georgia, which offers a full four-year medical program leading to the Doctor of Osteopathic Medicine (DO) degree. In addition, a Master of Science in Biomedical Sciences will be offered beginning in August 2020. PCOM is a private, not-for-profit institution which trains professionals in the health and behavioral sciences fields. Joining PCOM Georgia in Suwanee in helping to meet the healthcare needs of the state, PCOM South Georgia focuses on educating physicians for the South Georgia region. The medical campus, which welcomed its inaugural class of medical students on August 12, 2019, has received accreditation from the American Osteopathic Association's Commission on Osteopathic College Accreditation. For more information, visit pcom.edu/southgeorgia or call 229-668-3110.
For more information, contact:
Jordan Roberts
Public Relations and Social Media Specialist
Email: jordanro1@pcom.edu
Office: 229-668-3198 | Cell: 229-873-2003
Connect with PCOM South Georgia