Virtual Tour

Pennsylvania and Georgia Locations
Welcome to the Philadelphia College of Osteopathic Medicine virtual tour. We invite you to learn more about our Pennsylvania and Georgia locations by exploring our vibrant campuses through 360-degree images, photo galleries and videos.
TAKE A VIRTUAL TOUR
Click the links below to learn more about the virtual tour features. Several sections contain video demonstrations. TIP: After clicking the "play" arrow, move your cursor below the video frame to hide the video controls. You may also click on the full screen icon (

) to the right of the controls to view the video in a new window.


Navigate the tour
When accessing the tour on desktop, you can toggle through scenes by clicking the arrow buttons to the right and left sides of your screen or selecting a scene from the thumbnails displayed at the bottom of the screen.
Zoom in or out
Use your scroll button to zoom in or out or use the controls in the bottom right corner of the screen.
View additional scene details, photos and/or videos
Click on "+more information" to view additional details including photos and/or videos.
View additional tour options
Click on the menu icon in the top right corner of the screen to view additional tour options.
Change view to full screen, turn off auto-rotate and more tour tools
Use the tools menu at the bottom right of the screen to change the tour to full screen, turn off auto-rotate and more.
Turn on "little planet" or architectural view
Right click on your screen and select your preferred viewing option.
Use Google Cardboard
Open the tour on your mobile phone and select the Google Cardboard icon. You can also select the "Enter VR" menu option. Insert the phone in your Google Cardboard headset and turn your head to look around the scene.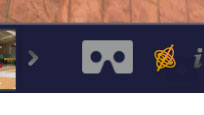 More Information
Prospective students can learn more by attending an open house or information session or scheduling an on-campus tour. For more information about visiting in person or applying to our campus, visit admissions.pcom.edu.
MAPS AND DIRECTIONS