PCOM South Georgia Plans First White Coat Ceremony
October 10, 2019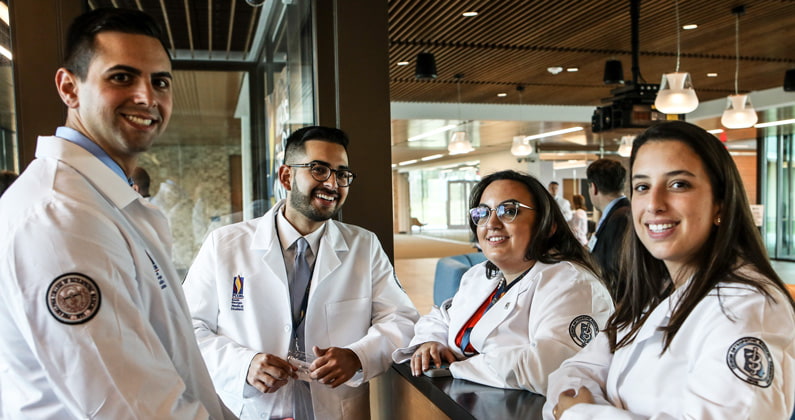 First-year medical students will receive the traditional garb in front of friends and family at the October 18 event.
---
Fifty-nine osteopathic medical students will symbolically don white coats – the uniform of the clinical practitioner – at a White Coat Ceremony planned for Friday, October 18, 2019 at 10 a.m. Jessica Brumfield Mitcham, DO '15, a PCOM Georgia graduate who completed a family medicine residency at the Georgia South Family Medicine Residency Program and now practices in Moultrie, will address the first year students.
The event will take place at PCOM South Georgia with family and friends of the students invited. The campus is located at 2050 Tallokas Road in Moultrie.
The class of 2023 began their education on August 12, 2019, six days after a ribbon-cutting ceremony where Georgia Gov. Brian Kemp delivered the keynote address. Certified in Basic Life Support, they immediately began their studies with the assistance of 38 faculty and staff members.
More than 3,000 applications were received for the first class and 30 men and 29 women with an average age of 25, were selected. Among others, they call Georgia counties such as Colquitt, Lowndes, Tift, Lee, Bibb, Jeff Davis and Muscogee, home.
The students earned undergraduate degrees at a number of Georgia colleges including Abraham Baldwin Agricultural College in Tifton, Augusta University in Augusta, Berry College in Rome, Fort Valley State University in Fort Valley, Georgia Tech in Atlanta, Georgia Southern University in Statesboro, Kennesaw State University in Kennesaw, Mercer University in Macon, the University of Georgia in Athens, Valdosta State University in Valdosta, in addition to other out-of-state institutions. Twelve of the class members also hold master's degrees.
Class officers, a DO Council and an Ethics Committee have been elected and the student leadership team holds regular meetings to plan activities. In addition, student ambassadors have been trained and assist at admissions events including open houses, information sessions and campus tours. Student clubs and organizations will be established this spring.
You May Also Like:
About PCOM South Georgia
Philadelphia College of Osteopathic Medicine (PCOM) extended its commitment to the Southeast by establishing PCOM South Georgia, an additional teaching location in Moultrie, Georgia, which offers a full four-year medical program leading to the Doctor of Osteopathic Medicine (DO) degree. In addition, a Master of Science in Biomedical Sciences will be offered beginning in August 2020. PCOM is a private, not-for-profit institution which trains professionals in the health and behavioral sciences fields. Joining PCOM Georgia in Suwanee in helping to meet the healthcare needs of the state, PCOM South Georgia focuses on educating physicians for the South Georgia region. The medical campus, which welcomed its inaugural class of medical students on August 12, 2019, has received accreditation from the American Osteopathic Association's Commission on Osteopathic College Accreditation. For more information, visit pcom.edu/southgeorgia or call 229-668-3110.
For more information, contact:
Jordan Roberts
Public Relations and Social Media Specialist
Email: jordanro1@pcom.edu
Office: 229-668-3198 | Cell: 229-873-2003
Connect with PCOM South Georgia