PCOM Seeks Continued Community Support
January 8, 2018
The following "letter to the editor" from President and CEO Jay Feldstein, DO, regarding the development of PCOM South Georgia was sent to publications across the South Georgia region.
Dear Editor,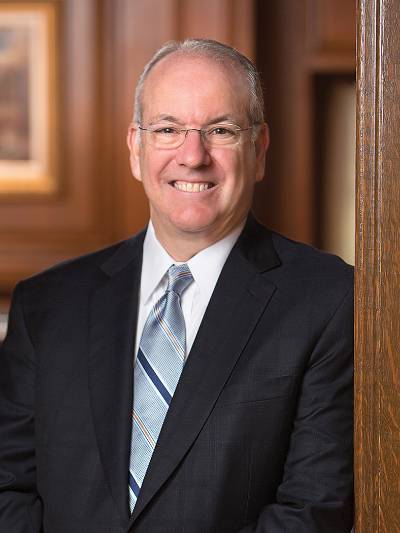 On behalf of PCOM, I join with the South Georgia region in celebrating our accrediting organization's approval of the development of a four-year regional medical school in Moultrie, a location deemed desirable by the national consulting firm we engaged to help us select a location. With regional support, PCOM plans to build a 75,000 square foot educational facility with an inaugural class of 55 Doctor of Osteopathic Medicine (DO) students who will begin classes in August of 2019.
There are many individuals, organizations and public entities in the South Georgia region that have played significant roles in getting us to this positive decision point. I thank all of you for the collective support and encouragement over the past several months.
As we all know, there's much work to be done. Along with the site selection and construction phase, we will begin hiring faculty members and staff, and, most importantly, recruiting students for the campus to be known as PCOM South Georgia. I look forward to introducing our soon-to-be-hired associate dean to the region and telling the campus' story to our applicants.
We need continued community support to ensure that this project is a success—from referring prospective students and employees to PCOM South Georgia to helping us plan pipeline programs with area youth to providing enthusiastic support as we embark on this journey together.
Medical school is a rigorous process with students primarily spending the first two years in classroom and lab settings. The latter two years involve medical experiences in hospitals, clinics and physicians' offices where students gain practical experience, and where physicians are able to share their knowledge with the next generation of doctors. We look forward to further collaborating with the South Georgia healthcare community—partners who are crucial to the educational process.
All benefit from this collaboration, including the communities where these clerkships occur. Aside from the economic impact, research shows that students, who have the opportunity to attend medical school, perform clerkships and complete residencies in a region, often remain in the area to practice medicine. PCOM is working diligently to offer a solution to the region's critical need for physicians.
We look forward to working with community members in South Georgia—Moultrie, Thomasville, Tifton, Valdosta, Albany, Americus and many other areas—who will have the opportunity to embrace our students.
We ask you to send us your best and your brightest and we will diligently work to educate them to become very capable physicians. And we invite you to keep up with our progress through our website, pcom.edu, and our Facebook page, PCOM South Georgia.
As we begin what will surely prove to be an exciting 2018, please know that the PCOM community looks forward to becoming an integral part of the South Georgia region.
Best wishes and warmest regards,
Jay Feldstein, DO
President and CEO
Philadelphia College of Osteopathic Medicine

You May Also Like:


About PCOM South Georgia
Philadelphia College of Osteopathic Medicine (PCOM) extended its commitment to the Southeast by establishing PCOM South Georgia, an additional teaching location in Moultrie, Georgia, which offers a full four-year medical program leading to the Doctor of Osteopathic Medicine (DO) degree. In addition, a Master of Science in Biomedical Sciences will be offered beginning in August 2020. PCOM is a private, not-for-profit institution which trains professionals in the health and behavioral sciences fields. Joining PCOM Georgia in Suwanee in helping to meet the healthcare needs of the state, PCOM South Georgia focuses on educating physicians for the South Georgia region. The medical campus, which welcomed its inaugural class of medical students on August 12, 2019, has received accreditation from the American Osteopathic Association's Commission on Osteopathic College Accreditation. For more information, visit pcom.edu/southgeorgia or call 229-668-3110.
For more information, contact:
Jordan Roberts
Public Relations and Social Media Specialist
Email: jordanro1@pcom.edu
Office: 229-668-3198 | Cell: 229-873-2003
Connect with PCOM South Georgia