Pre-Clinical Shadowing Sets Up Counseling Students for Success
April 29, 2019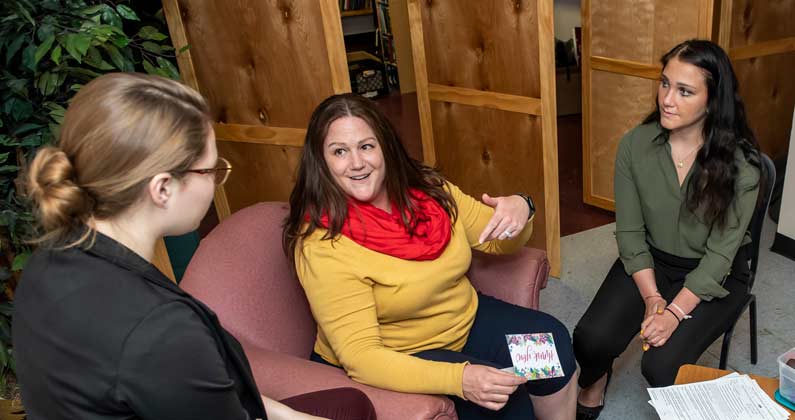 Students in the MS in Counseling program at PCOM participate and engage with residents of Self-Help Movement, Inc., an addiction recovery center near Philadelphia.
---
First-year students in the MS in Counseling program at Philadelphia College of Osteopathic Medicine (PCOM) have been getting a unique pre-clinical educational experience with Lisa Corbin, assistant professor, counseling, at a residential facility in Greater Northeast Philadelphia that works with adult men seeking treatment for substance use disorders and co-occurring difficulties.
Once a week, students shadow Ms. Corbin as she runs a mindful meditation group for residents of Self-Help Movement, Incorporated. The 90-minute sessions start with introductions and a brief description of mindfulness. Dr. Corbin then leads the men—who range in age, length of sobriety, socioeconomic status, sexual orientation, ethnicity and cultural identity—in a series of mindful meditation sessions and grounding exercises, which are activities that can help center a person when confronted with intense feelings. The group then works together to process their feelings after these activities.
Counseling students are able to engage and interact with the men in the group. Samantha Zajdel (MS/MHC '20) said she had never had any experience with an in-patient setting and found the observational experience fascinating.
"Our first few semesters, we spend so much time in the classroom, learning the basics of counseling," she said. "It was helpful to have the opportunity to see Professor Corbin in action, implementing the activities and interventions we learned about in her class in real-time."
Ms. Corbin noted that other students have found that interacting with the group—particularly one this diverse—has helped dispel some of their own preconceived notions about addiction and recovery.
"The goal of this experience is to change the mindset about what therapy really is," said Ms. Corbin. "Up until this point, most of the students have only learned what to do from books. Our hope is that these experiences will help alleviate some of the anxieties that many students face when they begin their clinical work."
Ms. Zajdel, who currently works with children, adolescents and teenaged clients providing social and behavioral therapy, said, "I don't know if I would have been exposed to this environment or population of clients if I hadn't done this. It gave me another perspective on what I can do in such a broad field."
The shadowing experience with Ms. Corbin is the latest initiative the Department of Counseling has undertaken to help get students more hands-on training before their second year, when they begin their clinical rotations.
Other projects include a phone-based support system for patients of PCOM's community-based Healthcare Centers, which aims to help them meet their healthy lifestyle goals; and Standardized Training and Evaluation for Psychologists and Psychotherapists (STEPPS) exercises, through which students conduct intake evaluation sessions with standardized mental health patients, or SPs.
Elizabeth Gosch, PhD, professor, psychology and chair of the Department of Counseling, noted that in exit interviews, students routinely list STEPPS as "the best part of the program," and "extremely helpful."
"We are always looking for ways to increase our students' clinical experience in their first year, so that they are as prepared as possible for when they begin their clinical work so that ultimately, they can deliver the best possible care to their clients," said Dr. Gosch.

You May Also Like:


About Philadelphia College of Osteopathic Medicine
Founded in 1899, Philadelphia College of Osteopathic Medicine has trained thousands of highly competent, caring physicians, health practitioners and behavioral scientists who practice a "whole person" approach to care—treating people, not just symptoms. PCOM offers doctoral degrees in clinical psychology, osteopathic medicine, pharmacy, physical therapy and school psychology, and graduate degrees in biomedical sciences, forensic medicine, mental health counseling, organizational development and leadership, physician assistant studies, school psychology, and public health management and administration. Our students learn the importance of health promotion, research, education and service to the community. Through its community-based Healthcare Centers, PCOM provides care to medically underserved populations in inner city and rural locations. For more information, visit pcom.edu.
For more information, contact:
Orla Moloney
Public Relations and Marketing Specialist
Office: 215-871-6334 | Cell: 267-449-1360
Connect with PCOM