New PCOM Program Seeks to Prevent Opioid Misuse
September 26, 2018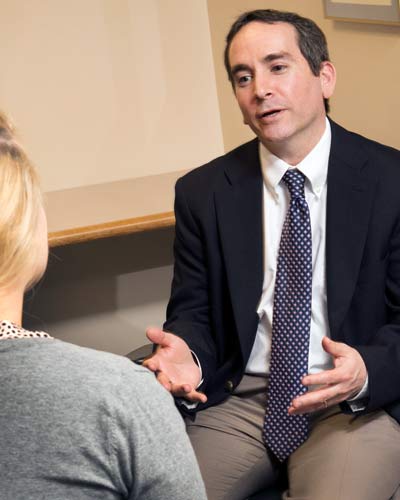 Research suggests that chronic pain is a key factor associated with opioid misuse; one study out of Harvard University and funded by the National Institutes of Health found that among patients with chronic pain, those who reported less ability to tolerate physical or emotional distress were more likely to misuse opioid analgesics.
A new program at Philadelphia College of Osteopathic Medicine (PCOM) is attempting to address that emotional distress before misuse occurs, by teaching sufferers safe and effective non-pharmaceutical pain management approaches.
Called the Community Partners in Fighting the Opioid Epidemic (CP-FOE), the initiative will work to educate patients suffering from chronic pain about the dangers of opioid misuse and teach them how to manage their chronic pain through techniques common in Cognitive Behavioral Therapy (CBT).
"Roughly half of patients with chronic pain seek treatment through primary care, which makes those practices an ideal access point to identify those at highest risk for opioid misuse," said Scott Glassman, PsyD '13, associate director of the MS program in mental health counseling and creator of CP-FOE.
In addition to chronic pain, other predictors of opioid misuse include a current opioid prescription; family or personal history of illicit drug use; poor sleep quality; depression and impulsivity.
As part of the educational program where the dangers of opioid misuse are discussed, patients in PCOM's Family Medicine practices who suffer from chronic pain will take part in a survey to determine their perceived level of pain as well as whether any other risk factors for misuse are present.
Participants will then learn specific techniques grounded in CBT that can help change their mindset surrounding their pain, such as relaxation training, mindfulness, challenging maladaptive beliefs about pain (e.g., "I can't do anything because of pain") and activity pacing. Participants are encouraged to bring a family member or other trusted person for support during the program. They can participate in online sessions, in a series of individual meetings with a behavioral health consultant or in quarterly, 3-hour immersive workshops.
A second arm of CP-FOE will focus on educating primary care practitioners on areas such as signs of opioid misuse, who can be most at risk for opioid misuse, having productive, patient-centered discussions about treatment options and where to send patients if they are in need of treatment. The first of these sessions, for which attendees will receive one continuing medical education credit, will take place Saturday, September 28.
"Opioid misuse prevention in primary care demands a multi-pronged approach which includes education, risk assessment and behavioral approaches to pain," said Dr. Glassman.
Existing research suggests that patient education can be helpful where chronic pain is concerned; The Department of Veteran's Affairs and the US Department of Defense recommend patient and family education as part of their practice guidelines for the management of opioids for chronic pain. In addition, the US Substance Abuse and Mental Health Services Administration notes that providing patients with culturally sensitive and linguistically appropriate education can help improve health outcomes in myriad ways by: improving treatment adherence; promoting realistic expectations to increase treatment satisfaction and enhancing patient's feelings of self-efficacy.
CP-FOE is supported by funding from the Independence Blue Cross Foundation's Supporting Treatment and Opioid Prevention (STOP) Initiative, which aims to increase access to evidence-based opioid use disorder prevention and treatment.

You May Also Like:
About Philadelphia College of Osteopathic Medicine
Founded in 1899, Philadelphia College of Osteopathic Medicine has trained thousands of highly competent, caring physicians, health practitioners and behavioral scientists who practice a "whole person" approach to care—treating people, not just symptoms. PCOM offers doctoral degrees in clinical psychology, osteopathic medicine, pharmacy, physical therapy and school psychology, and graduate degrees in biomedical sciences, forensic medicine, mental health counseling, organizational development and leadership, physician assistant studies, school psychology, and public health management and administration. Our students learn the importance of health promotion, research, education and service to the community. Through its community-based Healthcare Centers, PCOM provides care to medically underserved populations in inner city and rural locations. For more information, visit pcom.edu.
For more information, contact:
Orla Moloney
Public Relations and Marketing Specialist
Office: 215-871-6334 | Cell: 267-449-1360
Connect with PCOM