DO, PsyD Students Collaborate in New Health Program
July 16, 2018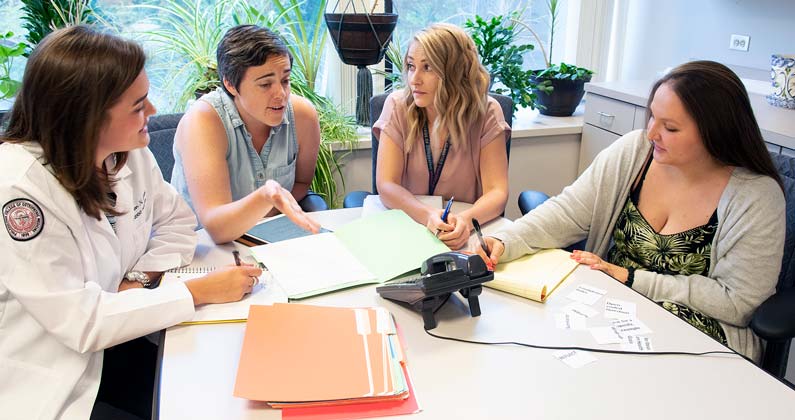 PCOM students conduct weekly phone calls with healthcare center patients to support wellness goals and manage treatments.
---
A new program at Philadelphia College of Osteopathic Medicine (PCOM) aims to help the patient population of its community-based Healthcare Centers meet their healthy lifestyle goals through weekly phone calls with Doctor of Osteopathic Medicine (DO) and Doctor of Clinical Psychology (PsyD) students.
The Health Support Program, funded by a $50,000 grant from the Independence Blue Cross Foundation, involves students reaching out to patients with high need who may need additional support to establish/reach agreed upon health goals; cope with chronic diseases such as diabetes; adhere to healthy lifestyle behaviors; engage in treatment, whether medical or behavioral; problem-solve around any obstacles to meeting goals; and attend upcoming primary care visits.
"Our students reach out to a list of patients to first gauge interest in receiving these types of calls, and if there is interest, they'll receive roughly one call per week for 3 to 5 weeks, lasting about 15-20 minutes," said Scott Glassman, PsyD '13, clinical assistant professor, psychology, and creator of the Health Support Program. "Through these calls, the students help each participant establish a healthy lifestyle goal, and then provide motivational support and problem-solving techniques to move the patient toward meeting his or her goal."
Dr. Glassman says this style of conversation, called motivational interviewing, allows the patient to take on a more active role in his or her care and lifestyle maintenance, which can lead to better health outcomes overall.
"Motivational interviewing is not about health professionals telling patients what to do, but about helping the patient discover their own thoughts and reasons for why they want to make that healthy change," he explains.
The program, which launched in March, has conducted nearly 40 calls to about 11 patients thus far. Meaghan Roszyk (DO '21), who previously assisted Dr. Glassman on the program A Happier You, was interested in additional ways to integrate primary care and psychology, and volunteered for the Health Support Program.
"We work as a team to call each patient, and help them set goals and come up with ways they can implement small changes to meet those goals," she said. Students are given a semi-structured script that guides them in helping the patient as he or she works toward meeting their most important health goals.
Janessa Brown (MS/MHC '19), a fellow member of Ms. Roszyk's outreach team, said her experience with the Health Support Program fully encapsulated her decision to come to PCOM. "The integration and continuity of care between psychology and medicine appealed to me," she said.
"I think it's helpful to the patient to know that he or she has a team of people around them who really care about their progress," said Ms. Brown. "This should be the model that everyone in healthcare is embracing. Health outcomes are better when we all work together and embrace the osteopathic paradigm of treating the whole person."
When a patient reaches the end of their calls, they are referred to additional services at PCOM if need be, such as the Center for Brief Therapy. Dr. Glassman says that as the program continues, participants will receive a survey to gauge the importance of meeting health goals and changes in confidence in meeting those goals, and biometrics such as weight, blood pressure and a1c levels will be evaluated.
The students say their callees are already expressing gratitude for the support. "One woman who was nearing the end of her sessions told us that she couldn't talk to her own family about these types of things, and that we gave her the support she needed," said Ms. Roszyk. "She didn't want the calls to end."

You May Also Like
About Philadelphia College of Osteopathic Medicine
Founded in 1899, Philadelphia College of Osteopathic Medicine has trained thousands of highly competent, caring physicians, health practitioners and behavioral scientists who practice a "whole person" approach to care—treating people, not just symptoms. PCOM offers doctoral degrees in clinical psychology, osteopathic medicine, pharmacy, physical therapy and school psychology, and graduate degrees in biomedical sciences, forensic medicine, mental health counseling, organizational development and leadership, physician assistant studies, school psychology, and public health management and administration. Our students learn the importance of health promotion, research, education and service to the community. Through its community-based Healthcare Centers, PCOM provides care to medically underserved populations in inner city and rural locations. For more information, visit pcom.edu.
For more information, contact:
Orla Moloney
Public Relations and Marketing Specialist
Office: 215-871-6334 | Cell: 267-449-1360
Connect with PCOM