PCOM South Georgia and SRTC Present EMS Skills Lab
August 21, 2019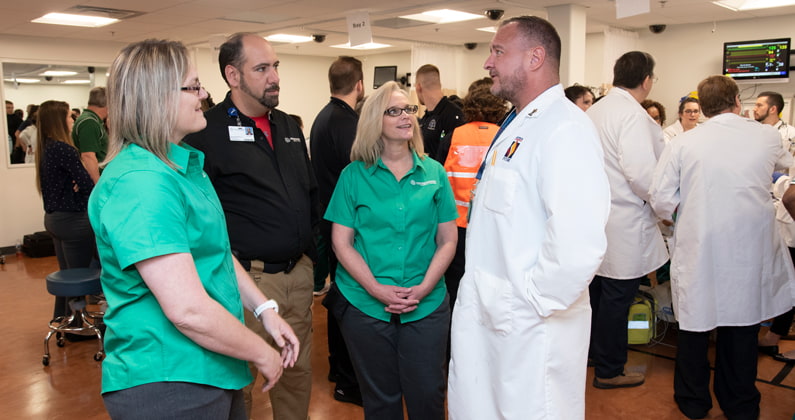 Moultrie's first EMS Skills Lab and Symposium was held August 9-10 in PCOM South Georgia's Simulation Center.
---
The patient is in trouble. The packed room of emergency medical service providers falls silent as the previously normal delivery suddenly comes to an alarming halt. Dr. Woody Weeks had just explained that this very complication—shoulder dystocia—was likely one of the worst-case-scenarios that a medical provider might encounter in the field.
The mother on the raised bed groans and cries out as Colquitt Regional Medical Center (CRMC) paramedic and Southern Regional Technical College (SRTC) nursing student, Jacob Brinson, jumps into action. Fellow medics move into support positions and work together to save mother and child. The seconds fly by as the team members put their training to work. They know that they only have five minutes before the outcome for the baby is dire. After a few tense moments, the baby's shoulder slides free and Jacob brings a healthy baby mannequin into the world.
The group was taking part in Moultrie's first EMS Skills Lab and Symposium held August 9-10, 2019, in the Simulation Center of PCOM South Georgia, the region's first four year medical program. SRTC and PCOM South Georgia co-hosted the event which was designed to bring EMS providers from around the area together for hands-on advanced medical training simulations. The participants ranged from newly graduated advanced EMT students to seasoned paramedics.
PCOM South Georgia's Chief Academic Officer, Dr. Michael Sampson, said, "PCOM South Georgia was built in South Georgia to be a resource to the community and to be a regional center of excellence for medical education, with the end result being advancement of health and medical care of the citizens of South Georgia."
He added, "The Simulation Center and Anatomy Lab bring state of the art resources and high tech, high touch training that is usually found only in larger metropolitan areas."
Trauma Skills presentations were provided by staff of Colquitt Regional Medical Center, Air Evac Tifton, Lanier Technical College, and PCOM South Georgia in PCOM's Simulation Center and Anatomy Lab. The hands-on training covered topics including advanced airway management, in-field obstetric complications, advanced cardiology, and advanced trauma skills for adults and children.
Attendees were awarded eight hours of continuing education credits from the Georgia Office of EMS and Trauma. Thanks to the generosity of all organizations involved, the workshop was offered at no cost to healthcare providers.
SRTC AEMT Instructor Herbert Denton took a leadership role in organizing the symposium. He said that the event was exactly what he had hoped for, "We welcomed providers from Colquitt, Cook, Dougherty, Lowndes, Tift and Worth counties. This event saw EMS personnel networking and learning with other professionals from across the region."
Denton added, "The training helps bring better care to the patients we serve across South Georgia. Together with PCOM South Georgia, we will be able to expand our initial education experiences and provide the region with the best trained providers possible."
You May Also Like:
About PCOM South Georgia
Philadelphia College of Osteopathic Medicine (PCOM) extended its commitment to the Southeast by establishing PCOM South Georgia, an additional teaching location in Moultrie, Georgia, which offers a full four-year medical program leading to the Doctor of Osteopathic Medicine (DO) degree. In addition, a Master of Science in Biomedical Sciences will be offered beginning in August 2020. PCOM is a private, not-for-profit institution which trains professionals in the health and behavioral sciences fields. Joining PCOM Georgia in Suwanee in helping to meet the healthcare needs of the state, PCOM South Georgia focuses on educating physicians for the South Georgia region. The medical campus, which welcomed its inaugural class of medical students on August 12, 2019, has received accreditation from the American Osteopathic Association's Commission on Osteopathic College Accreditation. For more information, visit pcom.edu/southgeorgia or call 229-668-3110.
For more information, contact:
Jordan Roberts
Public Relations and Social Media Specialist
Email: jordanro1@pcom.edu
Office: 229-668-3198 | Cell: 229-873-2003
Connect with PCOM South Georgia