PCOM Announces 2019 Innovative Teacher of the Year
July 24, 2019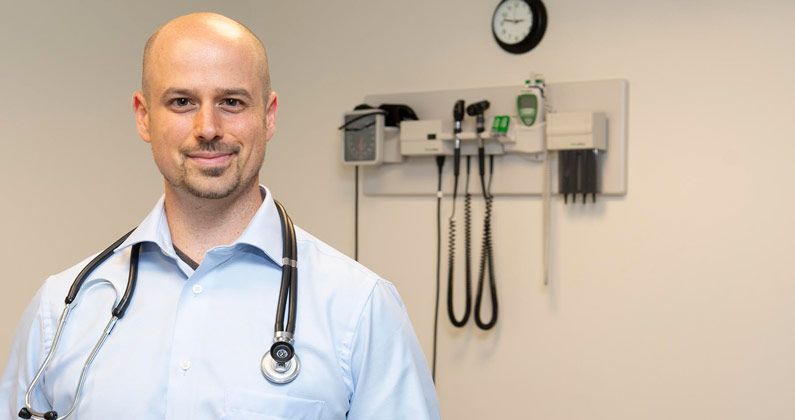 Jason Kaplan, DO '13, clinical assistant professor, leads interactive online learning activities for medical students in cardiology clerkships.
---
Jason Kaplan, DO '13, clinical assistant professor, cardiology, has been named the Philadelphia campus' Innovative Teacher of the Year for 2019. Now in its fifth year, the award honors educators who exhibit original and creative thinking.
Dr. Kaplan serves as the online preceptor of clinical cardiology, leading interactive learning activities for students during their cardiology clerkships. His clerkship is a blended format, which allows students to learn from patients in a live setting while completing online requirements. This ensures that each student's educational experience is comparable regardless of training site assignment.
Dr. Kaplan's program has been facilitated across more than 10 training sites, combining pre-recorded lectures, library resources, interactive echocardiogram exercises, discussion boards, online assignments, computer-based games and simulations, and quizzes.
"There isn't a lot of this type of blended learning in the field of cardiology. Most students learn cardiology from classroom lectures and rounds," said Dr. Kaplan. "This format is a supplement, allowing them to access a wealth of educational resources and lectures right at their fingertips, in real-time. And, they have access to these materials for years; it can even help them while they study for their boards."
Erik Langenau, DO, MS, chief academic technology officer and chair of the nominating committee, said that what separated Dr. Kaplan from other online preceptors was the volume of available online interactive resources provided to students.
"Dr. Kaplan's collaboration with course director Bruce Kornberg, DO '78, professor and chair, cardiology, on this project serves as a great model, one which ensures a student is accountable for learning and leverages technology for active and deeper learning," he said.
Dr. Kaplan noted that students have been very receptive of the online component, and that many have said it's been helpful for them, particularly while in the field. He credited Dr. Kornberg and Dr. Langenau, as well as Michael Becker, DO '87, assistant dean of clerkship education, and Pat Lannutti, DO '71, co-vice chair and professor, internal medicine, for their support and success of the blended learning model.
"I'm incredibly lucky to have people around me who support me in this way," he said.
Nominations for the Innovative Teacher of the Year award are submitted by fellow faculty and staff. Nominees are selected for their use of creative student engagement which may include clinical reasoning, simulation, hands-on learning, role-play, positive reinforcement and technology. Using a scoring rubric to help in the selection process, the committee evaluates innovation by the degree to which the innovation varied from standard teaching methods; the level of active engagement for the learners; and sustainability of the teaching method.
Read about Philip Fabrizio, DPT, associate professor, physical therapy, who was selected as PCOM Georgia's 2019 Innovative Teacher of the Year.
"Congratulations to both Drs. Kaplan and Fabrizio for their dedication to learning, creativity, and willingness to innovate," said Dr. Langenau.

You May Also Like:


About Philadelphia College of Osteopathic Medicine
Founded in 1899, Philadelphia College of Osteopathic Medicine has trained thousands of highly competent, caring physicians, health practitioners and behavioral scientists who practice a "whole person" approach to care—treating people, not just symptoms. PCOM offers doctoral degrees in clinical psychology, osteopathic medicine, pharmacy, physical therapy and school psychology, and graduate degrees in biomedical sciences, forensic medicine, mental health counseling, organizational development and leadership, physician assistant studies, school psychology, and public health management and administration. Our students learn the importance of health promotion, research, education and service to the community. Through its community-based Healthcare Centers, PCOM provides care to medically underserved populations in inner city and rural locations. For more information, visit pcom.edu.
For more information, contact:
Orla Moloney
Public Relations and Marketing Specialist
Office: 215-871-6334 | Cell: 267-449-1360
Connect with PCOM