DO Council Names Andrea Weir Student DO of the Year
December 10, 2018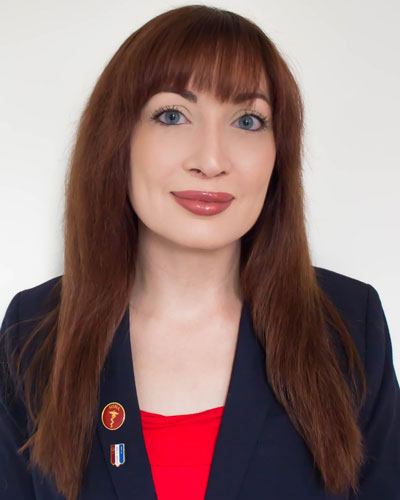 The DO Council at Philadelphia College of Osteopathic Medicine (PCOM) has named Andrea Weir (DO '21) Student DO of the Year (SDOY). She will now be considered for the National SDOY Award by the Council of Osteopathic Student Government Presidents (COSGP), along with entrants from other osteopathic schools across the country.
SDOY candidates at PCOM are nominated by a committee of faculty, administration, and their peers, based on myriad criteria including: a dedication to leadership, community service, the profession, professionalism and embodiment of the osteopathic philosophy.
For Ms. Weir, her path to medical school was not a typical one. Prior to attending PCOM, she trained in several Michelin-star kitchens in Italy and also worked as a chef, and since coming to medical school, has been exploring ways to integrate her knowledge of food with her education in medicine.
In October, she was awarded a Human Touch Community Impact Grant from the American Osteopathic Foundation, for a project she founded titled "Cooking Up Courage." The program features nutritional information and recipes created by Ms. Weir to guide community members on how to create healthful meals. The program has been circulated to other osteopathic schools across the country through the Student Osteopathic Medical Association.
"Andrea brings a unique background to her medical school career, with years of experience as a chef. She has taken her love for food and providing for others, and has translated this into her life in medical school," said Stephen DePaul (DO '21), DO Council president and chair of the SDOY Selection Committee. "Andrea is the epitome of what it means to be an osteopathic medical student."
Ms. Weir has served PCOM and the osteopathic profession in various ways. She is the founder of the Social Medicine Program in the PCOM Student Osteopathic Medical Association (SOMA), through which she initiated a project that explores health disparities through interactive student workshops; and has served as a medical student advocate with Main Line Health, through which she helps underserved patients in West Philadelphia overcome barriers to healthcare.
In addition, she is currently the president of the Nutrition in Medicine Club and in that role, launched a food pantry on campus for students in need who are food insecure. She has also served as the vice-president of the Psychiatry Club; the national liaison officer for SOMA; is an advocacy committee member for PCOM's Student-Run Clinic project; is student ambassador to the Office of Admissions, and is a board member of PCOM's Cultural Competency program.
"I am so thankful to the PCOM community for this amazing honor, and for the opportunity to represent them," said Ms. Weir.
The National SDOY winner will be announced in April 2019.

You May Also Like:


About Philadelphia College of Osteopathic Medicine
Founded in 1899, Philadelphia College of Osteopathic Medicine has trained thousands of highly competent, caring physicians, health practitioners and behavioral scientists who practice a "whole person" approach to care—treating people, not just symptoms. PCOM offers doctoral degrees in clinical psychology, osteopathic medicine, pharmacy, physical therapy and school psychology, and graduate degrees in biomedical sciences, forensic medicine, mental health counseling, organizational development and leadership, physician assistant studies, school psychology, and public health management and administration. Our students learn the importance of health promotion, research, education and service to the community. Through its community-based Healthcare Centers, PCOM provides care to medically underserved populations in inner city and rural locations. For more information, visit pcom.edu.
For more information, contact:
Orla Moloney
Public Relations and Marketing Specialist
Office: 215-871-6334 | Cell: 267-449-1360
Connect with PCOM