PCOM Names OMM Chair Alex Nicholas as 2019 Snyder Medal Recipient
January 22, 2019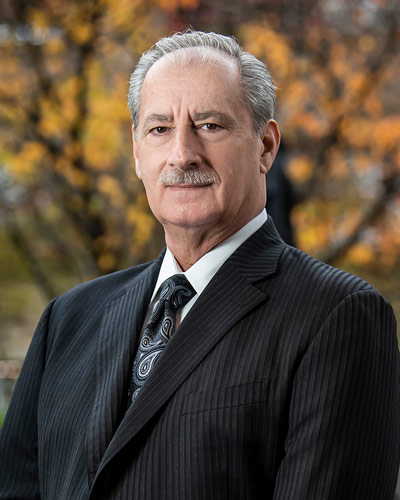 Philadelphia College of Osteopathic Medicine (PCOM) has announced Alexander S. Nicholas, DO '75, FAAO dist., professor and chair, osteopathic manipulative medicine (OMM), as the recipient of the 2019 OJ Snyder Memorial Medal. It is presented in memory of the co-founder of PCOM and is the College's highest award, which recognizes leadership and service to the osteopathic profession and to the institution. Dr. Nicholas will receive his medal during PCOM's Founders' Day luncheon on Friday, Jan. 25.
During his tenure at PCOM, which began in 1976, Dr. Nicholas has made an impact on the lives of countless osteopathic medical students. He is the 1996 recipient of the Lindback Award for Distinguished Teaching; the 2005 recipient of the American Osteopathic Association's Mentor Hall of Fame Award; and the 2014 recipient of the Andrew Taylor Still Medallion of Honor.
In addition, Dr. Nicholas has made numerous contributions to the profession of osteopathic medicine; in 1980, he helped developed the nation's first residency program in OMM (now osteopathic neuromusculoskeletal medicine) with his father, osteopathic pioneer Nicholas S. Nicholas, DO, FAAO, and David Heilig, DO, FAAO—both former presidents of the American Academy of Osteopathy.
He also lectures internationally on osteopathic manipulative techniques and the benefits of OMM on myriad issues, and is the honorary president of the German-American Academy of Osteopathy. With his brother, Evan A. Nicholas, DO '81, associate professor, OMM, Dr. Nicholas is the author of the Atlas of Osteopathic Techniques, a widely used textbook first published in 1974 by their father.
In addition to his father and brother, Dr. Nicholas' family boasts even more health practitioners; his daughter, Veronica, and son-in-law, Dave, are also osteopathic physicians, and his daughter-in-law, Mary, is a physician assistant.
Dr. Nicholas is board-certified in neuromusculoskeletal medicine and osteopathic manipulative medicine. He received his bachelor's degree in General Arts and Science from Penn State University in 1971, and is a 1975 graduate of PCOM.

You May Also Like:


About Philadelphia College of Osteopathic Medicine
Founded in 1899, Philadelphia College of Osteopathic Medicine has trained thousands of highly competent, caring physicians, health practitioners and behavioral scientists who practice a "whole person" approach to care—treating people, not just symptoms. PCOM offers doctoral degrees in clinical psychology, osteopathic medicine, pharmacy, physical therapy and school psychology, and graduate degrees in biomedical sciences, forensic medicine, mental health counseling, organizational development and leadership, physician assistant studies, school psychology, and public health management and administration. Our students learn the importance of health promotion, research, education and service to the community. Through its community-based Healthcare Centers, PCOM provides care to medically underserved populations in inner city and rural locations. For more information, visit pcom.edu.
For more information, contact:
Orla Moloney
Public Relations and Marketing Specialist
Office: 215-871-6334 | Cell: 267-449-1360
Connect with PCOM