Student-Run Clinic Expands
May 15, 2019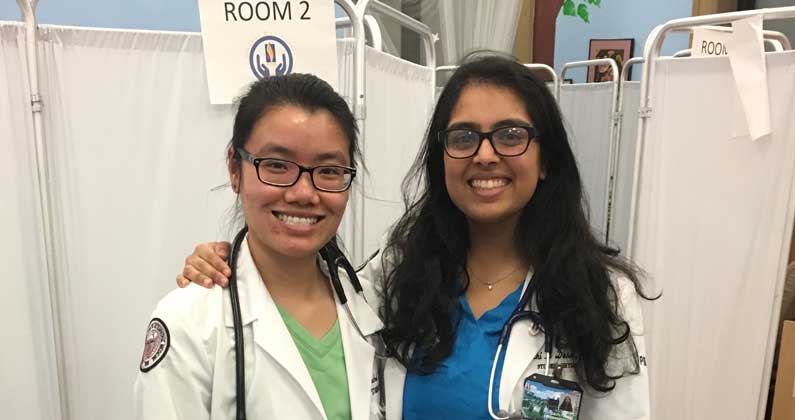 The Student-Run Clinic offers students an opportunity to use their medical knowledge to help underserved communities.
---
The Student-Run Clinic, a student group at PCOM that provides health information, education and advocacy to members of the West and North Philadelphia communities, recently expanded to its third location in just three years.
The latest site, Jane Addams Place, is an emergency homeless shelter for women and their children. Doctor of Osteopathic Medicine (DO) students volunteer their time here—and at the first two sites at St. Barnabas Mission Emergency Shelter and Families Forward Philadelphia— once a month to help address the unique health needs of this population.
At each site, students see women with a variety of health issues ranging from cardiovascular disease, to diabetes, to rashes and colds. Students meet with shelter residents as they enter the clinic and get a brief health history, and then each resident is screened by one of PCOM's physicians to determine if there are any pressing health needs. If so, residents are referred to a nearby primary care practice.
"Many of the women we see don't have a regular primary care physician, and only get medical care if there is a serious, acute issue," said Jennifer Glusman (DO '21), senior director of the Student-Run Clinic. "We're trying to meet them where they are to establish a rapport and improve continuity of care, which is incredibly important in this population."
After being screened by the PCOM physician, shelter residents participate in an exit interview with a PCOM student to address any barriers to health care she may be facing—for example, putting her in touch with Medicaid, or setting her up with WIC or SNAP, or helping her work out transportation or childcare issues that may make it difficult to make regular appointments with a primary care physician.
The group is currently running an IRB-approved study, led by Kerin Claeson, PhD, associate professor, anatomy, to determine the effectiveness of these interventions on removing some of those barriers.
Jessica Kerns (DO '22), M1 manager of the Student-Run Clinic, said the students have also begun holding educational sessions at St. Barnabas, in addition to the monthly clinics, to help the residents there learn more about aspects of health and wellness such as nutrition, meditation and exercise. She hopes to expand those to the other sites.
Moving forward, the group is hoping to include PCOM psychology students, to address mental health issues associated with homelessness, and to partner with students from local dental schools to address the importance of oral health.
"We want to be as thorough as we can in addressing the health needs of these women, who often feel like they're not cared about," said Ms. Kerns. "We want them to know that they are a priority, and that their health is important to us."
The Student-Run Clinic was launched in 2016 by Christopher Gable, DO '18 and Adam Kardon, DO '18 who were looking for an opportunity to use their medical knowledge to help underserved communities. They chose to focus on the homeless population in Philadelphia—and homeless women in particular—because of the many barriers to health care they can face.
"Despite their heavy course loads and busy schedules, our students are volunteering their time to help women who are in the most vulnerable position of their lives," said Harry J. Morris, DO '78, MPH, professor and chair, family medicine. "The students provide much needed care and education to this community while benefitting from a unique, preclinical learning experience."
To support the Student-Run Clinic, click here to make a tax deductible contribution.

You May Also Like:


About Philadelphia College of Osteopathic Medicine
Founded in 1899, Philadelphia College of Osteopathic Medicine has trained thousands of highly competent, caring physicians, health practitioners and behavioral scientists who practice a "whole person" approach to care—treating people, not just symptoms. PCOM offers doctoral degrees in clinical psychology, osteopathic medicine, pharmacy, physical therapy and school psychology, and graduate degrees in biomedical sciences, forensic medicine, mental health counseling, organizational development and leadership, physician assistant studies, school psychology, and public health management and administration. Our students learn the importance of health promotion, research, education and service to the community. Through its community-based Healthcare Centers, PCOM provides care to medically underserved populations in inner city and rural locations. For more information, visit pcom.edu.
For more information, contact:
Orla Moloney
Public Relations and Marketing Specialist
Office: 215-871-6334 | Cell: 267-449-1360
Connect with PCOM