Students Launch Clinic at Women's Shelter
November 9, 2016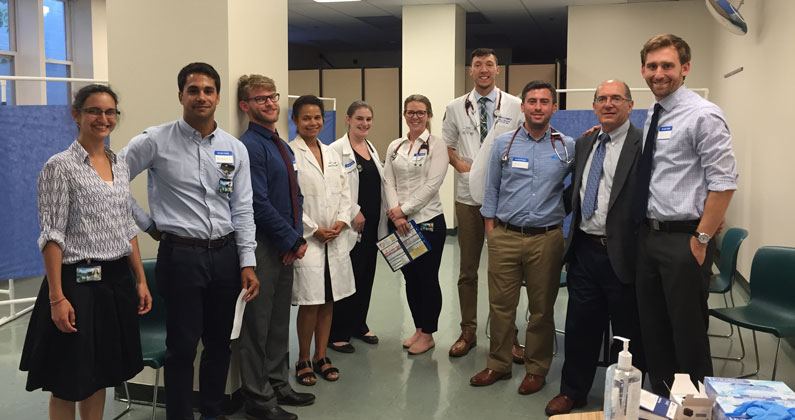 Philadelphia College of Osteopathic Medicine students are helping provide care at a women's shelter. The clinic, which launched in July, has seen approximately 30 residents to date.
---
A few shy women file into a multi-purpose room at the St. Barnabas Shelter in West Philadelphia, which has been set up with curtains to act as makeshift exam rooms. Tables and chairs are pushed into one corner, and children's toys are in another, flanking a small television set.
Each woman sits at a table near the front of the room, and a Philadelphia College of Osteopathic Medicine student talks to her, takes her medical history and asks if she is having any health issues. The women then go behind one of the curtains for an exam with another PCOM student. The attending physician—one of PCOM's family medicine doctors—joins the students and confirms and determines the diagnosis and course of treatment.
Despite balancing heavy course loads and long hours of studying, first- and second-year DO students at PCOM, led by Christopher Gable (DO '18) and Adam Kardon (DO '18) have been volunteering their time once a month over the past several months to help the women at St. Barnabas.
Both Gable and Kardon were looking for a way to use their medical knowledge to help underserved populations in the city, and after consulting with JeffHOPE (a student-run group at the Sidney Kimmel Medical College that holds similar clinics throughout the city), they learned of the need at St. Barnabas.
"The residents at St Barnabas have not had any kind of clinical care there for 13 years," said Gable. "Children's Hospital of Philadelphia (CHOP) runs a clinic there once a month, so the children can get care. But the women haven't had their health needs addressed. And if the moms aren't healthy, it's harder for them to take care of their children."
Gable and Kardon decided to start a clinic, based on the CHOP model, to help address the unique health needs of women who are homeless. It can be difficult for these women to receive care, even if they are insured through Medicaid; a recent report from the American College of Obstetricians and Gynecologists cited five barriers to health care for homeless women: 1) social triaging; 2) being stigmatized for being homeless; 3) lack of care through the health system; 4) disrespectful treatment; and 5) feeling ignored by health care providers.
The report noted that as a result of these barriers, homeless women often chose to forgo medical treatment even at the risk of compromising their health, and will only use the health care system if there is an emergency.
"We're bringing these services directly to the shelter, where they are, and we're their guests," said Gable. "We want to make sure that whatever we're doing is in the women's best interest, and one way to do that is by modeling what's already there."
Kardon added much of the activities first- and second-year students do during their time at the clinic is advocacy for the patients—trying to put them in touch with Medicaid, or to a primary care provider, or to a pharmacy if they have prescription insurance. "We're also there to help triage problems and, if need be, send them to PCOM's Lancaster Avenue Healthcare Center or to Lankenau Medical Center for further care."
The clinic, which launched officially in July, has seen about 30 residents thus far, and students have seen a variety of issues within the population, such as heart murmurs, uncontrolled diabetes, hypertension and depression. Kardon says that because psychological issues are so prevalent among the homeless population, he hopes to bring psychology students on board as well. The group also hopes to expand to a second site by the start of the next academic year.
"In this shelter are women who are in the most vulnerable position of their lives," said Harry J. Morris, DO '78, MPH, professor and chair, family medicine. "This project—started by two students who truly wanted to help this community—provides needed care for these women as well as a unique experience for our first- and second-year students."
This project is funded through a grant from the Lankenau Medical Center.
You May Also Like:
About Philadelphia College of Osteopathic Medicine
Founded in 1899, Philadelphia College of Osteopathic Medicine has trained thousands of highly competent, caring physicians, health practitioners and behavioral scientists who practice a "whole person" approach to care—treating people, not just symptoms. PCOM offers doctoral degrees in clinical psychology, osteopathic medicine, pharmacy, physical therapy and school psychology, and graduate degrees in biomedical sciences, forensic medicine, mental health counseling, organizational development and leadership, physician assistant studies, school psychology, and public health management and administration. Our students learn the importance of health promotion, research, education and service to the community. Through its community-based Healthcare Centers, PCOM provides care to medically underserved populations in inner city and rural locations. For more information, visit pcom.edu.
For more information, contact:
Orla Moloney
Public Relations and Marketing Specialist
Office: 215-871-6334 | Cell: 267-449-1360
Connect with PCOM