Student Research Spotlight

Vishwant Tatagari (DO '21)
April 9, 2019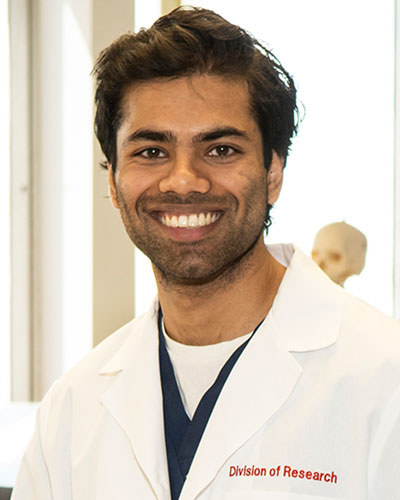 Vishwant Tatagari's (DO '21) journey to medical school started at the University of Maryland-College Park where he received his bachelor of science in biology. After completing his master's degree in biomedical sciences from Philadelphia College of Osteopathic Medicine (PCOM), Mr. Tatagari enrolled in PCOM's doctor of osteopathic medicine (DO) program. It was in his second year that Mr. Tatagari came across the fabella bone, a biological variant that occurs in about 30 percent of the population. With the assistance of fellow students and professors, Mr. Tatagari began his research on this biological irregularity.
What did you study?
I studied the incidence of the fabella bone in a particular human population. The fabella bone is an additional bone sometimes found in the knee. The fabella can lead to painful pathologies such as fabella pain syndrome and common fibular nerve palsy. In researching this bone further, our hope was to gain a better understanding of why the bone appears and hopefully help combat these common and painful maladies.
What prompted you to pursue research?
I started a work-study job in the cadaver lab at PCOM in the summer of 2016 and found out there were numerous research projects being conducted by professors and students. I knew that this was something I wanted to be a part of. The following winter when I was helping to teach assist a biomed anatomy class, I came across a fabella when reviewing the anatomy of the knee of a cadaver. When I researched the fabella further, I found there was very little understanding of the bone to date. I decided I wanted to dive deeper and selected this as the topic of my current research project.
What experience do you have conducting research?
During my undergrad studies, I was actively involved with the US Department of Fish and Wildlife. I helped them to research the migratory patterns of specific birds from Antarctica to the Arctic. This hands-on experience helped me build a foundation of research techniques which I still use here at PCOM.
For this particular research topic, I worked alongside other PCOM students to dissect the knees of over 90 cadavers in search of the fabella. In our sample population, there has been a 33 percent incidence of fabella. This is a slight increase from the worldwide statistic [of] around 30 percent. What's most interesting about this research project is that it is the first of its kind to be conducted in a North American population. To date, most of the research conducted on the fabella has concentrated on Asian populations, which have been known to present a higher incidence of the fabella.
What were your responsibilities in your research project?
With the help of fellow students and professors from the Department of Bio-Medical Sciences, we completed the dissections of our sample population and compiled our findings into a research poster. That poster was presented at the American Osteopathic Academy of Orthopedics' annual conference in Atlanta, GA.
Currently, I am working in collaboration with other PCOM students and faculty members to identify the cellular components of the bone. We are also working to compose a journal article documenting our findings for publication.
What is the broader impact of your research?
There is a lack of surrounding clinical research of the fabella, specifically in orthopedics. The fabella has been found to contribute to a number of orthopedic pathologies including common peroneal nerve palsy and fabella-associated ligament injury. It is our hope that this project will bring to light a cause of some common orthopedic injuries.

You May Also Like:


About Philadelphia College of Osteopathic Medicine
Founded in 1899, Philadelphia College of Osteopathic Medicine has trained thousands of highly competent, caring physicians, health practitioners and behavioral scientists who practice a "whole person" approach to care—treating people, not just symptoms. PCOM offers doctoral degrees in clinical psychology, osteopathic medicine, pharmacy, physical therapy and school psychology, and graduate degrees in biomedical sciences, forensic medicine, mental health counseling, organizational development and leadership, physician assistant studies, school psychology, and public health management and administration. Our students learn the importance of health promotion, research, education and service to the community. Through its community-based Healthcare Centers, PCOM provides care to medically underserved populations in inner city and rural locations. For more information, visit pcom.edu.
For more information, contact:
Orla Moloney
Public Relations and Marketing Specialist
Office: 215-871-6334 | Cell: 267-449-1360
Connect with PCOM