Student Research Spotlight

Hannah Groff (DO '19)
February 18, 2019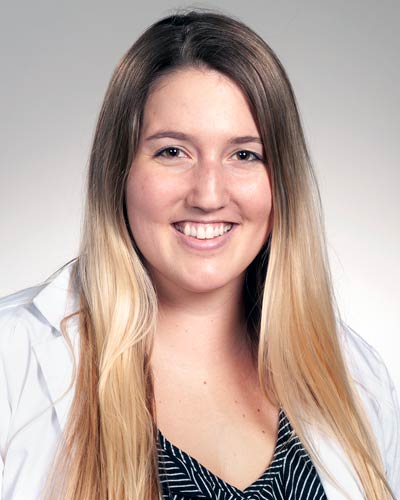 Hannah Groff's (DO '19) love of research began during her years as an undergrad at Franklin & Marshall College, but truly solidified once she came to PCOM and began her medical career. Since enrolling in medical school, she has participated in several research studies with the Rothman Orthopedic Institute in Philadelphia, Pennsylvania. She says the experience has helped her contribute to a field she finds fascinating, and hopes to one day mentor others the way her mentors have helped her.
What did you study?
I work as an orthopedic researcher at Rothman. We have been fortunate to work on several studies looking at various topics including causes of in-hospital mortality after hip fractures; organism profile in periprosthetic joint infection; and femoracetabular impingement (FAI).
One of the projects began with a conversation I had with a research fellow at Rothman. I was reading about venous thromboembolism (VTE) prophylaxis after total joint arthroplasty and I noticed some of the projects were funded by big pharmacological companies. We wondered whether there was a bias in these studies and wanted to further explore this topic. I wrote a research proposal for the study and we designed a systematic review looking at funded versus non-funded studies assessing VTE prophylaxis after total joint arthroplasty. We hypothesized that these funded studies were taking healthier patients and thus had better results.
After including 57 studies in our systematic review, we found that they did not have any difference in patient demographics. However, industry-funded studies did report less pulmonary embolism (PE) and less 90-day mortality compared to non-funded studies. This was the first study in orthopedic literature showing a reported outcome bias in funded studies. We presented this as a poster presentation at the American Academy of Orthopaedic Surgeons and our findings were published this past year in the Journal of Arthroplasty.
What prompted you to pursue research?
During my undergraduate career at Franklin & Marshall College, I was involved in several research projects including examining the personalities of betta fish and observing fern gametophytes. They were very interesting studies, but not exactly related to my interest in medicine.
I began my medical career at PCOM and knew I was interested in orthopedics, so the summer between my first and second year of medical school I reached out to Javad Parvizi, MD at the Rothman Institute to get involved in one of his projects. I loved the idea that these studies could have an impact on patient care and physician decision-making in the medical community. One study as a summer research intern turned into several studies as I stayed on the research team throughout medical school.
What experience do you have conducting research?
I was very fortunate to participate in research with Dr. Parvizi; we've presented research at multiple conferences and have published manuscripts in a variety of orthopedic journals. This experience has confirmed my passion for orthopedics and sparked my interest in clinical research.
What were your responsibilities in your research project?
I've had the opportunity to be very involved in several research projects at Rothman, from proposal to final manuscript. I was an active participant in data collection, statistical analysis and writing the papers. It was a great opportunity to hone my research skills and take on a leadership role by being first author on these studies.
What is the broader impact of your research?
Through these projects, I'm able to identify areas in the field of orthopedics in need of improvement, and find research-based solutions. And, I am incredibly grateful for the orthopedic mentors that I have had in my life. They showed me not only the exciting field of orthopedics, but also taught me how to become a compassionate and determined physician. I envision myself mentoring other medical students while working on research projects and continuing to improve this incredible field.

You May Also Like:


About Philadelphia College of Osteopathic Medicine
Founded in 1899, Philadelphia College of Osteopathic Medicine has trained thousands of highly competent, caring physicians, health practitioners and behavioral scientists who practice a "whole person" approach to care—treating people, not just symptoms. PCOM offers doctoral degrees in clinical psychology, osteopathic medicine, pharmacy, physical therapy and school psychology, and graduate degrees in biomedical sciences, forensic medicine, mental health counseling, organizational development and leadership, physician assistant studies, school psychology, and public health management and administration. Our students learn the importance of health promotion, research, education and service to the community. Through its community-based Healthcare Centers, PCOM provides care to medically underserved populations in inner city and rural locations. For more information, visit pcom.edu.
For more information, contact:
Orla Moloney
Public Relations and Marketing Specialist
Office: 215-871-6334 | Cell: 267-449-1360
Connect with PCOM