PCOM Honors Innovative Teachers of 2017
June 30, 2017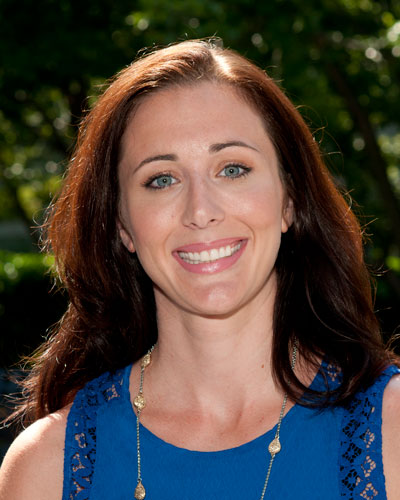 Dr. Jessica Kendorski
---
PCOM recently honored two faculty members for their innovative approach to education with the 2017 Innovative Teacher Award: Jessica Kendorski, PhD, associate professor, psychology, and Lori Redmond, PhD, associate professor, anatomy.
As director of the MS Program in School Psychology, Dr. Kendorski championed the development of PCOM's first accredited online certificate program for Applied Behavioral Analysis, which launched in 2016. She envisioned, promoted and supported the program, working with many constituents in offices and departments across the College. The program has grown such that an additional offsite cohort was needed to accommodate more students. That began in winter 2017. Since its launch, the online certificate program has become a model for online education at PCOM.
Dr. Kendorski also established a unique business model for the ABA certification program, partnering with organizations that support individuals with autism and other developmental disabilities, to train their employees in order to provide professional development and improve services to their clients.
"This was a complete collective team effort involving a group of amazing and talented professionals across the entire PCOM organization," said Dr. Kendorski. "I am very proud of the program we have created, and its potential to educate outstanding behavior analysts who help support and provide services to children and families."
Read more here about GA-PCOM's honor of Dr. Redmond.
Award winners were selected on three criteria: (1) the degree to which the innovation varied from standard teaching methods, (2) the level of active engagement for the learners, and (3) sustainability of the teaching method.
The winners were chosen by a diverse committee on each campus, led by Erik Langenau, DO, chief academic technology officer and associate professor, family medicine. The nominating committee also wished to recognize the innovations of several other faculty members:
Mircea Anghelescu, MD, assistant professor, pathology: for using online weekly cumulative quizzes and formative feedback.
Denah Appelt, PhD, professor, neuroscience, physiology and pharmacology: for engaging learners in a novel neuroscience symposium.
Vishakha Bhave, PharmD, assistant professor, pharmaceutical sciences: for developing a learner-centered approach to the instruction of toxicology.
Pete Bidey, DO '08, MEd, assistant professor, family medicine, for his problem-based coffee hour with students.
Jeffery Branch, EdD, assistant professor, psychology and program director, ODL: for coordinating numerous educational activities and novel business partnerships, bringing PCOM and communities together.
Scott Glassman, PsyD '13, clinical assistant professor, psychology and associate director, MS in mental health counseling: for his novel interprofessional approach to teaching motivational interviewing with the use of standardized patients.
Edo-Abasi McGee, PharmD, assistant professor, pharmacy practice: for her multimedia approach to pharmacy education.
"We congratulate this year's Innovative Teacher of the Year recipients, and we look forward to seeing what great innovations emerge during the 2017-2018 academic year," said Dr. Langenau. "We urge them—and our entire faculty—to keep innovating and sharing ideas."
You May Also Like:


About Philadelphia College of Osteopathic Medicine
Founded in 1899, Philadelphia College of Osteopathic Medicine has trained thousands of highly competent, caring physicians, health practitioners and behavioral scientists who practice a "whole person" approach to care—treating people, not just symptoms. PCOM offers doctoral degrees in clinical psychology, osteopathic medicine, pharmacy, physical therapy and school psychology, and graduate degrees in biomedical sciences, forensic medicine, mental health counseling, organizational development and leadership, physician assistant studies, school psychology, and public health management and administration. Our students learn the importance of health promotion, research, education and service to the community. Through its community-based Healthcare Centers, PCOM provides care to medically underserved populations in inner city and rural locations. For more information, visit pcom.edu.
For more information, contact:
Orla Moloney
Public Relations and Marketing Specialist
Office: 215-871-6334 | Cell: 267-449-1360
Connect with PCOM