Psychology Chair Inducted Into Fellowship
May 23, 2017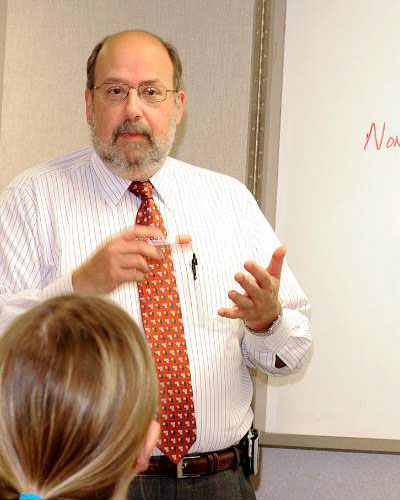 Dr. Robert A. DiTomasso, who has been with the Department of Psychology at PCOM since 1995, was recently inducted into the Fellowship of The College of Physicians of Philadelphia.

---

Robert A. DiTomasso, PhD, ABPP, professor and chair, psychology, has been inducted into the Fellowship of The College of Physicians of Philadelphia (the College). Founded in 1787, the College seeks to advance the cause of health while upholding the ideals and heritage of medicine.
Each year a select group of distinguished physicians, civil leaders, public advocates and academics are nominated to the College Fellowship. College Fellows are recognizable by their suffix, FCPP [Fellow of The College of Physicians of Philadelphia] and by their dedicated involvement with the College's vibrant programming.
Dr. DiTomasso joined the Department of Psychology in 1995 and before assuming the role of chair served as professor, vice-chairman and director of clinical research for several years. During his tenure as Director of Institutional Outcomes Assessment, he continues to be actively involved in the development of educational outcome assessments and processes and serves as chairman of the collegewide Student Learning Outcomes Committee, which services accreditation needs of all academic programs at PCOM.
He has mentored 36 doctoral dissertations and has served as a second committee member and statistical consultant on a multitude of studies, many of which have primarily focused on medically-related topics and populations. Including three books, he has authored or co-authored numerous articles and book chapters and presented his work at regional, national and international conferences. He has also been a past recipient of grants focused on the use of computer technology to foster adherence in diabetic patients as well as the impact of integrated care on underserved, vulnerable, chronically ill urban patients.
His writings, research, practice and consultation continue to address the applications and integration of clinical psychology and primary care medicine.
As a Fellow of The College of Physicians of Philadelphia, Dr. DiTomasso joins the ranks of health pioneers including Benjamin Rush, a founding father of the US and considered the father of American psychiatry; Silas Weir Mitchell, a prominent Civil War physician who is considered the father of neurology; and former US Surgeon General Charles Everett Koop, who reported on addiction and wrote the official US policy on AIDS.
Fellows of the College serve as mentors to its youth education programs; present public lectures; bring together people interested in medical humanities and public health issues; participate in research; and provide advisory support for the College's programming and outreach.
You May Also Like:


About Philadelphia College of Osteopathic Medicine
Founded in 1899, Philadelphia College of Osteopathic Medicine has trained thousands of highly competent, caring physicians, health practitioners and behavioral scientists who practice a "whole person" approach to care—treating people, not just symptoms. PCOM offers doctoral degrees in clinical psychology, osteopathic medicine, pharmacy, physical therapy and school psychology, and graduate degrees in biomedical sciences, forensic medicine, mental health counseling, organizational development and leadership, physician assistant studies, school psychology, and public health management and administration. Our students learn the importance of health promotion, research, education and service to the community. Through its community-based Healthcare Centers, PCOM provides care to medically underserved populations in inner city and rural locations. For more information, visit pcom.edu.
For more information, contact:
Orla Moloney
Public Relations and Marketing Specialist
Office: 215-871-6334 | Cell: 267-449-1360
Connect with PCOM