Redmond Honored for her Education Approach
June 30, 2017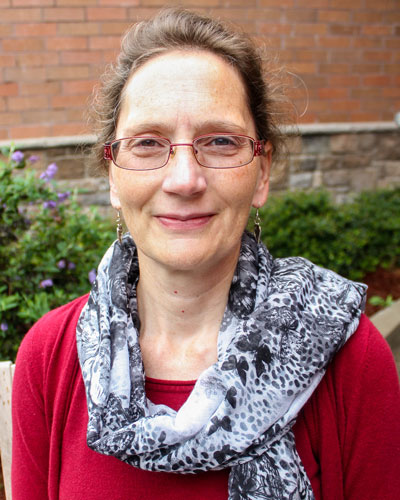 Dr. Lori Redmond

---
With the goal of energizing education and student learning, Philadelphia College of Osteopathic Medicine (PCOM) recently honored Lori Redmond, PhD, associate professor of anatomy in the Department of Bio-Medical Sciences on the Georgia campus, with the Innovative Teacher of the Year Award, for her creative approaches to education.
Academic development coordinator Louise Jones, MEd, who was part of this year's selection committee, explained, "This award is very important for both the recipient and as a statement of intent – our university is proud of the innovation and energy of ideas the faculty members bring to the programs and each other."
"Dr. Redmond saw that her topic (neuroanatomy) was very complex for the first year students and is refining a multi-approach method to bolster student success," Jones added. "She is passionate about her subject and about student success. She expects the best from students and from herself."
Presented by the Department of Professional Development and Online Learning, the Innovative Teacher of the Year Award encourages and recognizes inventive efforts in teaching rigorous subjects. Award winners are selected by a special committee based on the degree to which the innovation varies from standard teaching methods, the level of active engagement for the learners, and the sustainability of the teaching method.
Jones said, "Students often don't realize, until years later, that the times where they were stretched the most, they also learned the most."
"It is an honor to be nominated, much less receive this award," said Dr. Redmond, "Many faculty members are stretching their wings and attempting new approaches to teaching which has been energizing for all of us," she said.

"A special thanks goes to Dr. Bonnie Buxton (Chair of the Department of Bio-Medical Sciences) as she has been encouraging and supportive of the new approaches we have taken," Dr. Redmond added.
According to the nomination form, Dr. Redmond takes a multi-faceted approach to innovation in the learner-centered neuroscience course she teaches. Using online pre-class assignments, in-class active drawing, paced discussions of complex pathways, multimedia quizzes, educational technology games, guest lectures and case-based group problem solving, Dr. Redmond has converted a didactic content series into interactive student-centered activities which strive to maximize student outcomes.
The second year of utilizing this approach, Dr. Redmond said she continues to modify and adapt her methods to best suit GA-PCOM's student population.
The College also presented the Innovative Teacher of the Year Award to Jessica Kendorski, PhD, NCSP, BCBA-D, on the Philadelphia campus. Read more here about Dr. Kendorski's recognition.
You May Also Like:


About PCOM Georgia
Established in 2005, PCOM Georgia is a private, not-for-profit, accredited institute of higher education dedicated to the healthcare professions. The Suwanee, Georgia, campus is affiliated with Philadelphia College of Osteopathic Medicine which has a storied history as a premier osteopathic medical school. PCOM Georgia offers the doctor of osteopathic medicine degree, the doctor of pharmacy degree, the doctor of physical therapy degree, as well as graduate degrees in biomedical sciences and physician assistant studies. Emphasizing "a whole person approach to care," PCOM Georgia focuses on educational excellence, interprofessional education and service to the wider community. The campus is also home to the Georgia Osteopathic Care Center, an osteopathic manipulative medicine clinic, which is open to the public by appointment. For more information, visit pcom.edu or call 678-225-7500.
For more information, contact:
Barbara Myers
Public Relations Manager
Email: BarbaraMy@pcom.edu
Office: 678-225-7532 | Cell: 770-309-0613
Connect with PCOM Georgia