Partnership Provides Unique Learning Opportunities
August 24, 2016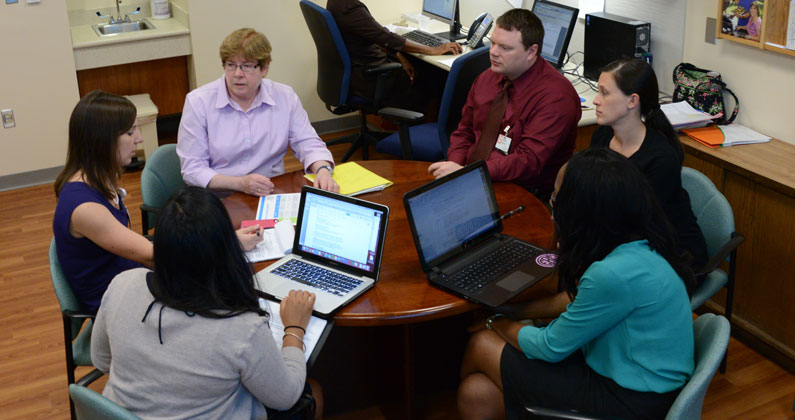 Sandra Ross (far left), LSW, MSA Program Administrator, leads a discussion with PCOM students at a weekly team meeting. (Photo credit: Main Line Health)
---
For the past three years, second year Doctor of Osteopathic Medicine (DO) students at PCOM have had the unique opportunity to participate in the Medical Student Advocate (MSA) program, a partnership with Lankenau Medical Center—part of Main Line Health. The benefit of the program is two-fold; it helps address some of the unique socioeconomic barriers to health care for underserved patients, and it provides second-year medical students with early exposure to patients in a clinical setting.
Most medical students don't encounter patients until third year when they begin clerkships. But for five hours a week throughout the academic year, MSAs from PCOM serve as part of patient-centered medical home (PCMH) teams at Lankenau Medical Associates, a primary care and subspecialty practice at Lankenau Medical Center. The teams are comprised of physicians, nurses, social workers and medical assistants, all working together to deliver comprehensive care.
The MSA's role is to connect with an assigned patient and ensure the patient has access to resources that will help maintain their health and keep them out of the hospital. Students assist their patients with issues such as lack of transportation to appointments, or insurance coverage, and continue their follow up until their patient has received the resources and assistance he or she needs.
"I enjoyed talking to the patients, and it was a consistent conversation, not just one-and-done," said Alaynna Kears (DO '17). "Learning to communicate with patients is an important part of what we'll be doing as doctors, and with this program, I feel better prepared for that."
"Because it lasts the entire year, it really helps put in perspective why we're in medical school," said Brandon Yorty (DO '17). "We can sometimes get lost in the textbooks and the lectures, but this program allows us to see beyond that, to see why this is all worth it."
According to an article published in the Ochsner Journal earlier this year, students in the MSA program were shown to have served nearly 370 patients with more than 700 identified needs. Further, both students and faculty reported that the program enhanced understanding of the holistic nature of patient care.
"This program gives PCOM students the opportunity to see the whole patient and focus on what's happening outside the doctors' office," said Sandra Ross, LSW, one of the paper's authors and the program administrator for the MSA program. "The PCOM students have been incredible to work with. They are eager to learn and have a great ability to respect the dignity of the patients they are interacting with."
In addition to earlier patient interaction and exposure to clinical settings, the MSA program also offers students the opportunity to take part in the Main Line Health-PCOM Core Clinical Campus. Through it, students can complete their third-year core clerkships within the Main Line Health System. As a result, many former MSAs encounter their patients again on their clerkships, encouraging full continuity of care.
Kenneth Veit, DO '76, MBA, provost, senior vice president for academic affairs and dean, says the MSA program dovetails seamlessly with the osteopathic philosophy and offers participating students a breadth of educational experiences they may not otherwise get so early in their training.
"PCOM is always seeking opportunities to build bridges for future health care providers," he said. "Main Line Health's clinical mission aligns with our educational focus on treating the whole patient, not just their symptoms, and this partnership offers our students the ability to be part of a team-based approach to patient care, which is on the forefront of health care."
You May Also Like:


About Philadelphia College of Osteopathic Medicine
Founded in 1899, Philadelphia College of Osteopathic Medicine has trained thousands of highly competent, caring physicians, health practitioners and behavioral scientists who practice a "whole person" approach to care—treating people, not just symptoms. PCOM offers doctoral degrees in clinical psychology, osteopathic medicine, pharmacy, physical therapy and school psychology, and graduate degrees in biomedical sciences, forensic medicine, mental health counseling, organizational development and leadership, physician assistant studies, school psychology, and public health management and administration. Our students learn the importance of health promotion, research, education and service to the community. Through its community-based Healthcare Centers, PCOM provides care to medically underserved populations in inner city and rural locations. For more information, visit pcom.edu.
For more information, contact:
Orla Moloney
Public Relations and Marketing Specialist
Office: 215-871-6334 | Cell: 267-449-1360
Connect with PCOM