Students Explore Drone As Potential Life-Saving Device
May 12, 2016
A group of medical students at PCOM are exploring the use of a drone, or unmanned aerial vehicle (UAV), in emergency medical situations.
---
During a medical emergency such as a heart attack, time is of the essence; the quicker emergency personnel can reach a person in distress, the better the outcome. However, The National EMS Information System reports an average response time of more than nine minutes.
To address this issue, a group of medical students at PCOM are exploring the use of a drone, or unmanned aerial vehicle (UAV), in emergency medical situations to see whether EMT response times could be shortened, and ultimately, patient outcomes could be improved.
In the first stage of this multi-stage, multi-year project, the students staged a mock-emergency site, using a heart-attack scenario, and outfitted a drone with a portable electrocardiogram (ECG) device to test whether it could reach the site and successfully take a reading when used by a layperson. The UAV flew 100 yards for about 2.5 minutes, and once it reached its destination, the ECG provided an accurate reading, thanks to a set of user instructions also included on the device. The students presented their data at PCOM's annual Research Day on May 11.
"At this initial stage, we've shown that our UAV was able to deliver an ECG in an amount of time that would be significantly shorter than traditional delivery methods such as an ambulance, particularly when traffic might be a hazard," said MariaLisa Itzoe (DO '19) one of the project collaborators. "Our hope is that the UAV could be used to gather information and transmit it back to the team who is en route, so that they can be better prepared to effectively and appropriately treat the patient once they arrive on site."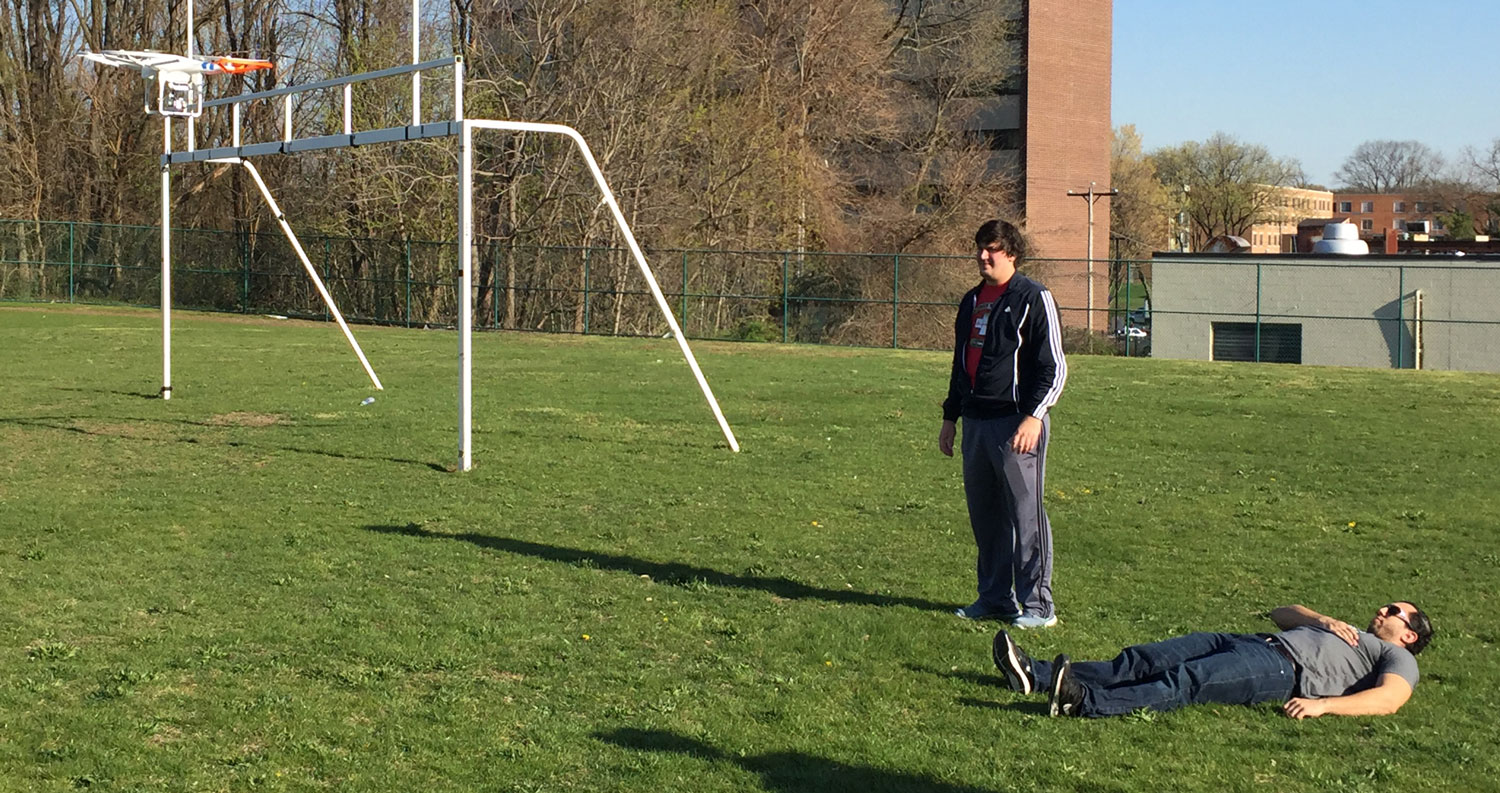 A group of students presented their data regarding the use of drones as potential life-saving devices at PCOM's 6th annual Research Day. Photo credit: Jeffrey Baron (DO '18) and Kevin Kucharski (DO '18).
---
In addition to its use in medical research, Arthur Sesso, DO, professor and chair, surgery, and the project's faculty advisor, is interested in its use as a teaching aid.
"Medical students learn better when they are engaged and involved, and that doesn't always happen in a lecture," he said. "Students learn about cardiac events in their first year, so this project is a way for them to learn those concepts in a more appealing way." Prior to using the drone, the students learned how to perform an ECG and used that knowledge to write easy-to-follow instructions to accompany the drone. "It's important for the students to know how to communicate in plain language, because that's what they will need to do with their patients," he said.
The group now comprises about 12 students with various areas of expertise, including surgery, engineering and academic research. They plan to recruit new students each year, and to test different sized equipment, longer flight distances, and additional emergency scenarios (such as outfitting a drone with an epi-pen, in the event of an allergic reaction).
"Ultimately, we hope that this technology can be applied to emergencies in rural and urban settings, as well as within the military," said Gary Clauss (DO '18), another collaborator.
PCOM's annual Research Day is held to foster collaboration between researchers from across departments, and build awareness of the College's thriving areas of research. At this year's event, 47 posters were submitted from the departments of Bio-Medical Sciences; Psychology; Library and Educational Informational Services; and Academic Technologies; and from several DO students and residents.
About Philadelphia College of Osteopathic Medicine
Founded in 1899, Philadelphia College of Osteopathic Medicine has trained thousands of highly competent, caring physicians, health practitioners and behavioral scientists who practice a "whole person" approach to care—treating people, not just symptoms. PCOM offers doctoral degrees in clinical psychology, osteopathic medicine, pharmacy, physical therapy and school psychology, and graduate degrees in biomedical sciences, forensic medicine, mental health counseling, organizational development and leadership, physician assistant studies, school psychology, and public health management and administration. Our students learn the importance of health promotion, research, education and service to the community. Through its community-based Healthcare Centers, PCOM provides care to medically underserved populations in inner city and rural locations. For more information, visit pcom.edu.
For more information, contact:
Orla Moloney
Public Relations and Marketing Specialist
Office: 215-871-6334 | Cell: 267-449-1360
Connect with PCOM