Geriatrics Club Hosts World Alzheimer's Day Panel
September 22, 2017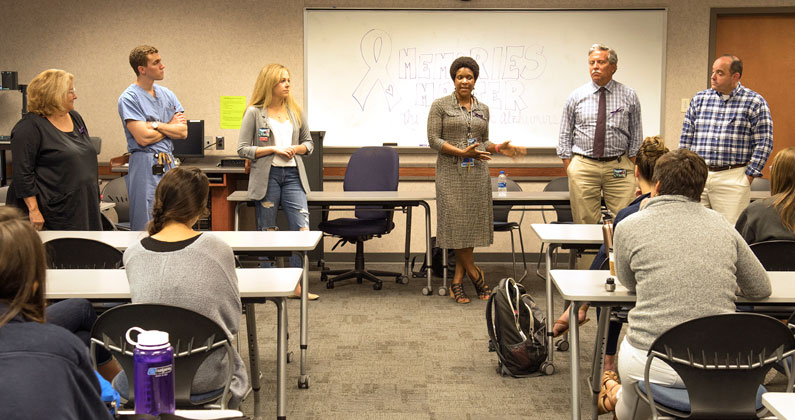 PCOM Alzheimer's researchers and residents participated in a recent panel hosted by the Geriatrics Club.
---
In honor of World Alzheimer's Day on September 21, the Geriatrics Club at PCOM held a panel discussion with several faculty members who study that disease and other neurodegenerative diseases, as well as residents in PCOM's neurosurgery residency program.
Roughly 25 students gathered to ask questions about the disease's symptoms and pathology, and to gain a better understanding of the current areas of research.
"We've found that olfactory pathways are vulnerable to infectious insult," said Brian Balin, PhD, professor and chair, bio-medical sciences. "Because smell is impacted, we believe it could lead to damage in the brain where the sense of smell is interpreted, which is located in the specific area of the brain earliest affected in Alzheimer's."
Dr. Balin and his research team, which included Denah Appelt, PhD, professor, neuroscience, physiology and pharmacology and Christopher Scott Little, PhD, associate professor, microbiology and immunology, had previously found a link between infection in the brain with the respiratory form of a Chlamydial organism, Chlamydia pneumoniae, and the presence of Alzheimer's.
"It's baffling to us that Alzheimer's researchers and clinicians aren't exploring this information fully," he said.
For the future physicians, Dr. Appelt said it was important that they become aware of the signs and symptoms of Alzheimer's now, so that when they begin their clinical rotations, they may be able to see early signs of the disease.
"As the students go through their training process, they'll go into areas such as orthopedics or family medicine or surgery and think they may not encounter Alzheimer's," she said. "But the disease can present in different ways, and perhaps not in the areas they would normally think."
Other panel members included Dr. Little; Nicol Joseph, DO, associate professor, geriatrics; neurosurgery resident Amber Valeri, DO; and student Zein Al-Atrache (DO/PhD '19).
The number of Alzheimer's cases in the US, along with the costs associated with treatment, is expected to soar in the coming years; to that end, the US Department of Health and Human Services in 2012 launched the National Plan to Address Alzheimer's Disease, which lays out key points for finding a cure for Alzheimer's by 2025.
Dr. Balin and Dr. Appelt are hopeful that the push will include more attention for research projects like theirs, which targets infection as a potential cause for the disease—an area that is still small, but continues to gain traction.
"The population is getting older, and the amount of money spent [on treatment] could bankrupt our healthcare system," said Dr. Balin. "There is a huge push to find a cure before that happens."

You May Also Like:


About Philadelphia College of Osteopathic Medicine
Founded in 1899, Philadelphia College of Osteopathic Medicine has trained thousands of highly competent, caring physicians, health practitioners and behavioral scientists who practice a "whole person" approach to care—treating people, not just symptoms. PCOM offers doctoral degrees in clinical psychology, osteopathic medicine, pharmacy, physical therapy and school psychology, and graduate degrees in biomedical sciences, forensic medicine, mental health counseling, organizational development and leadership, physician assistant studies, school psychology, and public health management and administration. Our students learn the importance of health promotion, research, education and service to the community. Through its community-based Healthcare Centers, PCOM provides care to medically underserved populations in inner city and rural locations. For more information, visit pcom.edu.
For more information, contact:
Orla Moloney
Public Relations and Marketing Specialist
Office: 215-871-6334 | Cell: 267-449-1360
Connect with PCOM