Bringing PCOM Research to Market
November 5, 2015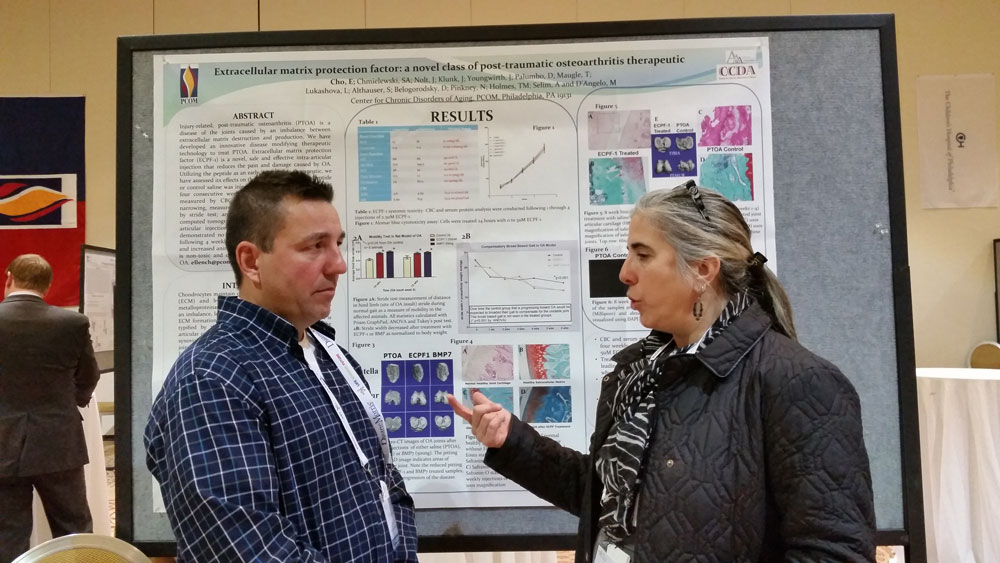 Marina D'Angelo, PhD (right), a PCOM professor, is currently
exploring safer treatments of osteoarthritis.
Several faculty members in the Department of Bio-Medical Sciences had the opportunity to showcase their research at the Pennsylvania Bio Life Sciences Future conference in October. The event is a gathering of medical companies, academic institutions, service industries and investment organizations that support the life sciences in Pennsylvania. The goal of this annual conference is to link scientists, entrepreneurs, funding, programs and policy makers to create therapeutics, policies and jobs that significantly impact human health.
Brian Balin, PhD, professor and chair, bio-medical sciences, presented a project through which he and colleagues are attempting to create a diagnostic tool for those at risk of Alzheimer's. In previous studies, Dr. Balin's group found a link between Alzheimer's and the respiratory infection Chlamydia pneumoniae. Now, they are examining biomarkers of infection including the detection of antibodies against this infection in the blood of those at greatest risk for Alzheimer's. In doing so, Dr. Balin and his colleagues hope to create a diagnostic tool that can be used to detect the disease well before symptoms occur—which, for most patients, is often too late for any current treatment to be effective.
Marina D'Angelo, PhD, professor, bio-medical sciences, is currently exploring safer treatments of osteoarthritis. Currently, the only therapeutic available are nonsteroidal anti-inflammatory drugs (NSAIDs); however, long term use of these can lead to several health complications, including issues related to the GI tract and kidneys; high blood pressure; heart attack and stroke. Dr. D'Angelo and her colleagues have patented a new treatment which has been shown in pilot studies to be effective in slowing the progression of the disease without many of the long-term side effects of NSAIDs. She currently is testing this therapeutic on the canine population but hopes to bring it to market for humans. In addition, she and colleagues are testing another therapeutic in their platform of products that prolongs the life of dental restorations. Preliminary research has shown that the therapeutic, when applied during dental to a restoration, helps maintain the bonding beyond a year.
Heather Montie, PhD, assistant professor, bio-medical sciences, has been studying a modification to the androgen receptor—which binds androgens like testosterone—to determine how manipulating that modification can stop the growth of tumors in patients with prostate cancer, even when surgery and treatment regimens to inhibit the androgen receptor have been unsuccessful. Androgen receptor function is responsible for the viability of tumors in those with prostate cancer, and by better understanding how to block the androgen receptor, Dr. Montie hopes to create an effective therapeutic that can stop or slow the growth of prostate cancer tumors in men.
Lindon Young, PhD, professor, bio-medical sciences, is studying injuries to organs and tissues that occur after blood flow is restored to that area after a prolonged period of time without blood flow, usually after a heart attack or organ transplant. There is currently no therapeutic available to lessen the damage caused by these events, which occurs from a buildup of reactive oxygen species (ROS) in the blood. Dr. Young and his colleagues are looking at regulating mechanisms related to that ROS buildup, to determine whether inhibiting ROS would lessen the damage and ultimately create a therapeutic to treat those injuries.
"Participating in the Life Sciences Future conference enables us as researchers to develop partnerships with individuals and institutions through which we can expand on our research, and hopefully create solutions to some of the most chronic diseases that affect our health and wellbeing," said Dr. Balin.
About Philadelphia College of Osteopathic Medicine
Founded in 1899, Philadelphia College of Osteopathic Medicine has trained thousands of highly competent, caring physicians, health practitioners and behavioral scientists who practice a "whole person" approach to care—treating people, not just symptoms. PCOM offers doctoral degrees in clinical psychology, osteopathic medicine, pharmacy, physical therapy and school psychology, and graduate degrees in biomedical sciences, forensic medicine, mental health counseling, organizational development and leadership, physician assistant studies, school psychology, and public health management and administration. Our students learn the importance of health promotion, research, education and service to the community. Through its community-based Healthcare Centers, PCOM provides care to medically underserved populations in inner city and rural locations. For more information, visit pcom.edu.
For more information, contact:
Orla Moloney
Public Relations and Marketing Specialist
Office: 215-871-6334 | Cell: 267-449-1360
Connect with PCOM