GA-PCOM Named Top Healthcare Agency
December 14, 2016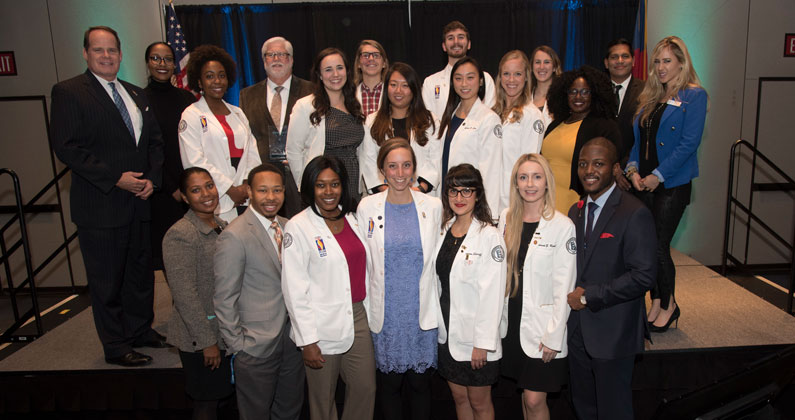 Health Career Academy student volunteers, along with Dr. Samuel John, Dr. H. William Craver III, Chief Campus Officer Bryan Ginn, Director of Student Affairs Patience Mason and members of the college's Admissions team represented GA-PCOM at the Healthcare Awards dinner presented by the
Gwinnett Chamber of Commerce.

---
The Gwinnett Chamber of Commerce honored Georgia Campus – Philadelphia College of Osteopathic Medicine (GA-PCOM) for "making a significant impact in the healthcare industry" with the 2016 Healthcare Agency award at a dinner and ceremony held at the Infinite Energy Forum in Duluth on Dec. 13.
"Superior healthcare is one of the most important factors in defining a community's quality of life," said Dr. Dan Kaufman, President & CEO of the Gwinnett Chamber. The Healthcare Awards program is the chamber's commitment to "paying tribute to those who are leading the way through innovation, patient and family care, philanthropic efforts and volunteerism," according to Kaufman.
Chief Campus Officer Bryan Ginn said, "We are very happy to be recognized as Gwinnett's healthcare agency of the year. Knowing that our professional peers selected the winner is even more gratifying. We at GA-PCOM are proud to be part of the Gwinnett community with its rich history, its innovative approach to finding solutions, and its unparalleled leadership."
The only osteopathic medical college in the state, GA-PCOM has called Gwinnett County home since 2005. Located in Suwanee, GA-PCOM is a branch campus of the Philadelphia, Pennsylvania, campus, and offers degrees in osteopathic medicine (DO), pharmacy (PharmD), biomedical sciences (MS) and physician assistant studies (MS). GA-PCOM students learn a "whole body" approach to the medical sciences and are prepared to work successfully in integrated healthcare settings with other health professionals.
At the Healthcare Awards ceremony, awards were also given for Allied Health Professional, Altruistic Leader, Community Wellness, Corporate Achievement, Executive Administrator, Healthcare Professional, Physician of the Year (Dentist, Primary Care and Specialist) and Volunteer Service. In addition to earning the Healthcare Agency award, GA-PCOM faculty members and students were recognized as finalists.
H. William Craver, III, DO, who is Dean of Medicine and Chief Academic Officer, was a finalist in the Executive Administrator category. The award honors a professional who has demonstrated dedication and leadership. Dr. Craver is actively involved in several organizations including the Residency Evaluation and Standards Committee for the American College of Osteopathic Surgeons and the Council on Osteopathic Postdoctoral Training for the American Association of Colleges of Osteopathic Medicine.

He serves as a delegate to the American Osteopathic Association (AOA), on the Board of Directors for Three Rivers Area Health Education Center (AHEC), on the Graduate Medical Education Regents Evaluation and Assessment Team (GREAT), on the Medical Education Advisory Committee for the Georgia Board for Physician Workforce, and as a member of the Primary Care Work Group for the Georgia Statewide AHEC Network. He is also a member of the AOA Mentor Hall of Fame and a Guardian of the Profession.
Assistant professor in the Department of Pharmacy Practice and Post-Graduate Year-1 (PGY-1) Residency Program Director at the PCOM School of Pharmacy, Samuel M. John, PharmD, BCPS, was a finalist for the Gwinnett Chamber's Healthcare Professional award. This award pays tribute to an individual who enriches the healthcare sector through their commitment and guidance.

Dr. John serves as a preceptor for fourth year pharmacy students at Gwinnett Medical Center where he also practices as a clinical pharmacist. He is a member of the Georgia Society of Health-System Pharmacists, the American Society of Health-System Pharmacists, and the Atlanta Academy of Institutional Pharmacists.
A group of dedicated GA-PCOM students who serve as Health Career Academy mentors to Central Gwinnett High School students were selected as finalists for the Volunteer Service Award. This award recognizes volunteers who have inspired others while making significant contributions to the community. Led by second-year osteopathic medical students Hannah Shin and Yasmeen Shariff, the Health Career Academy aims to provide high school students with mentorship and an engaging health curriculum, along with exposure to health careers.
You May Also Like:


About PCOM Georgia
Established in 2005, PCOM Georgia is a private, not-for-profit, accredited institute of higher education dedicated to the healthcare professions. The Suwanee, Georgia, campus is affiliated with Philadelphia College of Osteopathic Medicine which has a storied history as a premier osteopathic medical school. PCOM Georgia offers the doctor of osteopathic medicine degree, the doctor of pharmacy degree, the doctor of physical therapy degree, as well as graduate degrees in biomedical sciences and physician assistant studies. Emphasizing "a whole person approach to care," PCOM Georgia focuses on educational excellence, interprofessional education and service to the wider community. The campus is also home to the Georgia Osteopathic Care Center, an osteopathic manipulative medicine clinic, which is open to the public by appointment. For more information, visit pcom.edu or call 678-225-7500.
For more information, contact:
Barbara Myers
Public Relations Manager
Email: BarbaraMy@pcom.edu
Office: 678-225-7532 | Cell: 770-309-0613
Connect with PCOM Georgia