'Family Medicine' Works for Sibling Pairs
November 8, 2016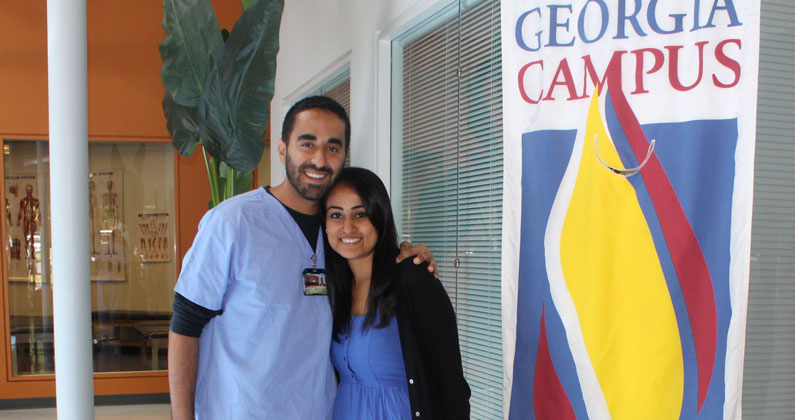 Siblings Sagar and Ayesha Patel have always attended school together and are now both students at Georgia Campus - Philadelphia College of Osteopathic Medicine.
---
It's no secret that medical students at Georgia Campus – Philadelphia College of Osteopathic Medicine (GA-PCOM) share many traits: a passion for science, a desire to help others, a knack for studying all night, to name a few. And while the College community is often referred to as the "GA-PCOM family," the term applies more literally to some than it does others, because a few students also share DNA.
Siblings Ayesha and Sagar Patel have always attended the same schools. As children, they went to the same elementary and middle schools, they both attended Marietta High School and both even graduated from Georgia Tech – Ayesha with a degree in Psychology and Sagar with a degree in biology. Now, with the goal of becoming physicians, Ayesha and Sagar are enrolled in GA-PCOM's osteopathic medicine program.
"Most people would hate to attend the same school as their sibling, but we love it," said Sagar Patel, who is three years younger than his sister. "[Ayesha] is my best friend so it's a great support system."
Ayesha Patel, who earned her Master of Science in Biomedical Sciences at GA-PCOM before applying to medical school, matriculated with the DO Class of 2019.
"It was through her love for GA-PCOM that I chose to apply here as well," said Sagar, who matriculated this year with the Class of 2020.
Ayesha stated, "We are extremely close and he's one of my best friends so I'm super excited to share this special journey with him."
The Patels will be the first of their family to become physicians. Both recalled that they knew they wanted a career in health care after shadowing their grandfather's cardiologist through high school and college. Growing up living with their grandparents, Sagar became passionate about heart disease, and he hopes to become a cardiothoracic surgeon.
Though different in personality with Ayesha being the more extroverted of the two, the Patels have similar study habits, and Ayesha's advice on study methods has been helpful so far, revealed Sagar.
"She guides me, but at the same time gives me my space to grow as my own person," he said.
Ayesha noted, "We've always encouraged each other to be better so it's a privilege to be able to go to school with him once again."
The support they have for each other proved especially significant during the start of the academic year. "The first three weeks of medical school were extremely tough for me," Sagar shared, explaining that their grandfather passed away from congestive heart failure during the second week of the term.
"This experience, along with the workload of school, has been one of the greatest challenges in my life thus far. Having each other, especially during those times, was such a big blessing as we were able to help each other get through it."
Though Sagar wants to be a surgeon and Ayesha is currently leaning more toward a career in pediatrics, they are open to the idea of practicing medicine together in the future.
"Hopefully things work out and we can keep our paths joined for the rest of our careers, guiding and supporting each other along the way," said Sagar.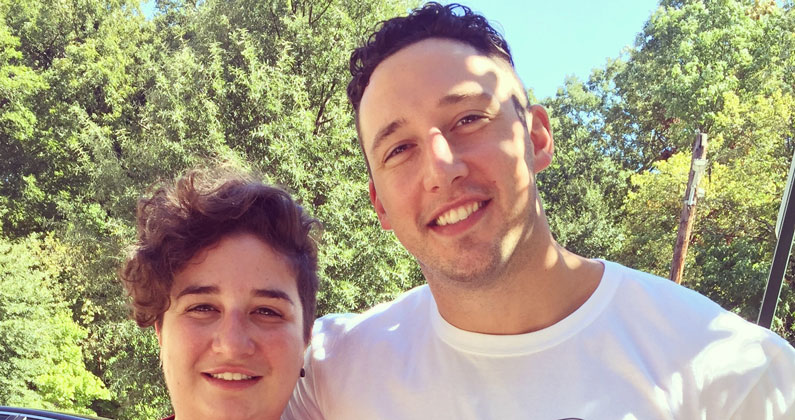 Siblings Jessica and Alexander Navone are both students at Georgia Campus-Philadelphia College of Osteopathic Medicine.
---
Alexander and Jessica Navone also aspire to become physicians. Alex, who has his master's in biomedical sciences from GA-PCOM, is currently in Jacksonville, Florida, as part of his third-year rotations as a DO student. Jessica matriculated in August as a first year biomedical sciences student.
Originally from the state of New York, the Navones lived in New York City and Elmira before moving to Reading, Pennsylvania. There, they attended Wilson High School.
"Our relationship was like most siblings growing up," Alex recalled. "That is, we fought likes cats and dogs. It wasn't until I was in tenth grade and we were in separate school buildings that we started to get along, and by the time I left for college we had become very close."
Jessica added, "Now we always have each other's back through thick and thin, going to each other for advice and everything else."
Alex, who is two years older than Jessica, earned his bachelor's degree from Pennsylvania State University. Although the Navones come from a family of healthcare providers, Alex wasn't sure at first what kind of career he wanted. "Our family is very medically oriented, so working in health care was always a strong possibility for me," he said. Knowing that he wanted to help improve the lives of others, Alex eventually decided to dedicate himself to health care. That desire extended to Jessica as well.
"Growing up, my brother and I played a lot of lacrosse. My mom was at every game and whenever someone got hurt, she was there and able to help. I always wanted the knowledge to be able to help and heal someone who needed it," Jessica explained.
It was their mother who first encouraged Alex to look into PCOM's graduate programs, and, while applying, he learned about the Georgia campus. "On a whim," he switched his Philadelphia application to the biomedical sciences program at GA-PCOM.
When later deciding on medical schools, Alex said, "Due to the strong ties that I developed over my time in the master's program, I decided to pursue my medical degree at the Georgia Campus. And I could not be happier about my decision to do so."
After Jessica graduated from high school, she earned her bachelor's degree from Coastal Carolina University in Myrtle Beach, South Carolina. She then attended medical school in Hungary for two years before coming back to the states and enrolling at GA-PCOM.
"My brother was a big influence on my decision to apply to GA-PCOM ... He always talked very highly of the program and people here, telling me it is a great place to go to school and that I will have a great experience at GA-PCOM," she said.
You May Also Like:
About GA-PCOM
Georgia Campus – Philadelphia College of Osteopathic Medicine (GA-PCOM) is a private, not-for-profit branch campus of the fully accredited Philadelphia College of Osteopathic Medicine, a multi-program institution of educational excellence founded in 1899. GA-PCOM offers the doctor of osteopathic medicine degree, the doctor of pharmacy degree, as well as graduate degrees in biomedical sciences and physician assistant studies. The campus, located in Suwanee, Georgia, is also home to the Georgia Osteopathic Care Center, an osteopathic manipulative medicine clinic, which is open to the public by appointment. For more information, visit www.pcom.edu or call 678-225-7500.
For more information, contact:
Barbara Myers
Public Relations and Marketing Manager
Email: BarbaraMy@pcom.edu
Office: 678-225-7532 | Cell: 770-309-0613