Faculty Highlight: Srujana Rayalam, PhD
January 30, 2018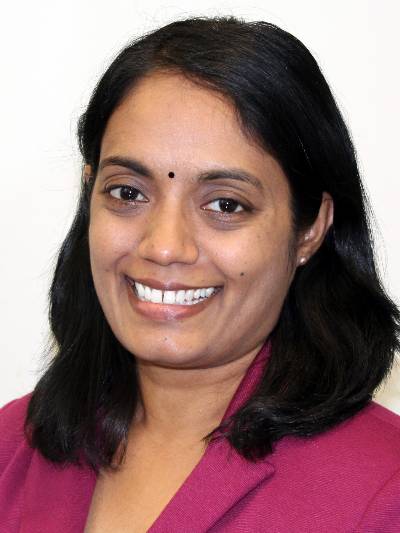 This month's faculty highlight features Srujana Rayalam, PhD, assistant professor in the Department of Pharmaceutical Sciences.
Why did you choose a career in pharmacy education?
My career in pharmacy education happened by a chance and I am grateful for the opportunity. Coming from a different educational background, I never thought I would be teaching at a pharmacy school. After graduating from veterinary school in India, I embarked on a journey to do research in animal health. As a doctoral student at the College of Veterinary Medicine, University of Georgia, I was exposed to different styles of teaching and learning methods. I thoroughly enjoyed the change in the educational atmosphere and after my graduation I continued my journey as a research faculty, during which time I got the opportunity to develop and teach a course to undergraduate students at UGA. Teaching that course changed the course of my career. I found that I immensely enjoyed teaching and the sense of satisfaction that I experienced as a teacher enhanced my desire to teach and to pursue a career choice with teaching as a major component.
Coming from a small town in India, I had an opportunity to develop great relationships with my teachers and the tight-knit community helped foster the student-teacher relationship. I have always believed that a personal attention from the teacher goes a long way in helping disadvantaged students in the class. My experience at PCOM School of Pharmacy has been exhilarating so far and has motivated me to continue to give my best as an educator.
What is your research interest?
My lab is primarily involved in identifying novel strategies for the prevention and treatment of obesity and associated disorders. Obesity is a global epidemic and currently we have very few FDA approved medications for this disorder. We study adipocyte life cycle and investigate the following anti-obesity approaches to develop a multi-target therapeutic model for obesity. We screen anti-obesity agents to test their ability to 1) decrease adipocyte differentiation and proliferation 2) induce adipocyte apoptosis 3) promote lipolysis and 4) induce transdifferentiation of white to brown-like beige adipocytes. Unlike white adipocyte, which stores energy and is implicated in the pathogenicity of obesity, brown adipocyte is an energy-dissipating unit and helps us burn calories. Converting white fat to brown fat is an exciting area of research and could help us win the battle against obesity.
What advice do you have for a person considering a career in pharmacy?
I have learned so much about pharmacy in the past few years and it continues to amaze me the wonderful array of career options you can pursue after graduating from pharmacy school. The rigor of the program is going to be high and students should be prepared to work hard. I strongly encourage students to have an open mind and research all the avenues of pharmacy before committing for four years. As a pharmaceutical sciences faculty, I try to incorporate my research into teaching and encourage students to take advantage of research opportunities on campus. Research can greatly improve the scope of what a student wants to do after graduation and my sincere advice is to get some research experience.
What is your favorite ice cream flavor?
Moose tracks and mango