Mission and Goals

PCOM School of Pharmacy

Mission Statement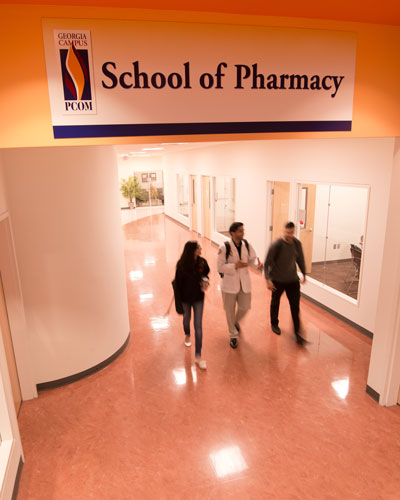 The mission of the Philadelphia College of Osteopathic Medicine (PCOM) School of Pharmacy is to educate and train caring, competent and proactive generalist pharmacists who contribute to the health and well-being of the residents and to support the needs of the underserved of Georgia, the Southeast region and society at-large.
Our graduates will be trained to promote the practice of pharmacy by training our students to design, implement, monitor and modify pharmaceutical care plans using evidence-based decision making to achieve defined goals and improve therapeutic outcomes. Further, the School of Pharmacy will support the personal and professional development of faculty in the areas of teaching, research/scholarship and service.
REQUEST PROGRAM INFORMATION

Our Goals


Educational Goals
The PCOM School of Pharmacy seeks to prepare generalist, entry-level pharmacists who are able to deliver high-quality pharmaceutical care. The curriculum has been designed to prepare students to demonstrate the knowledge, skills and attitudes enabling them to contribute towards the changing healthcare environment. Specific goals of the curriculum are to educate students to:
provide population-based and patient-specific pharmaceutical care;
manage and use resources of the healthcare system; and
promote health improvement, wellness and disease prevention.
Our program incorporates active learning, interdisciplinary education and problem solving skills, affording our students the ability to practice in an ever-changing and lifelong learning profession. Students will also be exposed and encouraged to gain specialized training in residency or fellowship programs to prepare them for careers in other areas such as specialized clinical practice, research, pharmaceutical industry or academia.
Research Goals
All faculty members are expected to engage in scholarship consistent with the School of Pharmacy's mission and expand the scientific knowledge associated with the practice of pharmacy and medicine. In its didactic and experiential curriculum, the School of Pharmacy seeks to provide exposure to students in many different aspects of pharmacy practice and the pharmaceutical sciences, including clinical and basic research. Students will be instructed on the use of research in establishing evidence-based medicine and exposed to critical evaluation of clinical research publications.
LEARN MORE
Service and Practice Goals
One of the School of Pharmacy's goals is to attract students from Georgia and the Southeast region to help reduce the shortage of readily accessible health care providers in this region. Given pharmacists are in a unique position to assist in the care of medically underserved patients and collaborate with physicians and other healthcare providers to expand the scope of pharmacy practice, our students will be trained to perform duties as a key member of the healthcare team, provide cost-effective health care and improve patients' quality of life.