Woodruff Receives Alumni Certificate of Honor
January 22, 2019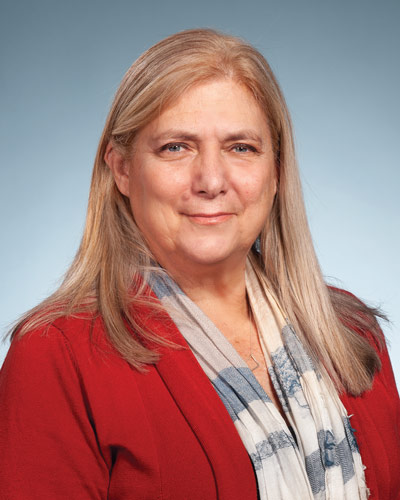 Philadelphia College of Osteopathic Medicine (PCOM) has announced that Tina Woodruff, EdD, senior advisor to the provost, is the recipient of the PCOM Alumni Association's Certificate of Honor— the highest award given by the Association in recognition of distinguished services rendered and loyal devotion to the welfare and strengthening of PCOM. Dr. Woodruff will be honored at PCOM's Founders' Day luncheon on Friday, January 25.
Dr. Woodruff has served the College for more than 15 years, the majority of those as chief student affairs officer. In that role, she was charged with designing and implementing academic support programs, career planning services, professional development opportunities and mental health support resources for students in all academic programs on both the Philadelphia and Georgia campuses.
As a result of Dr. Woodruff's leadership, PCOM students have access to academic, personal and career support services designed to help them reach their professional goals. Under her direction, PCOM's Office of Student Affairs has grown to include 13 staff members between the Philadelphia and Georgia campuses, and a model is also in place to provide student affairs support services to students at PCOM South Georgia.
The offices on each campus organize orientation programs for new students; provide academic support services, learning and disability accommodations, counseling services and career services for DO, pharmacy and graduate students; and oversee commencement related, co-curricular and community service activities.
In 2018, Dr. Woodruff transitioned to her current role as senior advisor to the provost for DO residency planning services. In this role, Dr. Woodruff is responsible for creating and overseeing a suite of residency planning, residency application and match support services for the College's DO students on all campuses.
Dr. Woodruff earned her doctoral degree in higher education administration and organizational leadership from Widener University, her master's degree in higher education counseling and psychology from Rider University, and her bachelor's degree in English and communication from Temple University.

You May Also Like:


About Philadelphia College of Osteopathic Medicine
Founded in 1899, Philadelphia College of Osteopathic Medicine has trained thousands of highly competent, caring physicians, health practitioners and behavioral scientists who practice a "whole person" approach to care—treating people, not just symptoms. PCOM offers doctoral degrees in clinical psychology, osteopathic medicine, pharmacy, physical therapy and school psychology, and graduate degrees in biomedical sciences, forensic medicine, mental health counseling, organizational development and leadership, physician assistant studies, school psychology, and public health management and administration. Our students learn the importance of health promotion, research, education and service to the community. Through its community-based Healthcare Centers, PCOM provides care to medically underserved populations in inner city and rural locations. For more information, visit pcom.edu.
For more information, contact:
Orla Moloney
Public Relations and Marketing Specialist
Office: 215-871-6334 | Cell: 267-449-1360
Connect with PCOM