Student Research Spotlight

Rex Lutz (DO '21)
August 15, 2019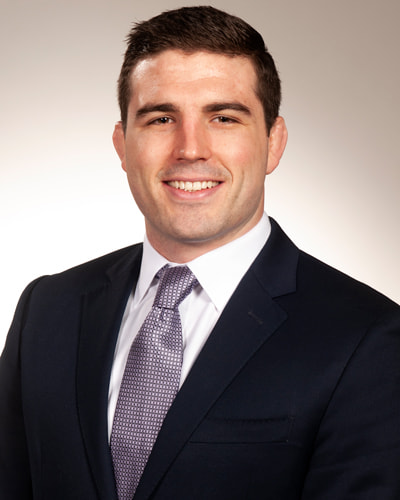 Rex Lutz (DO '21) graduated from The Pennsylvania State University in 2015 with a degree in biology. Following graduation, he decided to focus on orthopaedic research prior to attending medical school.
He worked as a clinical research coordinator at Rothman Orthopaedic Institute in Egg Harbor, New Jersey, with a focus in adult reconstruction and cartilage restoration before pursuing his doctor of osteopathic medicine degree at PCOM.
What are you studying?
Osteoarthritis is wear and tear of the cartilage in the joints of the body. Total knee and hip replacements are among the most common treatments of severe and painful arthritis. My research in adult reconstruction focuses on minimizing complications and maximizing outcomes in total knee and hip replacement surgeries. Furthermore, my research in cartilage restoration focuses on treating and mitigating mild osteoarthritis and its associated pain.
What prompted you to pursue research?
Orthopaedics has always been an area of interest for me and I knew I wanted to contribute to the field throughout the life of my career. To me, gaining a deeper understanding of conducting research and how to apply it has been essential for my clinical decision making. I wanted to feel comfortable analyzing scientific literature and drawing my own conclusions based on scientific evidence. The clinical research I did prior to attending medical school has equipped me with a skillset that I will continue to use in the future.
What experience do you have conducting research?
One of the studies I worked on includes a protocol to reduce the onset of delirium following total joint replacement. Delirium is a serious complication that can occur following surgery. We also studied how quickly patients "forget" that they have had a knee replacement and when their knee feels natural again following surgery. Realistic expectations are an important part of the surgical conversation. In addition, we studied the efficacy of autologous stem cells (or stem cells from one's own tissue, such as fat) in the treatment of osteoarthritis. I have further interests in perioperative antibiotic usage in total joint replacement and injury to the lateral femoral cutaneous nerve (which allows you to feel sensation in your upper leg) in total hip replacement.
What were your responsibilities in the research project?
I collaborated with the physicians and gathered input from multiple surgeons and research personnel to optimize the design of our research study. I helped collect and analyze the data and draft the information into a manuscript. Our studies were then presented at various orthopaedic conferences throughout the world, where we would get feedback from the orthopaedic community as part of the peer review process. Once we felt that our data and conclusions reflected a need in the literature, I would submit the manuscript to an orthopaedic journal and communicate with the editors of the journal to reach a final product. Following publication, the research is available for orthopaedic surgeons to read.
In addition to research, I help locally coordinate a program known as Operation Walk, USA. This organization pairs with hospitals and orthopaedic surgeons across the country to provide free hip and knee replacements to those that are uninsured and do not have the means to afford the surgery. Fabio Orozco, MD, director, Rothman Orthopaedic Institute's South Jersey Adult Reconstruction Fellowship and Zachary Post, MD, Rothman Orthopaedic Institute, have completed a total of four hip replacements in the past two years for this cause. Currently, the list of participating surgeons is growing and my goal is to expand this effort throughout the greater Philadelphia area.
What is the broader impact of your research?
The goal of this research is improving orthopaedics throughout the world. Constantly pushing the limits through the production of high-quality, evidence-based medicine will improve patient outcomes and satisfaction. We have great healthcare and technology in this country and consistent research will continue to improve our knowledge and understanding of current diseases and treatment.
You May Also Like:
About Philadelphia College of Osteopathic Medicine
Founded in 1899, Philadelphia College of Osteopathic Medicine has trained thousands of highly competent, caring physicians, health practitioners and behavioral scientists who practice a "whole person" approach to care—treating people, not just symptoms. PCOM offers doctoral degrees in clinical psychology, osteopathic medicine, pharmacy, physical therapy and school psychology, and graduate degrees in biomedical sciences, forensic medicine, mental health counseling, organizational development and leadership, physician assistant studies, school psychology, and public health management and administration. Our students learn the importance of health promotion, research, education and service to the community. Through its community-based Healthcare Centers, PCOM provides care to medically underserved populations in inner city and rural locations. For more information, visit pcom.edu.
For more information, contact:
Orla Moloney
Public Relations and Marketing Specialist
Office: 215-871-6334 | Cell: 267-449-1360
Connect with PCOM