PCOM announces Snyder, Pressly award winners
January 9, 2017
The College has announced that Vincent G. Lobo, DO '65, Anna Elisa Muzio (DO '17) and Matthew Shelnutt (DO '17), Georgia campus, are this year's recipients of the OJ Snyder Memorial Medal and the Mason W. Pressly Memorial Medals, respectively.
Vincent G. Lobo, DO '65
Snyder Medal Recipient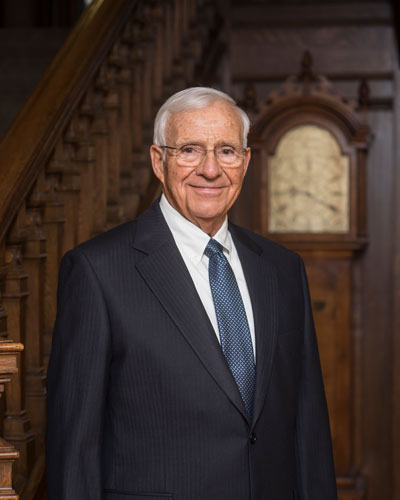 Dr. Lobo began his family practice in rural Kent County, Delaware in the late 1960s, there were just 35 DOs working in a state where some hospitals wouldn't grant admitting privileges to doctors trained in osteopathic medicine. But thanks in part to his efforts, those numbers have grown almost tenfold, with 334 DOs now operating and seen as equals to their MD counterparts.
And, while Delaware lacks a medical school, the state promotes osteopathic training by paying for five slots for four years (20 slots each academic year) for qualified, accepted students from Delaware. In fact, PCOM's class of 2020 includes 15 students from Delaware. "It's been a very good thing for both PCOM and Delaware to have this close affiliation," said Dr. Lobo. "Delaware students have had a better chance to get into medical school, and we're getting more coming back home. We need more family practitioners."
Among his biggest allies in the state capital of Dover was Ruth Ann Minner, Delaware's governor from 2001 to 2009. Ms. Minner and extended family were also patients of Dr. Lobo. While governor, Ms. Minner signed a bill that provided state scholarships to Delaware students in medical school to become DOs. She also regularly sought Dr. Lobo's advice on healthcare policy.
After graduating from PCOM, Dr. Lobo opened a solo medical practice in Harrington, which thrived from 1967 until 2010, when he joined the staff of the Bayhealth Medical System. Osteopathic manipulative medicine (OMM) is still an important part of his practice. "You are not only relieving pain with OMM," he said. "Through touch, you are making a connection with your patient. There is healing and communication. You are showing your patient that you care."
Dr. Lobo has served on several state and professional organizations; he was the first DO named to the Delaware Board of Medical Practice, and currently sits on the board of directors of the Delaware Institute of Medical Education and Research, which oversees state scholarship for medical education. He also is the current health commissioner of the city of Harrington. As president of the Delaware State Osteopathic Medical Society, he helped win passage of a bill that put DOs and MDs on equal footing and fought for DO representation when Delaware combined its medical boards of licensure and discipline. He also serves on PCOM's Boards of Trustees and is a past president of the PCOM Alumni Association.



Anna Elisa Muzio, (DO '17)
Pressly Medal Recipient
As vice-chair of PCOM's Student Organizations Council, Ms. Muzio helped pass a requirement that in
order for student clubs to continue to receive funding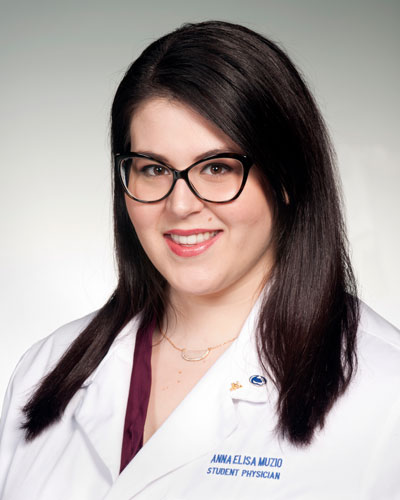 from the College, they must complete two community service projects per academic year and document that participation. Between 2014 and 2015, she tracked more than 175 hours of community service. "Participating in community service and giving back to others has always motivated me and has been a key determinant in my decision to peruse a career in medicine," says Ms. Muzio.
Indeed, Ms. Muzio's involvement has touched both the Philadelphia campus and larger city communities. She has worked with the Athlete Health Organization, which provides physicals for middle- and high-school athletes; served as survivor chair of PCOM's Relay for Life, working with cancer survivors to share their stories; and educated local high school students through Lankenau Medical Center's Health Care Academy, where she presented the students with a medical case and then talked through treatment options. Ms. Muzio has also served the College as an admissions tour guide and on the PCOM Admissions Committee.
The daughter of a registered nurse, Ms. Muzio grew up fascinated by the study of anatomy. At Penn State, she studied life sciences with the hope of attending medical school, and competed on the Varsity Women's Track and Field Team. Through her involvement in athletics, she became interested in orthopedic surgery and will begin her residency training in that medical specialty.
Matthew Shelnutt, (DO '17)
Pressly Medal Recipient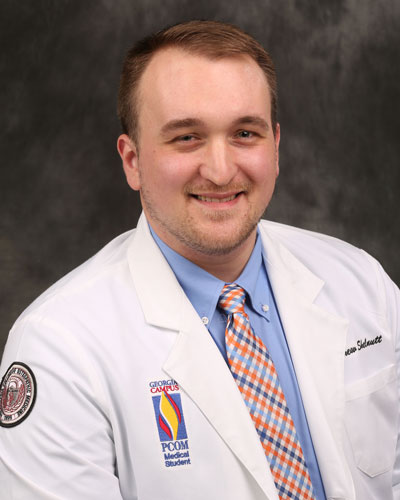 Mr. Shelnutt's work in the community serves as a way for him to connect and to better the lives of those around him. His efforts include serving on GA-PCOM's Diversity Council; performing health screenings and organizing health fairs within the greater Atlanta area; and mentoring first- and second-year students as an OMM fellow.
A Georgia native, Mr. Shelnutt aims to bring his attitudes on community connections and inclusion to his career in medicine, which he hopes will begin with a residency in obstetrics and gynecology upon graduation. Continue reading about Mr. Shelnutt's contributions to GA-PCOM and beyond.
The OJ Snyder Memorial Medal is presented in memory of the co-founder of PCOM and is the College's highest award, which recognizes leadership and service to the osteopathic profession and to the institution.
The Mason W. Pressly Memorial Medal is presented to students for their outstanding achievement and service to the College, the community and the osteopathic profession. Recipients are selected by representatives of the overall College community.
Recipients will receive their medals during the annual Founders' Day celebration on Friday, January 27, in the Rose K. Ginsburg Amphitheater on the Philadelphia campus, and in the Atrium at GA-PCOM.
You May Also Like:


About Philadelphia College of Osteopathic Medicine
Founded in 1899, Philadelphia College of Osteopathic Medicine has trained thousands of highly competent, caring physicians, health practitioners and behavioral scientists who practice a "whole person" approach to care—treating people, not just symptoms. PCOM offers doctoral degrees in clinical psychology, osteopathic medicine, pharmacy, physical therapy and school psychology, and graduate degrees in biomedical sciences, forensic medicine, mental health counseling, organizational development and leadership, physician assistant studies, school psychology, and public health management and administration. Our students learn the importance of health promotion, research, education and service to the community. Through its community-based Healthcare Centers, PCOM provides care to medically underserved populations in inner city and rural locations. For more information, visit pcom.edu.
For more information, contact:
Orla Moloney
Public Relations and Marketing Specialist
Office: 215-871-6334 | Cell: 267-449-1360
Connect with PCOM