PCOM Announces 2016 Snyder, Pressly Award Winners
January 8, 2016
PCOM has announced Richard A. Pascucci, DO '75, Zachary M. Herrmann (DO '16) and Jessica Mormando (DO '16) as the 2016 recipients of the College's OJ Snyder Memorial Medal and Mason W. Pressly Memorial Medals, respectively. The awards will be given at the College's annual Founders' Day celebration on Jan. 22.
Richard A. Pascucci, DO '75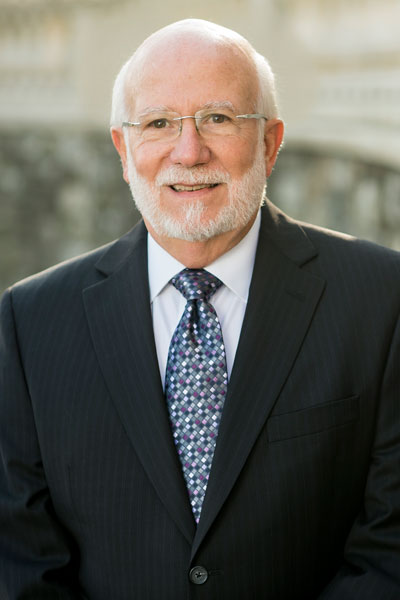 During the past 22 years, Dr. Pascucci has played a vital role in the education of more than 700 osteopathic physicians at PCOM. As vice dean for clinical education, he has made it his mission to ensure that residents receive a top quality graduate medical education that leads them to become competent and caring high quality physicians.
He was recruited by PCOM in 1993 as director of medical education and associate dean for graduate medical education (GME), and has been able to develop a robust GME program, despite the fact that PCOM does not own a hospital. Dr. Pascucci also rose to the challenge of developing an OPTI consortium that has grown to include 45 partner hospitals of the highest caliber, including Lankenau, Lehigh Valley Medical Center, Einstein and Pennsylvania Hospital to name a few.
In addition to strong relationships forged within PCOM's MedNet program, Dr. Pascucci has successfully maintained PCOM's own residency programs with about 140 residents every year, "We've preserved high quality residencies in neurosurgery, internal medicine, family medicine, otorhinolaryngology, plastic surgery and ophthalmology, among others," he says.
In addition to his role in GME, Dr. Pascucci enjoys teaching in the classroom at all levels. A specialist in rheumatology (he retired from clinical practice in 2015), he has taught medicine to medical students, physician assistant students and residents, as well as attending physicians at Grand Rounds and continuing medical education conferences. He also contributed to the development of top quality residents as a member of the American Osteopathic Board of Internal Medicine for which he submitted questions and developed exams for medical residents for 18 years, nine as the primary rheumatology consultant to the board. He considers this to be one of the highlights of his career.
Zachary M. Herrmann (DO '16)
Mason Pressly Award Recipient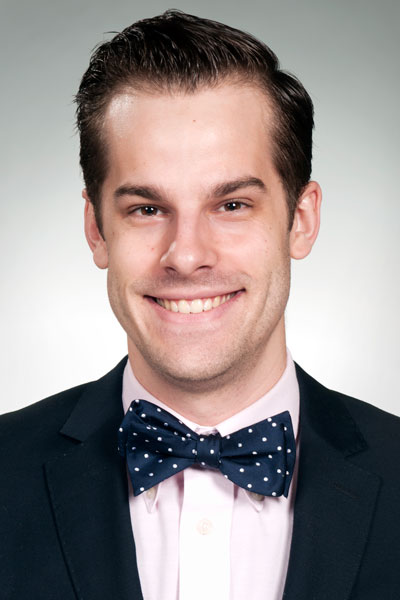 Faced with sobering statistics related to suicide among physicians and medical students—each year, between 250 and 400 physicians die by suicide, and it is among the most common causes of death among medical students—Mr. Herrmann worked to co-chair the establishment of a SWAT team, now known as SWATTI (Student Wellness and Academic Transition Team Initiative), at PCOM. The team's mission is to find creative ways to lower the stress level of the College's medical students, increase awareness of mental health disorders among medical students and reduce the stigma surrounding them.
"If we don't teach medical students how to deal with depression and other mental health issues now, how will they ever handle it as residents and attending physicians?" he says. "We want to send the message that it's okay if you're dealing with mental health issues and help is available."
Mr. Herrmann also worked to establish a connection between PCOM and the LifeZone HIV/AIDS Awareness Organization. Through this project, PCOM students participate in sexually transmitted disease awareness events at high schools throughout the Philadelphia area. Upon receiving his degree from PCOM, Mr. Herrmann plans a residency in psychiatry and a career in academic research as well as clinical work.
Jessica Mormando (DO '16)
Mason Pressly Medal Recipient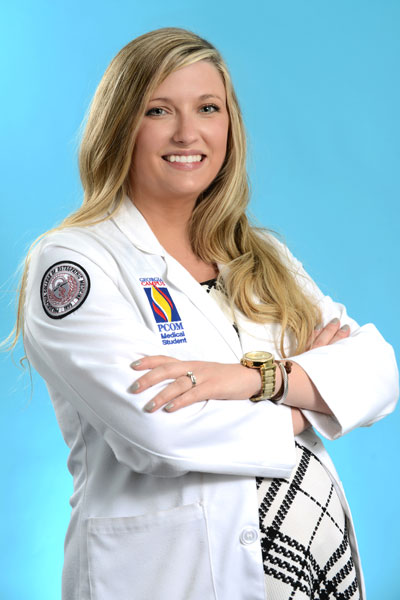 As an officer of the Georgia Campus - PCOM Student Government Association and DO Council, Ms. Mormando has developed a structured mentoring program with faculty support; she also is developing a professional development series of panel presentations that she hopes will be incorporated into the GA-PCOM DO curriculum beginning in fall 2016.
For more information about Ms. Mormando, read here.
The OJ Snyder Memorial Medal, presented in memory of the co-founder of PCOM, is the College's highest award, given in recognition of an individual's leadership and service to the osteopathic profession and to the College.
The Mason W. Pressly Memorial Medal is presented by PCOM to students who are recognized by fellow students, faculty and the administration for outstanding achievement and service to the College, the community and the osteopathic profession, and are selected by representatives of the overall College community.
About Philadelphia College of Osteopathic Medicine
Founded in 1899, Philadelphia College of Osteopathic Medicine has trained thousands of highly competent, caring physicians, health practitioners and behavioral scientists who practice a "whole person" approach to care—treating people, not just symptoms. PCOM offers doctoral degrees in clinical psychology, osteopathic medicine, pharmacy, physical therapy and school psychology, and graduate degrees in biomedical sciences, forensic medicine, mental health counseling, organizational development and leadership, physician assistant studies, school psychology, and public health management and administration. Our students learn the importance of health promotion, research, education and service to the community. Through its community-based Healthcare Centers, PCOM provides care to medically underserved populations in inner city and rural locations. For more information, visit pcom.edu.
For more information, contact:
Orla Moloney
Public Relations and Marketing Specialist
Office: 215-871-6334 | Cell: 267-449-1360
Connect with PCOM