Shelnutt Named Mason Pressly Award Recipient
January 9, 2017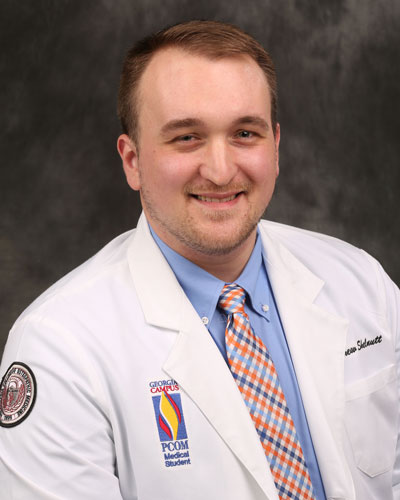 Outreach and inclusion are the foundation for the community work done by Matthew Shelnutt (DO '17). It's his way of connecting, and bettering the lives of those around him.
Shelnutt's community work has been wide-ranging. He served on GA-PCOM's Diversity Council, helping develop on-campus programs for religious minorities, the school's LGBT community, and new mothers looking for a private place to pump their breast milk.
His work with the Diversity Council grew out of a College survey of faculty, staff and students that looked at attitudes on race, religion and sexual orientation on campus. The council helped set up the campus's "safe space" program that let students know that certain faculty and staff were available to discuss incidents involving lesbian, gay, bisexual and transgender issues. Council members also helped set up an interfaith meditation room to accommodate personal religious practices and space for quiet reflection during working/school hours.
Shelnutt did HIV testing at the Atlanta Pride rally where a few attendees learned they were carrying the virus. He tended to injured long-distance runners at the Publix Georgia Marathon, and helped develop a health fair in a community looking to break the cycle of homelessness, poverty and domestic violence.
As an osteopathic manipulative medicine (OMM) undergraduate teaching fellow, Shelnutt helped introduce first- and second-year medical students to the intricacies of hands-on healing. He was part of a GA-PCOM Fellows Clinic, in which senior medical students, under supervision, worked on fellow students so they could experience the healing technique.
One student whom Shelnutt mentored through the fellows program found his outreach inspiring: "Matt's patience and sincere instruction during tutoring session after session was beneficial to instill confidence in my skills, not limited to osteopathic manipulation or treatment. He has a strong work ethic, a compassionate heart, a level mind, and a joyful sense of humor to balance."
Shelnutt, a Georgia native, hopes to bring his attitudes on community connections and inclusion to his career in medicine, which, if all goes according to plan, will begin with a residency in obstetrics and gynecology upon graduation.
Read more about Snyder Medal Recipient Vincent G. Lobo, DO '65, and Pressly Medal Recipient, Anna Elisa Muzio (DO '17).
You May Also Like:


About PCOM Georgia
PCOM Georgia is a private, not-for-profit branch campus of the fully accredited Philadelphia College of Osteopathic Medicine, a multi-program institution of educational excellence founded in 1899. PCOM Georgia offers the doctor of osteopathic medicine degree, the doctor of pharmacy degree, the doctor of physical therapy degree, as well as graduate degrees in biomedical sciences and physician assistant studies. The campus, located in Suwanee, Georgia, is also home to the Georgia Osteopathic Care Center, an osteopathic manipulative medicine clinic, which is open to the public by appointment. For more information, visit www.pcom.edu or call 678-225-7500.
For more information, contact:
Barbara Myers
Public Relations Manager
Email: BarbaraMy@pcom.edu
Office: 678-225-7532 | Cell: 770-309-0613
Connect with PCOM Georgia