Mormando Named Mason Pressly Award Recipient
January 8, 2016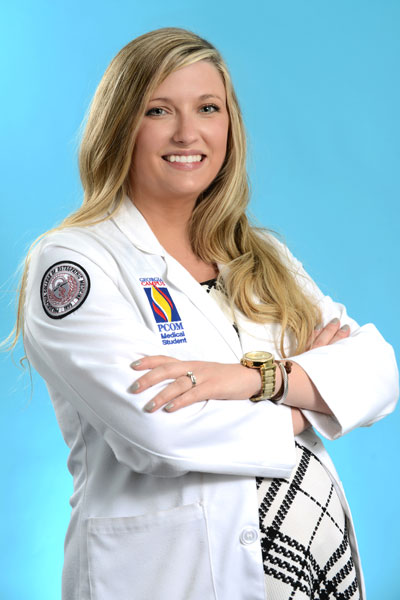 Georgia Campus – Philadelphia College of Osteopathic Medicine (GA-PCOM) fourth-year medical student Jessica Mormando (DO '16) is the recipient of this year's Mason W. Pressly Memorial Medal. This medal is presented annually to both a Georgia Campus student and a Philadelphia Campus student who have provided outstanding achievement and service to the College, the community and the osteopathic profession. The recipients are selected by representatives of the overall College community and are awarded at Founder's Day on January 22.
Jessica Mormando is by nature a person who likes to advocate for other people. As the vice president of the GA-PCOM Student Government Association and the vice chair of the DO Council her second year, she fielded many questions from her classmates and worked to address their concerns. One of their most pressing concerns was, "Why don't we have a structured mentoring program for medical students?"
Jessica took action and, over the course of a year, developed a structured mentoring program with faculty support. She was able to recruit more than 100 resident and attending physicians to serve as mentors. "It was very much about getting into the trenches, calling and emailing physicians individually," she relates. "I went to the Georgia Osteopathic Medical Association for a list of physicians. I also reviewed our campus' preceptor list. I sent out almost 1,000 emails."
In September 2015, the mentoring program officially began with a structure of "mentor families" including one resident, one attending physician, a first-year student and a second-year student. Some third-year students also participate.
"Many first-year students say they wouldn't have made it through the first semester without the guidance and support provided by their second-year mentors," notes Jessica. And many students say that the encouragement and support they received from the participating physicians and upper classmen have been as valuable as the information they provide.
The attending physicians also arrange networking and shadowing opportunities for first- and second-year students that are specialty specific. "If a student is interested in emergency medicine, for example, a shadowing experience gives the student an inside look at what it's like to be an EM physician and the different career paths within that specialty," Jessica explains.
In addition to the mentoring program, this student-doctor is currently developing a professional development series of panel presentations that she hopes will be incorporated into the GA-PCOM DO curriculum beginning in fall 2016. The panels will include residents and attending physicians who will offer advice and answer questions about the residency match process. Residents and attending physicians will discuss what they feel is important when applying for residencies in various specialties.
As Jessica moves on to a residency in general surgery, she hopes that the mentorship program and professional development series she established will help make the osteopathic medical school experience less stressful for future GA-PCOM students.
About PCOM Georgia
Established in 2005, PCOM Georgia is a private, not-for-profit, accredited institute of higher education dedicated to the healthcare professions. The Suwanee, Georgia, campus is affiliated with Philadelphia College of Osteopathic Medicine which has a storied history as a premier osteopathic medical school. PCOM Georgia offers the doctor of osteopathic medicine degree, the doctor of pharmacy degree, the doctor of physical therapy degree, as well as graduate degrees in biomedical sciences and physician assistant studies. Emphasizing "a whole person approach to care," PCOM Georgia focuses on educational excellence, interprofessional education and service to the wider community. The campus is also home to the Georgia Osteopathic Care Center, an osteopathic manipulative medicine clinic, which is open to the public by appointment. For more information, visit pcom.edu or call 678-225-7500.
For more information, contact:
Barbara Myers
Public Relations Manager
Email: BarbaraMy@pcom.edu
Office: 678-225-7532 | Cell: 770-309-0613
Connect with PCOM Georgia