Google Street View Visits PCOM
March 22, 2018
Prospective students, alumni or anyone who uses Google Maps or Google Earth now has an option to tour Philadelphia College of Osteopathic Medicine (PCOM) without traveling to campus thanks to a May 2017 visit by Google Street View's Special Collections team.
Participation in the Special Collections project, according to President and CEO Jay Feldstein, DO '81, is an opportunity to showcase the College's offerings.
"PCOM continues to evolve as we strive to meet the needs of an ever-changing healthcare field," Feldstein said. "Our physical space and academic programs continue to grow, and we take an immense amount of pride in the environment we provide for our students to become competent and compassionate physicians, health practitioners and behavioral scientists. This new project allows us to share that environment with others who may not have the means or methods to experience it physically."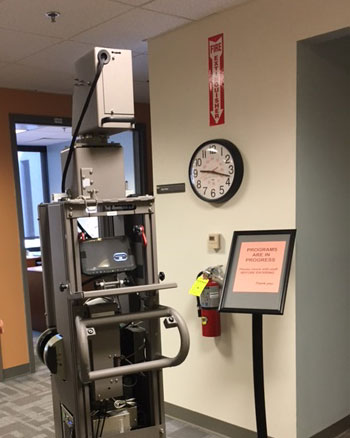 Unlike the early days of Google Street View—when the giant technology company primarily used vehicles equipped with cameras to obtain panoramic images along streets in major cities— the company now utilizes the Street View Trekker (a backpack equipped with a camera system) and the Street View Trolley (a camera system mounted on a small cart) to photograph places not accessible by car.
At PCOM, those places included the O.J. Snyder Memorial Library, the Dr. Michael and Wendy Saltzburg Clinical Learning & Assessment Center, the Zedeck Family Amphitheater and several other interior and exterior locations on PCOM's City Avenue campus.
Over past several months, Google edited the images—blurring faces as needed—in order to protect the privacy of campus faculty, staff and students. The large collection of 360-degree imagery is now available online. Additionally, for those with the Google Street View app and a Google Cardboard headset, the images can be experienced in virtual reality mode using a smartphone.
According to Kari Shotwell, PCOM's director of admissions, the imagery presents an additional way to connect with prospective students.
"The Office of Admissions is excited to be a part of the Google's Special Collections project as it expands the resources our prospective students and applicants have to get a the pulse of our dynamic campus without having to incur the costs of travel," she said.
Since launching Street View in 2007, Google has extended its image collection beyond streetscapes to include business interiors and places of interest including universities, historic landmarks, museums and more. PCOM joins several other college and universities including Duke, Georgetown, Stanford and Wake Forest with a Google Street View presence.
"The PCOM brand tells the story of unique experiences that can't be found anywhere else," said Chief Marketing and Communications Officer Wendy Romano. "Through the Google Special Collections project, we can augment that story with visuals that put virtual visitors right in the heart of our vibrant campus."
Take a Virtual Tour
Selected images from the Google Street View collection are shown below. To view the entire collection, visit PCOM on Google Maps. Additional 360-degree imagery is also available in the PCOM virtual tour.
Central Walkway
Evans Hall
Zedeck Family Amphitheater
Dr. Michael and Wendy Saltzburg Clinical Learning & Assessment Center
OMM Teaching Center
Donor Garden
Activities Center
O.J. Snyder Memorial Library
You May Also Like:


About Philadelphia College of Osteopathic Medicine
Founded in 1899, Philadelphia College of Osteopathic Medicine has trained thousands of highly competent, caring physicians, health practitioners and behavioral scientists who practice a "whole person" approach to care—treating people, not just symptoms. PCOM offers doctoral degrees in clinical psychology, osteopathic medicine, pharmacy, physical therapy and school psychology, and graduate degrees in biomedical sciences, forensic medicine, mental health counseling, organizational development and leadership, physician assistant studies, school psychology, and public health management and administration. Our students learn the importance of health promotion, research, education and service to the community. Through its community-based Healthcare Centers, PCOM provides care to medically underserved populations in inner city and rural locations. For more information, visit pcom.edu.
For more information, contact:
Orla Moloney
Public Relations and Marketing Specialist
Office: 215-871-6334 | Cell: 267-449-1360
Connect with PCOM