PCOM DO Students Swap White Coats for Aprons
March 27, 2018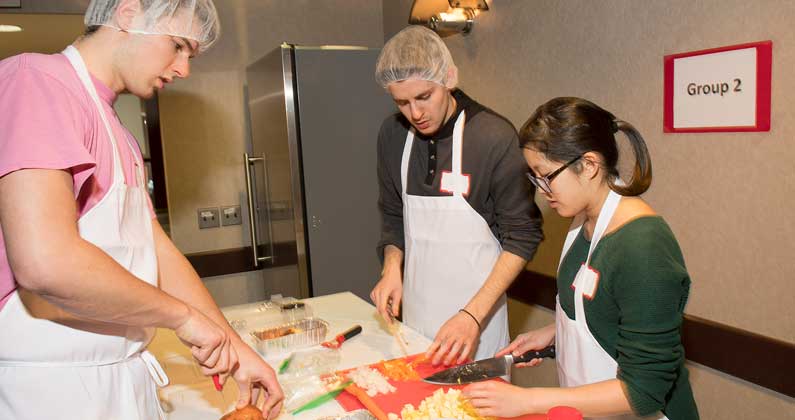 Doctor of osteopathic medicine students learn the connection between health, nutrition in new cooking class.
---
First- and second-year doctor of osteopathic medicine (DO) students on the Philadelphia campus are trading in their white coats for white aprons as part of the new Culinary Medicine elective at Philadelphia College of Osteopathic Medicine (PCOM), designed to teach the future physicians about diet, nutrition and their ties to wellness, so that they can in turn share that information with their patients.
The U.S. Department of Health and Human Services reports that roughly 117 million people, or about half the U.S. population, have one or more preventable chronic illnesses. Many of them—including heart disease, high blood pressure, diabetes, and certain cancers—are related to poor diet.
Based on the groundbreaking curriculum founded by the Goldring Center for Culinary Medicine at Tulane University, the four-week course offers a "practice-what-you-preach approach," to medical education, says Joanne Kakaty-Monzo, DO '97, who co-directs the Culinary Medicine program at PCOM.
"Teaching medical students about how to be smart about their diet will help them teach their patients about it—and how diet goes a long way in preventing disease, not just treating it," she said.
Four cohorts take the course one day a week. Because the program is only four weeks, students have plenty to do outside of class in the form of journal readings, viewing kitchen safety videos and taking practice quizzes. At the beginning of each class, students review that work, and then head into their test kitchen to create healthy meals. During their cooking sessions—led by Chef Budd Cohen, director of dining and catering services—they learn basic kitchen skills and how to make common dishes (such as spaghetti and meatballs) in a healthier way.
"We want to give students the tools to guide their patients on how to eat," said Farzaneh Daghigh, PhD, director of the gastroenterology sciences course and co-director of Culinary Medicine. "Often, the conversation stops at 'You would benefit from losing weight.' But if students know how to implement little steps to improve diet, that can be incredibly helpful for their patients."
Students then gather to eat their healthy meals and review patient case studies similar to what they would find on their board exams. Not only are they learning about health and nutrition, they are also preparing for their boards—an important step for any medical student.
Andrea Weir (DO '21), president of the Nutrition and Medicine Club, took the class not for the cooking skills—prior to coming to medical school, she trained in several Michelin-star kitchens in Italy and also worked as a chef—but to better understand how her knowledge of food could help her be a more effective physician.
"Nutrition plays a part in every aspect of health, both physical and mental," said Ms. Weir. "I didn't want to pass up the opportunity to blend my experience in cooking with how best to treat my patients."
The first session of Culinary Medicine ends in April, but according to Dr. Daghigh, interest is quite high among students to join the next session. "We opened the registration for the course and it filled very quickly, and we have a waiting list with numerous students," she said. "We have been hearing very positive things, and hope that we can continue to expand and improve upon the program."


You May Also Like:
About Philadelphia College of Osteopathic Medicine
Founded in 1899, Philadelphia College of Osteopathic Medicine has trained thousands of highly competent, caring physicians, health practitioners and behavioral scientists who practice a "whole person" approach to care—treating people, not just symptoms. PCOM offers doctoral degrees in clinical psychology, osteopathic medicine, pharmacy, physical therapy and school psychology, and graduate degrees in biomedical sciences, forensic medicine, mental health counseling, organizational development and leadership, physician assistant studies, school psychology, and public health management and administration. Our students learn the importance of health promotion, research, education and service to the community. Through its community-based Healthcare Centers, PCOM provides care to medically underserved populations in inner city and rural locations. For more information, visit pcom.edu.
For more information, contact:
Orla Moloney
Public Relations and Marketing Specialist
Office: 215-871-6334 | Cell: 267-449-1360
Connect with PCOM