DO Class of 2018 to Receive Unique Graduation Gift
May 16, 2018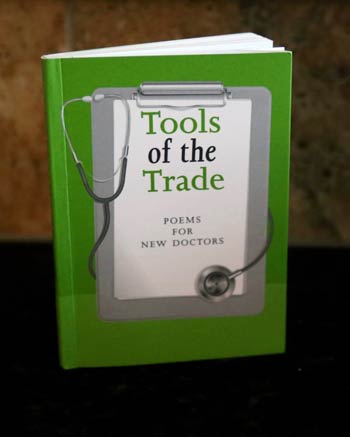 Philadelphia College of Osteopathic Medicine (PCOM) works to ensure that each student who graduates has the tools he or she needs to become a successful, caring and competent health care practitioner. This year, doctor of osteopathic medicine (DO) students in the class of 2018 will receive an additional tool: a book of poetry.
Tools of the Trade: Poems for New Doctors, published by the Scottish Poetry Library in Edinburgh, Scotland, is designed to help young physicians navigate the stressors of their new professions. The book comprises 51 poems centered on five themes: "Looking after Yourself," "Looking after Others," "Beginnings," "Being with Illness" and "Endings."
"To care and be compassionate to others, we first need to be compassionate, to look after, to be kind to ourselves," notes the book's introduction.
Since 2014, every medical school graduate in Scotland has received the book, and now the idea has spread to the US, with PCOM being the first medical school in the country to offer the book to its entire class of graduating physicians.
"We are the perfect school to do this, because we take such a humanistic approach to care," said Murray Zedeck, DO '62, who donated the books to the Philadelphia campus DO class of 2018. (The Georgia Campus – Philadelphia College of Osteopathic Medicine (GA-PCOM) DO class will receive their books through an anonymous donor). "That should extend not only to our patients, but to the physicians themselves."
"Shouldering a full caseload and seeing 30-40 patients a day, all dealing with different health issues, can take its toll on a physician," continued Dr. Zedeck, who also sponsors the Zedeck Medical Humanities Lectureship Series, which brings speakers from creative fields to the Philadelphia campus for the educational benefit of students.
Dr. Zedeck saw a news story about the book and thought it would be the perfect gift for PCOM's DO students. "This book—which can fit right in their white coat pocket—can provide the opportunity to reflect and relax. It allows them to take a step back and focus on something else, which I believe makes for healthier doctors," he said.
"We are incredibly grateful for this generous and unique gift to our graduates," said Carrie Collins, JD, chief advancement officer. "We've taught them how to be good physicians, and this will help them remember that they're good human beings."
The Philadelphia campus DO class of 2018 will graduate Saturday, June 2 at 4 pm at the Academy of Music. The GA-PCOM DO class of 2018 will graduate Thursday, May 24 at 2:30 pm at the Infinite Energy Forum in Duluth, Georgia.

You May Also Like:


About Philadelphia College of Osteopathic Medicine
Founded in 1899, Philadelphia College of Osteopathic Medicine has trained thousands of highly competent, caring physicians, health practitioners and behavioral scientists who practice a "whole person" approach to care—treating people, not just symptoms. PCOM offers doctoral degrees in clinical psychology, osteopathic medicine, pharmacy, physical therapy and school psychology, and graduate degrees in biomedical sciences, forensic medicine, mental health counseling, organizational development and leadership, physician assistant studies, school psychology, and public health management and administration. Our students learn the importance of health promotion, research, education and service to the community. Through its community-based Healthcare Centers, PCOM provides care to medically underserved populations in inner city and rural locations. For more information, visit pcom.edu.
For more information, contact:
Orla Moloney
Public Relations and Marketing Specialist
Office: 215-871-6334 | Cell: 267-449-1360
Connect with PCOM