Ward Named Mason Pressly Award Recipient
January 16, 2018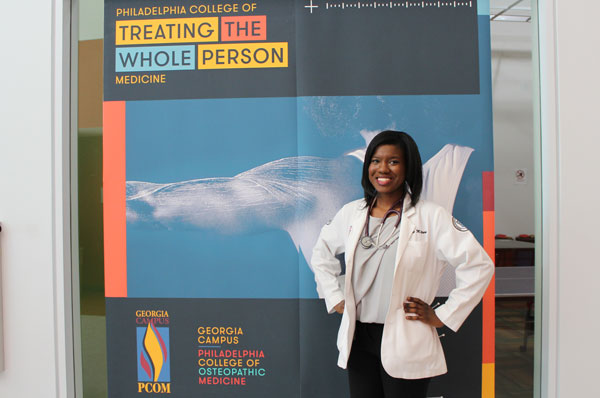 Danielle M. Ward, MS, (DO '18), is GA-PCOM's 2018 Mason Pressly Award recipient.
---
When Danielle M. Ward, MS, (DO '18), was a pre-medical student at Louisiana State University in 2007, she traveled to San Francisco to attend her first conference of the Student National Medical Association (SNMA). Eleven years later, as she prepares to graduate from GA-PCOM and begin a surgical residency, Ward, as the national association's first osteopathic president, has planned its prestigious 2018 conference in San Francisco. Up to 2,000 members are expected to attend. "Everything is coming full circle," she says. "After all, it was through SNMA that I first learned about GA-PCOM."
Ward is GA-PCOM's 2018 Mason Pressly recipient, the College's highest student honor. She is recognized—among other merits—for serving as a source of inspiration for young minority students considering a career in medicine and for advocating for diversity in healthcare professionals. Ms. Ward recalls the inspiration she sought through her SNMA mentor, Barbara Ross-Lee, DO, an osteopathic medicine pioneer and visionary herself.
"I have known many individuals who were in their 20s before they encountered a physician of color," says Ward. "The truth is, minority physicians do exist. We are out there. But you can't want to be something that you've never known." She continues, "Sadly, in 2018, there still remains a lack of diversity in healthcare professionals. So as to deliver the best culturally competent care to patients, healthcare professionals must represent those of various ethnic and social backgrounds and understand the issues faced by different cultural backgrounds."
Ward has decided that her path in medicine will be a career in surgery; she has begun the process of interviewing for residency positions. She understands and upholds the good that can be accomplished in the operating room. "Through surgery, you are able to go in and fix your patient with your hands," she said. "I love that I can treat a patient, and cure him or her. There's no greater feeling than scrubbing into a case and knowing you might be able to cure a patient or greatly improve their quality of life."
While at GA-PCOM, Ward balanced her medical studies while solely raising her elementary school-aged daughter. "The greatest lesson I can teach my little girl is the power of persistence," she says. "Dreams can come true—through hard work." Ward also dedicated her [free] time to serving as a student ambassador, giving campus tours and helping conduct interviews with prospective students.
Ward has documented her journey to become a physician on her blog, www.AspiringMinorityDoctor.com, which provides insightful advice to prospective students. The blog also provides a personal glimpse into her life at GA-PCOM and the road she has traveled.
"I prayed for a long time to have a chance at the opportunity to start a path towards medicine, and now that I'm here, I'm embracing every second of it. In a few months, I will be Dr. Ward, and that alone is a reason to smile."


You May Also Like:


About PCOM Georgia
Established in 2005, PCOM Georgia is a private, not-for-profit, accredited institute of higher education dedicated to the healthcare professions. The Suwanee, Georgia, campus is affiliated with Philadelphia College of Osteopathic Medicine which has a storied history as a premier osteopathic medical school. PCOM Georgia offers the doctor of osteopathic medicine degree, the doctor of pharmacy degree, the doctor of physical therapy degree, as well as graduate degrees in biomedical sciences and physician assistant studies. Emphasizing "a whole person approach to care," PCOM Georgia focuses on educational excellence, interprofessional education and service to the wider community. The campus is also home to the Georgia Osteopathic Care Center, an osteopathic manipulative medicine clinic, which is open to the public by appointment. For more information, visit pcom.edu or call 678-225-7500.
For more information, contact:
Barbara Myers
Public Relations Manager
Email: BarbaraMy@pcom.edu
Office: 678-225-7532 | Cell: 770-309-0613
Connect with PCOM Georgia