Student Research Spotlight

Allison Pickron (DPT '21) and Jocilyn Yarnell (DPT '21)
October 16, 2019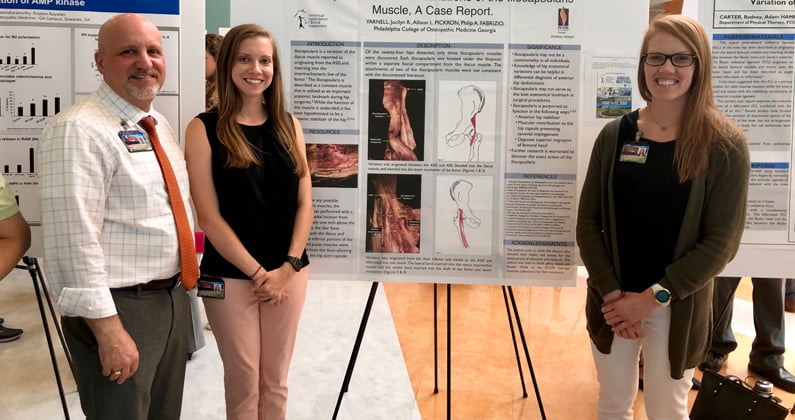 Physical therapy instructor Philip Fabrizio, DPT, inspired Allison Pickron (DPT '21) and Jocilyn Yarnell (DPT '21) to further explore the iliocapsularis hip muscle.
---
Allison Pickron (DPT '21) graduated from Georgia College, Milledgeville, Georgia, in 2014 with a Bachelor of Science degree in Exercise Science. During her undergraduate years, she felt a calling to the physical therapy profession as it involves reliance on interpersonal skills and communication between the patient and therapist. Pickron had a desire to incorporate evidence-based practice into her education which opened the door to conducting research and solving unanswered questions.
Jocilyn Yarnell (DPT '21) graduated from Kennesaw State University, Kennesaw, Georgia, in 2011 with a Bachelor of Science degree in Exercise and Health Science. She feels that participating in research allows her to challenge herself in new ways – thinking outside of the box, facilitating learning in an exploratory fashion and digging deeper to discover more. Upon graduation, Yarnell plans to work in an orthopedic setting which focuses on the prevention and rehabilitation of athletes with injuries.
What did you study?
The main muscles that directly flex the hip are the iliacus and the psoas muscles which combine to form the iliopsoas. The literature reports that there is a variant muscle beneath the iliopsoas muscle called the iliocapsularis. Some researchers and medical professionals have claimed that the iliocapsularis is a constant muscle in all humans. Others, such as Anne Agur PhD, professor of anatomy at the University of Toronto, Toronto, Ontario, believe that the iliocapsularis is not its own muscle and that it is a merely a compartment of the iliacus muscle belly.
In our preliminary research, dissecting 24 cadaveric hips, we found that the iliocapsularis is not constant in all people, as we found it present in only three of the 24 hips. When this muscle is present, it is in its own fascial compartment indicating that it could be its own muscle. Its specific function has not yet clearly been identified, but researchers have proposed hypotheses. A common hypothesis is that the iliocapsularis is a functional hip stabilizer while also influencing the anterior portion of the hip capsule during deep hip flexion.
What prompted you to pursue research?
Philip A. Fabrizio, PT, DPT, associate professor of physical therapy, inspired us to explore this muscle further and understand its implications as it pertains to physical therapy. Fully understanding this muscle's function and how it relates to hip injuries is essential for physical therapists when performing clinical examinations on patients with hip pain or injury. Having awareness of the possible anatomical variations of our patients is imperative to conducting a differential diagnosis, developing a plan of care, and yielding the most optimum therapeutic outcomes.
What experience do you have with research?
Conducting and presenting this research has expanded our vision as to how human anatomy can have multiple variations and how we must consider those variations clinically. Broadening our knowledge on these differences will help to differentially diagnose patients and more specifically develop treatment interventions.
What experience do you have conducting research?
Before beginning our dissections, we performed a literature review regarding the current knowledge of the iliocapsularis. With this information in mind, we performed our dissections, gathered data and organized our findings. Since our findings were not consistent with the literature, we wrote and submitted an abstract of our research to the American Association of Clinical Anatomists. We were selected to present at the national 2019 Annual Conference in June alongside other anatomists, physical therapists, chiropractors and scientists. Participating in this conference facilitated discussion about the muscle's function and implications of the absence of this muscle. We had the opportunity to discuss findings and directions with notable anatomists such as Dr. Agur and Anthony D'Antoni, PhD, assistant professor of anatomy in radiology at Weill Cornell Medicine, New York City. As a result of these discussions, we are expanding our research utilizing diagnostic ultrasound imaging to visualize this muscle and obtain information regarding the function of this muscle in vivo.
What is the broader impact of your research?
The broader impact of our research is not only to shine a light on anatomical variations, but also to investigate the impact these variations may have on human movement and hip pathology. Continuation of research of the iliocapsularis muscle will include further dissection and ultrasound imaging in vivo. These techniques will allow us to identify nerve supply and gather more data on prevalence and variations and to gain clarity on the function of this muscle.
You May Also Like:
About PCOM Georgia
Established in 2005, PCOM Georgia is a private, not-for-profit, accredited institute of higher education dedicated to the healthcare professions. The Suwanee, Georgia, campus is affiliated with Philadelphia College of Osteopathic Medicine which has a storied history as a premier osteopathic medical school. PCOM Georgia offers the doctor of osteopathic medicine degree, the doctor of pharmacy degree, the doctor of physical therapy degree, as well as graduate degrees in biomedical sciences and physician assistant studies. Emphasizing "a whole person approach to care," PCOM Georgia focuses on educational excellence, interprofessional education and service to the wider community. The campus is also home to the Georgia Osteopathic Care Center, an osteopathic manipulative medicine clinic, which is open to the public by appointment. For more information, visit pcom.edu or call 678-225-7500.
For more information, contact:
Barbara Myers
Public Relations Manager
Email: BarbaraMy@pcom.edu
Office: 678-225-7532 | Cell: 770-309-0613
Connect with PCOM Georgia