Student Research Spotlight

Annie Phung (DO '21)
June 12, 2019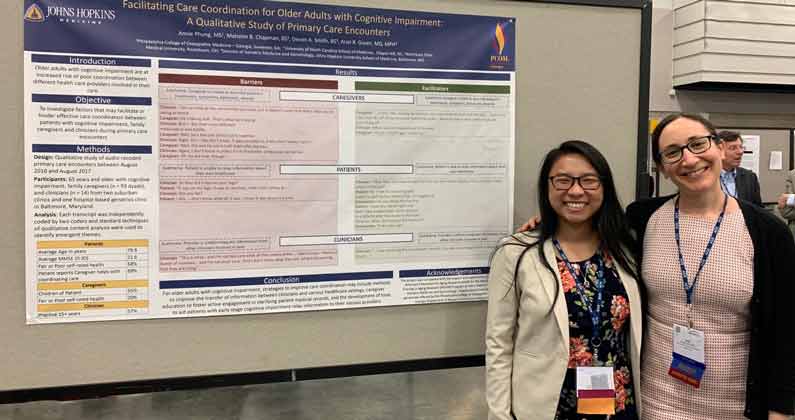 Annie Phung (left), (DO '21), worked with a Johns Hopkins geriatrician to understand barriers and facilitators involved in coordinating care for older adults with cognitive impairments.
---
Annie Phung (DO '21) graduated from the University of California, Irvine, where she earned her Bachelor of Science degree in Biological Sciences. During college, she found a passion to help the elderly and worked with the memory care program at a local assisted living facility. She completed her Master's degree in Biomedical Sciences with the thesis track at PCOM Georgia and was accepted into the Doctor of Osteopathic Medicine (DO) program. While pursuing an interest in older adult care, she found the Medical Student Training in Aging Research (MSTAR) program that offered first year medical students the opportunity to participate in research for geriatric medicine at various institutions. She ventured to the Johns Hopkins School of Medicine, Baltimore, Maryland, to immerse herself in the world of academic and clinical geriatric medicine.
What did you study?
I wanted to learn about various types of research and found an interest in qualitative studies. With the guidance of my Principal Investigator, a Johns Hopkins geriatrician, our research team analyzed transcripts of conversations between primary care clinicians, cognitively impaired patients and their caregivers. My research focused on understanding the barriers and facilitators involved in coordinating care for an older adult with cognitive impairment. Such factors included education and advocacy of the caregiver as well as coordinating language and records between the primary care clinician and specialists.
What prompted you to pursue research?
As a thesis student in graduate school, my advisor, Dr. Harold Komiskey, professor of neuroscience, physiology and pharmacology, stimulated my interest in research. He introduced me to literature that would spur my thesis question on astrocytes and neurodegeneration. He allowed autonomy for my curiosity to grow and freedom for me to mold my project. In short, it was an enjoyable experience and I saw how rewarding research could be. Naturally, when I realized I could spend a summer to participate in research, I was excited for the opportunity to immerse myself in an environment dedicated to help older adults.
What experiences do you have with research?
During my undergraduate career, my research opportunities convinced me that research probably wouldn't be integrated in my future career. However, after my thesis work and summer with MSTAR, I've experienced the reward, the collaboration and the critical thinking that make research enjoyable and applicable in medicine. The camaraderie involved in brainstorming project questions, methods and applications is an aspect of medicine that is relevant and relatable.
What is the broader impact of your work?
By understanding the factors that facilitate or create barriers for care coordination of older adults, we, as future clinicians, can work towards improving our patients' care and management.
Where was your work presented?
I had the humbling opportunity to present my research at the 2019 American Geriatric Society Annual Scientific Meeting in Portland, Oregon, where I not only shared my project but learned more about the field and the current issues in medicine. It was an eye-opening weekend where I met geriatricians who were passionate about their patients, their field and mentorship. Attending the conference gave me more insight on pursuing a future career in geriatrics. The entire trip was funded with grants from the PCOM Alumni Association and the Department of Research, along with a stipend from the MSTAR program.

You May Also Like:


About PCOM Georgia
Established in 2005, PCOM Georgia is a private, not-for-profit, accredited institute of higher education dedicated to the healthcare professions. The Suwanee, Georgia, campus is affiliated with Philadelphia College of Osteopathic Medicine which has a storied history as a premier osteopathic medical school. PCOM Georgia offers the doctor of osteopathic medicine degree, the doctor of pharmacy degree, the doctor of physical therapy degree, as well as graduate degrees in biomedical sciences and physician assistant studies. Emphasizing "a whole person approach to care," PCOM Georgia focuses on educational excellence, interprofessional education and service to the wider community. The campus is also home to the Georgia Osteopathic Care Center, an osteopathic manipulative medicine clinic, which is open to the public by appointment. For more information, visit pcom.edu or call 678-225-7500.
For more information, contact:
Barbara Myers
Public Relations Manager
Email: BarbaraMy@pcom.edu
Office: 678-225-7532 | Cell: 770-309-0613
Connect with PCOM Georgia