Robinson Joins GA-PCOM Team
November 28, 2016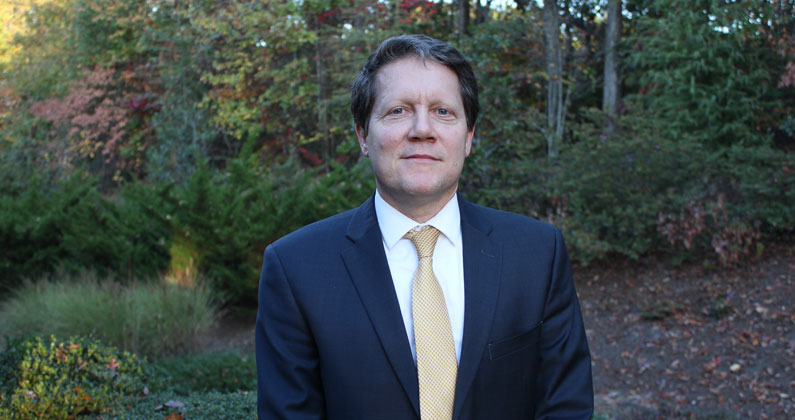 Ben Robinson has been named Chief Program Development and Professional Relations Officer for
Georgia Campus – Philadelphia College of Osteopathic Medicine.
---
With an extensive background in health workforce education planning, Ben Robinson, MPA, has been appointed Chief Program Development and Professional Relations Officer for Georgia Campus – Philadelphia College of Osteopathic Medicine (GA-PCOM).
In this position, Robinson will coordinate academic program development and pursue partnerships for new and expanding programs. He will also collaborate with healthcare providers to increase clinical education opportunities for GA-PCOM students in osteopathic medicine, pharmacy, physician assistant studies, the developing physical therapy program and biomedical research.
Before joining GA-PCOM, Robinson served as executive director for the Center for Health Workforce Planning and Analysis for the University System of Georgia, where he managed multi-million dollar initiatives to increase medical residencies across the state to address physician shortages. In addition, he was charged with overseeing strategic initiatives pertaining to the health workforce and the education systems that are producing that workforce. Robinson also facilitated implementation and ongoing operations of select academic programs that combined the resources and operations of multiple University System of Georgia institutions, ensuring efficiency and long term viability of these programs.
Prior to this position, he served as Executive Director of the Georgia Board for Physician Workforce and the State Medical Education Board of Georgia, charged with overseeing the state response to rural physician shortages and development of the primary care physician workforce. As executive director, Robinson advised Georgia medical schools and hospital medical education leadership, and managed communications with leadership in the Governor's Office and in the state House and Senate. He played a pivotal role in the expansion of the Medical College of Georgia into Athens.
Robinson has also served as Manager of Workforce Initiatives at the Georgia Department of Community Health where he worked for the passage of legislation that established a standing Healthcare Workforce Policy Advisory Committee overseeing Georgia's non-physician healthcare workforce. He was the committee's chief staff member and secured about $13 million in funding from state agencies and private foundations to support committee efforts.
A graduate of Brandeis University, Boston, Massachusetts, where he earned a Bachelor of Arts in History, Robinson completed a graduate degree at the University of Georgia in Athens where he received a Master of Public Administration. He is active in the community, currently serving as a mentor in the Big Brothers/Big Sisters program, as an assistant Cub Scout den leader and as a member of the DeKalb Symphony Orchestra.
You May Also Like:


About PCOM Georgia
Established in 2005, PCOM Georgia is a private, not-for-profit, accredited institute of higher education dedicated to the healthcare professions. The Suwanee, Georgia, campus is affiliated with Philadelphia College of Osteopathic Medicine which has a storied history as a premier osteopathic medical school. PCOM Georgia offers the doctor of osteopathic medicine degree, the doctor of pharmacy degree, the doctor of physical therapy degree, as well as graduate degrees in biomedical sciences and physician assistant studies. Emphasizing "a whole person approach to care," PCOM Georgia focuses on educational excellence, interprofessional education and service to the wider community. The campus is also home to the Georgia Osteopathic Care Center, an osteopathic manipulative medicine clinic, which is open to the public by appointment. For more information, visit pcom.edu or call 678-225-7500.
For more information, contact:
Barbara Myers
Public Relations Manager
Email: BarbaraMy@pcom.edu
Office: 678-225-7532 | Cell: 770-309-0613
Connect with PCOM Georgia