Levy Named Chair of Physician Assistant Studies
July 27, 2016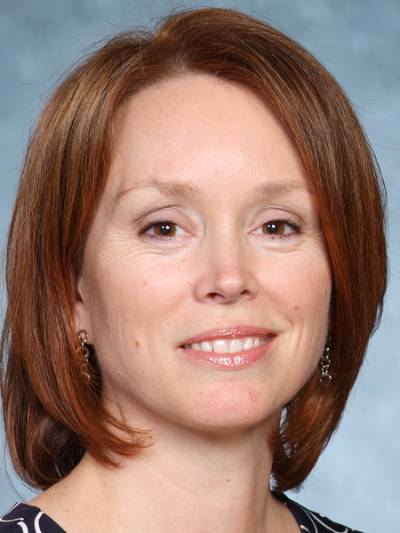 Laura Levy, DHSc, PA-C, was named chair of the Department of Physician Assistant Studies, effective July 1. She had served as a faculty member in the department since 1999, as associate professor, assistant program director, and site director for the Philadelphia campus. Dr. Levy's new post comes as John Cavenagh, PhD, PA-C , professor and former chair, retires on August 4.
Dr. Levy's professional expertise lies in family medicine and women's health issues. She has authored several articles on plantar fasciitis and medical stimulation, and is a nationally board-certified physician assistant, licensed to practice in the state of Pennsylvania. Her doctoral research focused on physician assistant educators' attitudes toward interprofessional education.
During her time in the department, Dr. Levy has assisted in curriculum development and acts as an advisor to the class officers of the Sara Somers Rupert Student Society. In 2007, she received the Christian R. and Mary F. Linback Award for Distinguished Teaching. She is a member of the American Academy of Physician Assistants.
Dr. Levy received her doctorate in health sciences from AT Still University, her master's in medical science from Saint Francis College, her bachelor's in science from Hahnemann University (now a part of Drexel University), and her bachelor's in Spanish and sociology from Indiana University of Pennsylvania.
About Philadelphia College of Osteopathic Medicine
Founded in 1899, Philadelphia College of Osteopathic Medicine has trained thousands of highly competent, caring physicians, health practitioners and behavioral scientists who practice a "whole person" approach to care—treating people, not just symptoms. PCOM offers doctoral degrees in clinical psychology, osteopathic medicine, pharmacy, physical therapy and school psychology, and graduate degrees in biomedical sciences, forensic medicine, mental health counseling, organizational development and leadership, physician assistant studies, school psychology, and public health management and administration. Our students learn the importance of health promotion, research, education and service to the community. Through its community-based Healthcare Centers, PCOM provides care to medically underserved populations in inner city and rural locations. For more information, visit pcom.edu.
For more information, contact:
Orla Moloney
Public Relations and Marketing Specialist
Office: 215-871-6334 | Cell: 267-449-1360
Connect with PCOM