Veit Appointed to HHS Council
November 18, 2016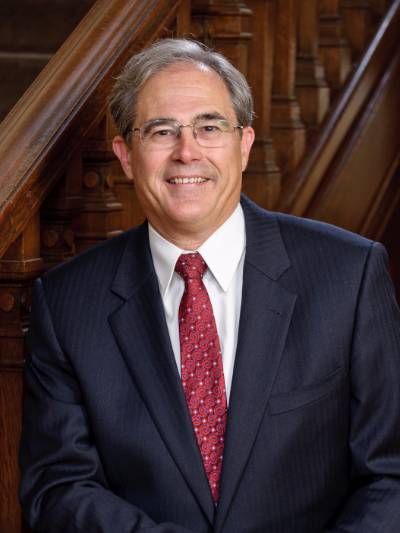 Kenneth Veit, DO, Provost and Senior Vice President of Academic Affairs and Dean
Philadelphia College of Osteopathic Medicine
---
The U.S. Department of Health and Human Services (HHS) Secretary Sylvia M. Burwell appointed Kenneth Veit, DO '76, MBA, provost, senior vice president of academic affairs and dean at Philadelphia College of Osteopathic Medicine (PCOM) in Philadelphia, Pennsylvania, to serve on the Department of HHS' Health Resources and Services Administration's (HRSA) Council on Graduate Medical Education (COGME).
Dr. Veit was jointly nominated by the American Association of Colleges of Osteopathic Medicine (AACOM), the American Osteopathic Association (AOA), and the American College of Osteopathic Family Physicians (ACOFP) for his vast expertise on a range of policy issues related to osteopathic medical education, the physician workforce, and health care delivery.
AACOM President and CEO, Stephen C. Shannon, DO, MPH, stated, "COGME will benefit greatly from Dr. Veit's background in primary care and his commitment to innovation in medical education as the Council develops solutions on a path forward for our nation's graduate medical education system. Particularly, in his role as Provost and Dean, Dr. Veit has strived to expand and innovate osteopathic medical training to help ensure that students are better equipped to practice in underserved and non-traditional settings. "
"As an educator, Dr. Veit understands the dynamic growth of the osteopathic medical profession and many students' desire for residency programs that put osteopathic principles and practices into clinical training. His leadership will help develop programs where they are most needed, placing new physicians in areas where they'll have a real impact on the overall health of the community," said AOA President Boyd R. Buser, DO.
With his extensive experience and knowledge in medicine, Dr. Veit has previously served in the National Health Service Corps (NHSC), as well as a member of HRSA's National Advisory Council on the NHSC and as a member on the Steering Committee of the Agency for Healthcare Research and Quality. Moreover, he has served on a HRSA Working Committee regarding managed care and academic medical centers and has worked on a HRSA grant regarding medical school characteristics that produce primary care physicians and service to the underserved.
"It is an honor to represent the osteopathic medical education community in this capacity. I look forward to working collaboratively with my Council colleagues to offer innovative recommendations to help ensure that we have a well-trained physician workforce to meet the health care needs of our nation's patient populations," Dr. Veit said in response to his appointment.
"Dr. Veit's long history of serving the osteopathic profession makes him the ideal physician to serve on COGME. His patient-centered approach to care is evident, and he has always focused on how best to train new generations of physicians to follow this important model of care," said ACOFP President Larry Anderson, DO, FACOFP. "The ACOFP is truly honored to have an osteopathic family physician appointed to this council, and we are confident that his demonstrated commitment to advancing medical education will prove invaluable to the future of our health care system."
Composed of 17 members, COGME is authorized by Congress to provide an ongoing assessment of physician workforce trends, training issues, and financing polices of undergraduate and graduate medical education programs, and to recommend appropriate federal and private sector efforts to address identified needs. COGME is required to advise and make recommendations on these issues to the Secretary of HHS, the Senate Committee on Health, Education, Labor and Pensions, and the U.S. House of Representatives Committee on Energy and Commerce. More information about COGME can be found here.
About AACOM
The American Association of Colleges of Osteopathic Medicine (AACOM) represents the 33 accredited colleges of osteopathic medicine in the United States. These colleges are accredited to deliver instruction at 48 teaching locations in 31 states. In the 2015-16 academic year these colleges are educating over 26,100 future physicians—more than 20 percent of all U.S. medical students. Six of the colleges are public and 27 are private institutions.
AACOM was founded in 1898 to support and assist the nation's osteopathic medical schools, and to serve as a unifying voice for osteopathic medical education. AACOM provides leadership for the osteopathic medical education community by promoting excellence in medical education, research and service, and by fostering innovation and quality across the continuum of osteopathic medical education to improve the health of the American public.
About the AOA
The American Osteopathic Association (AOA) represents more than 123,000 osteopathic physicians (DOs) and osteopathic medical students; promotes public health; encourages scientific research; serves as the primary certifying body for DOs; and is the accrediting agency for osteopathic medical schools.
About the ACOFP
The American College of Osteopathic Family Physicians (ACOFP) was founded in 1950 and today represents more than 20,000 practicing osteopathic family physicians, residents and students throughout the United States. Osteopathic Family Physicians are Doctors of Osteopathy (DOs) who choose to specialize in family practice and Osteopathic Manipulative Treatment (OMT), a method in which they use their hands to diagnose and treat the patient by paying particular attention to joints, bones, muscles and nerves. They provide disease prevention, diagnosis, and treatment strategies for families through all of life's stages, from infancy to end-of-life. More information can be found at www.acofp.org.
You May Also Like:


About Philadelphia College of Osteopathic Medicine
Founded in 1899, Philadelphia College of Osteopathic Medicine has trained thousands of highly competent, caring physicians, health practitioners and behavioral scientists who practice a "whole person" approach to care—treating people, not just symptoms. PCOM offers doctoral degrees in clinical psychology, osteopathic medicine, pharmacy, physical therapy and school psychology, and graduate degrees in biomedical sciences, forensic medicine, mental health counseling, organizational development and leadership, physician assistant studies, school psychology, and public health management and administration. Our students learn the importance of health promotion, research, education and service to the community. Through its community-based Healthcare Centers, PCOM provides care to medically underserved populations in inner city and rural locations. For more information, visit pcom.edu.
For more information, contact:
Orla Moloney
Public Relations and Marketing Specialist
Office: 215-871-6334 | Cell: 267-449-1360
Connect with PCOM