Student Research Spotlight

Teena John (PharmD '19)
September 28, 2017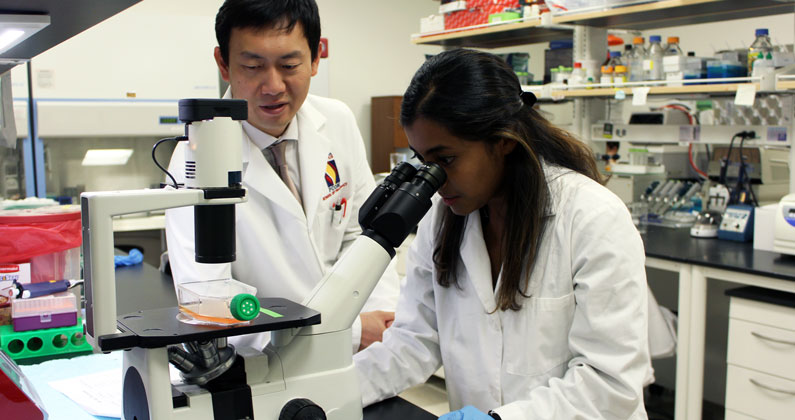 Teena John (PharmD) worked under Dr. Xinyu (Eric) Wang to study the anti-myeloma effect of certain compounds.
---
Teena John (PharmD '19) is currently a third year student in the pharmacy program at GA-PCOM. She graduated with a bachelor's in biology from the University of Florida. She hopes to pursue a career in clinical development within the pharmaceutical industry upon completing pharmacy school.
What did you study?
I worked under Xinyu (Eric) Wang, PhD, associate professor of pharmaceutical sciences, to study the anti-myeloma effect of imidazole and methyl derivatives of a synthetic oleanane triterpenoid, 2-Cyano-3,12-Dioxooleana-1,9-Dien-28-Oic Acid (CDDO). Multiple myeloma is a plasma cell disorder characterized by the proliferation of malignant plasma cells in the bone marrow. These plant-derived compounds have been studied to show pharmacologic activity towards inhibiting proliferation of various tumor cell lines. The focus of our project was to determine whether both derivatives of CDDO reduced viability and induced apoptosis in multiple myeloma cells.
What prompted you to pursue research?
I've always had an interest and curiosity in scientific research. I first got involved in the research setting as an undergraduate at the University of Florida. It was exciting being involved in an environment that was constantly developing with limitless boundaries. After starting at GA-PCOM, I knew I wanted to become involved in research throughout pharmacy school, particularly in oncology. I was led to Dr. Wang, whose focus lies in the drug discovery of new compounds with anti-cancer and anti-inflammatory properties. I was immediately drawn to his research and knew I wanted to be involved.
What experience do you have with conducting research?
While at the University of Florida, I was a research assistant for Dr. Joseph McNamera in the department of psychiatry. The research involved facilitating the Tower of London test to assess for executive functioning, specifically to detect for deficits related to planning in children. After my first year of pharmacy school, I was an R&D intern at Allergan where I was involved in assisting in research for a method development project quantitating aldehydes and ketones through HPLC analysis. In the fall of 2016, I began working for Dr. Wang at GA-PCOM in the research lab.
What were your responsibilities in the research project?
I assisted in culturing three different multiple myeloma cell lines and performing cell viability assays, exposing the cells to CDDO-Im and CDDO-Me at dosage concentrations ranging from (0-0.5μM). The cells were incubated for 24, 48 and 72 hours to measure cell viability at each time point. We then performed flow cytometric analysis which determined that apoptosis was induced by both derivatives. Our results showed that these potent compounds both inhibited growth and induced apoptosis in a dose and time-dependent manner. I had the opportunity to prepare a poster and present this research at GA-PCOM's annual Research Day in May alongside Jonathan Park and Jay Mehta.
What is the broader impact of your research?
The American Cancer Society predicts that there will be 30,280 new cases of multiple myeloma in 2017. While it is a relatively uncommon cancer, life expectancy is only around five years. Current treatment options include thalidomide, lenalidomide, bortezomib and hematopoietic stem-cell transplants. Although treatment regimens have significantly improved over the past decade, the disease remains incurable with the majority of patients relapsing after initial therapy. Even in this era of revolutionary drug development, there is still an urgent need for less toxic drugs that will achieve longer remission rates for patients. Dr. Wang's efforts in identifying new and novel therapeutic agents from natural sources to combat this aggressive malignancy is truly inspiring. I feel fortunate to have had the opportunity to work under him during my academic career.

You May Also Like:


About PCOM Georgia
Established in 2005, PCOM Georgia is a private, not-for-profit, accredited institute of higher education dedicated to the healthcare professions. The Suwanee, Georgia, campus is affiliated with Philadelphia College of Osteopathic Medicine which has a storied history as a premier osteopathic medical school. PCOM Georgia offers the doctor of osteopathic medicine degree, the doctor of pharmacy degree, the doctor of physical therapy degree, as well as graduate degrees in biomedical sciences and physician assistant studies. Emphasizing "a whole person approach to care," PCOM Georgia focuses on educational excellence, interprofessional education and service to the wider community. The campus is also home to the Georgia Osteopathic Care Center, an osteopathic manipulative medicine clinic, which is open to the public by appointment. For more information, visit pcom.edu or call 678-225-7500.
For more information, contact:
Barbara Myers
Public Relations Manager
Email: BarbaraMy@pcom.edu
Office: 678-225-7532 | Cell: 770-309-0613
Connect with PCOM Georgia