GA-PCOM Med Student to Participate in Johns Hopkins' Geriatric Research
March 23, 2016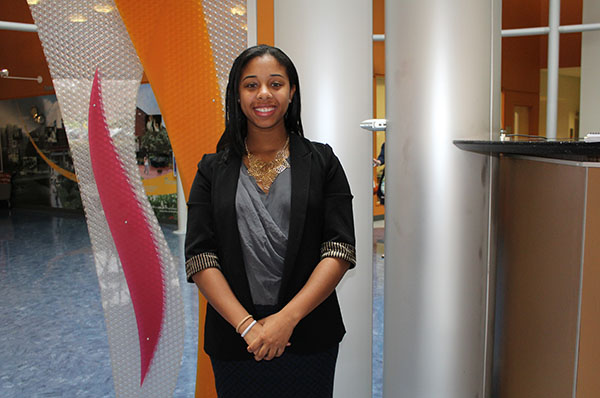 The American Federation for Aging Research (AFAR) is an organization that supports the science of healthier aging. Partnering with the National Institute on Aging (NIA), the AFAR conducts the Medical Student Training in Aging Research (MSTAR) program each year. The program awards short-term scholarships that allow students to gain experience in aging-related research and geriatrics combined with the mentorship of experts in the field.
This year, Georgia Campus – Philadelphia College of Osteopathic Medicine (GA-PCOM) student Ashley Peterson (DO '19) will participate in the 2016 MSTAR program at Johns Hopkins University School of Medicine in Baltimore, Maryland. As part of the program, Peterson will spend eight weeks, from June 3 – July 29, participating in research on geriatrics and end of life care. She will also present a poster about her research project at the Annual Meeting of the American Geriatrics Society in San Antonio Texas, May 18-20, 2017.
GA-PCOM alum Antonio Graham, DO, encouraged Peterson to apply to the program when they met during a seminar at the college. Dr. Graham participated in the MSTAR program in medical school and now works in internal medicine at Johns Hopkins.
In learning more about the MSTAR program, Peterson decided to try for the scholarship. "I was inspired to apply because of my passion for working with the older adult population," she said. "This program allows students to dig deeper into geriatric-specific problems and take a closer look at solutions and data. To make an even greater impact in geriatrics, I am interested in combining academics and research in my medical career. I believe the MSTAR program will be a great start," she added.
After speaking to former MSTAR program participants, Peterson met Brian Balin, PhD, a PCOM professor who became her mentor and MSTAR institutional sponsor. Peterson said, "[Dr. Balin] wants the best for PCOM students and is widely known in age-related and Alzheimer's research … he works with elderly populations and has experience with the MSTAR program."
Peterson remarked that she is excited to go to Baltimore, to learn and conduct research at the institute, and to interact with a patient population she enjoys. The student doctor explained that volunteering with hospices and nursing homes developed her interest in older adults and end of life care. She added that her grandmother has had a large influence on her life – "She pushed me to achieve my goals and my dreams." In the future, Peterson hopes to pursue a career in family medicine with a specialty in geriatrics.
About PCOM Georgia
Established in 2005, PCOM Georgia is a private, not-for-profit, accredited institute of higher education dedicated to the healthcare professions. The Suwanee, Georgia, campus is affiliated with Philadelphia College of Osteopathic Medicine which has a storied history as a premier osteopathic medical school. PCOM Georgia offers the doctor of osteopathic medicine degree, the doctor of pharmacy degree, the doctor of physical therapy degree, as well as graduate degrees in biomedical sciences and physician assistant studies. Emphasizing "a whole person approach to care," PCOM Georgia focuses on educational excellence, interprofessional education and service to the wider community. The campus is also home to the Georgia Osteopathic Care Center, an osteopathic manipulative medicine clinic, which is open to the public by appointment. For more information, visit pcom.edu or call 678-225-7500.
For more information, contact:
Barbara Myers
Public Relations Manager
Email: BarbaraMy@pcom.edu
Office: 678-225-7532 | Cell: 770-309-0613
Connect with PCOM Georgia