Taylor Olian (DO '19) Awarded Mason Pressly Memorial Medal
January 22, 2019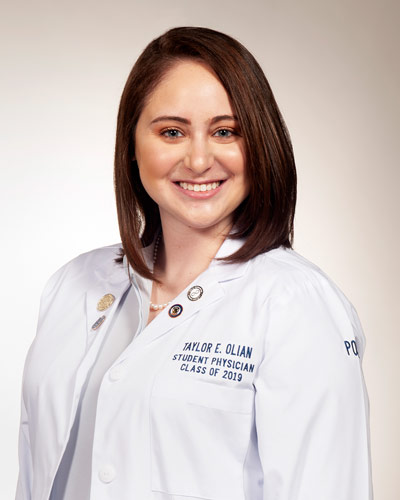 Philadelphia College of Osteopathic Medicine (PCOM) has announced Taylor E. Olian (DO '19) as the recipient of the 2019 Mason Pressly Memorial Medal. The award is presented to a student for his or her outstanding achievement and service to the College, the community and the osteopathic profession. Recipients are selected by representatives of the overall College community. Ms. Olian will receive her medal at PCOM's Founders' Day Awards Luncheon on Friday, January 25.
Ms. Olian's commitment to the College is made evident through her active involvement in various clubs and organizations on campus. An example is her role as president of PCOM's Robert Berger Pediatrics Society, through which she has increased her own and her colleagues' exposure to pediatric subspecialties and has expanded the club's educational component through presentations by alumni. She was also a member of the College's Emergency Medicine, Internal Medicine, Gastroenterology and Otolaryngology clubs, as well as its chapter of the Association of the American College of Osteopathic Family Physicians.
Ms. Olian is active as well in the Academy of Pediatrics (AAP), serving as the assistant district representative and then the district representative for District 3 (covering Pennsylvania, New Jersey, Maryland, District of Columbia, Delaware and West Virginia) to facilitate communication between the Academy and medical schools and to help plan national advocacy events. She also is a member of the leadership council of the AAP's Section on Pediatric Trainees—with 16,000 medical students, residents and fellowship trainees, the Academy's largest section—serving as its national liaison to the Section on Osteopathic Pediatricians.
In addition to her work on campus, Ms. Olian is an active volunteer in her community, logging over 400 community service hours in her four years of medical school. Since 2009, Ms. Olian has spent four days each summer at Camp AsthmaCadabra, an overnight camp designed for children with asthma between ages 7 and 13, in White Haven, Pennsylvania. She began as a counselor and subsequently joined the medical staff, and she plans to take on a leadership role in the next few years. Ms. Olian relishes the opportunity to "take a complex medical condition and be able to relate it in a way that children can understand. The goal is to have them be able to take ownership of their condition, and that's something I really pride myself on."
During summer 2018, Ms. Olian volunteered in the neonatal intensive care unit at AtlantiCare in Pomona, New Jersey. She was a baby cuddler whose charges included babies with neonatal abstinence syndrome who were going through withdrawal. She has also been a child-life services volunteer in the emergency room at Children's Hospital of Philadelphia.
Ms. Olian will receive her doctor of osteopathic medicine from PCOM in the spring. She received her undergraduate degree from Elizabethtown College in 2014 and her certificate in biomedical sciences from PCOM in 2015. Ms. Olian is originally from Hazle Township, PA and currently resides in Philadelphia, PA.

You May Also Like:


About Philadelphia College of Osteopathic Medicine
Founded in 1899, Philadelphia College of Osteopathic Medicine has trained thousands of highly competent, caring physicians, health practitioners and behavioral scientists who practice a "whole person" approach to care—treating people, not just symptoms. PCOM offers doctoral degrees in clinical psychology, osteopathic medicine, pharmacy, physical therapy and school psychology, and graduate degrees in biomedical sciences, forensic medicine, mental health counseling, organizational development and leadership, physician assistant studies, school psychology, and public health management and administration. Our students learn the importance of health promotion, research, education and service to the community. Through its community-based Healthcare Centers, PCOM provides care to medically underserved populations in inner city and rural locations. For more information, visit pcom.edu.
For more information, contact:
Orla Moloney
Public Relations and Marketing Specialist
Office: 215-871-6334 | Cell: 267-449-1360
Connect with PCOM