School Psych Partnerships Provide Learning, Training Opportunities
August 29, 2016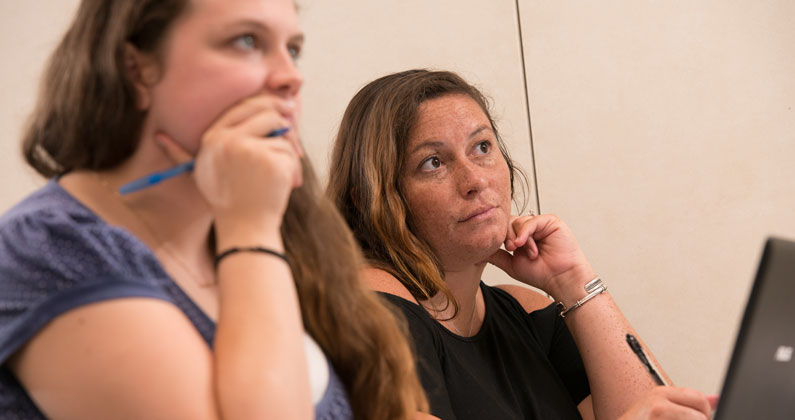 School Psychology (PsyD) students learn about neuropsychology in the schools during a recent lecture.
---
When Deanna Rumohr (PsyD '22) arrived at Olney Charter High School for the first day of her cognitive behavioral therapy practicum, she was unsure of how she would do, counseling students. "The majority of my previous work has been in assessment," she explained.
During her practicum, Ms. Rumohr says she quickly gained the confidence she needed in her counseling skills, when she was paired with two students struggling with mental health issues related to eating disorders and homelessness. Ms. Rumohr counseled the students twice a week during the 2016 spring semester.
"They were so enthusiastic about therapy—they didn't see it as a weakness but rather, a strength," she said. By the end of the semester, she says she grew to admire them. "They were so strong, with everything they were dealing with," she said, brushing a tear away. "They gave me strength. They gave me the confidence to see that I could counsel effectively. I think we helped each other."
That is exactly the type of outcome that Kathryn McKinley, EdS '08, senior director of specialized education and specialized services at ASPIRA Schools of Pennsylvania, Inc. (which oversees Olney High) wants to see. "Ideally, this would turn into a long-standing, mutually beneficial partnership, in that the doctoral students from PCOM would have an opportunity to practice learned skills in an applied setting, and Olney/ASPIRA would obtain additional, much-needed mental health support for our students," she said.
Spring 2016 was the first semester doctoral students began seeing students at Olney High, but the partnership began in 2009, after Ms. McKinley began taking practicum students and then interns under the direction of Diane Smallwood, PsyD, professor and director, professional education in School Psychology.
Yuma Tomes, PhD, professor and director, PsyD program in School Psychology, said that offering PCOM's students the opportunity to work at Olney High allows them to interact with a population they might not otherwise encounter. "We hope to provide a pipeline of healthy of healthy high school students, who become empowered to focus on aspects of their mental health, which will allow them to perform well academically," he said.
In addition to ASPIRA Schools, PCOM recently embarked on agreements with two other institutions—the Camelot at Wynnefield KAPS Program, and the Center for Autism (CFA)—to partner on training and educational opportunities.
The partnership with Camelot KAPS began in March, after Program Director Carolyn Abele noticed PCOM's digital billboard along City Ave. touting the School Psychology program. Camelot KAPS is a therapeutic school for students in grades K-7 who have demonstrated a significant need for full-time emotional support.
"Camelot's programs are largely based at the high school level, and the KAPS program one of only a few elementary school programs, so some of the policies don't necessarily fit for our students," said Ms. Abele. "I decided to reach out to PCOM to see how they could assist in measuring the evaluation and effectiveness of our programs."
Through PCOM's Pediatric Behavior and Neurodevelopmental Clinic, Jessica Kendorski, PhD, director, MS program in School Psychology—along with assistant professors Kate Tresco, PhD, and Amanda Lannie, PhD—and students in the School Psychology and Applied Behavior Analysis (ABA) programs will provide school-based behavioral support, consultation, technical assistance, assessment and intervention services, all designed to promote KAPS students' academic, behavioral and social/emotional success.
"This arrangement will allow our students to gain experience with systems-based issues and observe how we (faculty) identify those issues and provide recommendations on how to address them," says Dr. Kendorski.
As part of the agreement with CFA, which began in April, PCOM students and faculty will participate in the evaluation of CFA programming, outcomes assessment and curriculum development. Thus far, students in the ABA program, along with School Psychology faculty, have gone to CFA to observe the clinical staff there and evaluate some of their programs. Doctoral students with an interest in autism also have the opportunity to conduct dissertations there.
Reggie Candio, MS/Psy '08; EdS '11; (PsyD '22), program director at CFA, says that the partnership allows for an open dialogue around the effectiveness of their programs and areas to improve. "We get great ideas for different ways to look at treatment modalities from the PCOM faculty," he says. "We learn about different tools and other elements to consider when measuring those modalities."
Each of these partnerships brings dual benefits to both PCOM and to the institution, says Dr. Kendorski. "We provide a service to the community, while at the same time, we provide our students with the opportunity learn new skills and practice those skills in real-time."
You May Also Like:


About Philadelphia College of Osteopathic Medicine
Founded in 1899, Philadelphia College of Osteopathic Medicine has trained thousands of highly competent, caring physicians, health practitioners and behavioral scientists who practice a "whole person" approach to care—treating people, not just symptoms. PCOM offers doctoral degrees in clinical psychology, osteopathic medicine, pharmacy, physical therapy and school psychology, and graduate degrees in biomedical sciences, forensic medicine, mental health counseling, organizational development and leadership, physician assistant studies, school psychology, and public health management and administration. Our students learn the importance of health promotion, research, education and service to the community. Through its community-based Healthcare Centers, PCOM provides care to medically underserved populations in inner city and rural locations. For more information, visit pcom.edu.
For more information, contact:
Orla Moloney
Public Relations and Marketing Specialist
Office: 215-871-6334 | Cell: 267-449-1360
Connect with PCOM