Student Research Spotlight

Samuel Schadt (DO '19)
August 21, 2018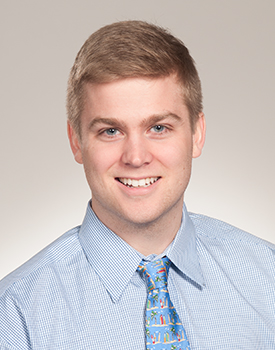 Samuel Schadt's (DO '19) research will provide insight for establishing a comprehensive user engagement site (CUES) in the Kensington neighborhood of Philadelphia to help battle the opioid epidemic.
---
Samuel Schadt (DO '19) was as an undergraduate research fellow at the Institute of Clinical Bioethics (ICB) at Saint Joseph's University (SJU) under the direction of Peter Clark, SJ, PhD. While at PCOM, Schadt has continued to assist in projects centered on health promotion and the evaluation of the opioid epidemic in Philadelphia.
What are you studying?
We have comprised an Opioid Research Team at the ICB (led by Peter Clark, S.J., PhD; Marvin Lee PhD; and Terri O'Doherty MS) that consists of three Mercy Catholic Medical Center residents (Sonul Gulati, DO; Arun Minupuri, MD; and Pavan Patel, MD), four PCOM medical students (Matt DiMeglio (DO/MBA '20); John Dubensky (DO '19); Siddardth Umapathy (DO '19); and myself) and four SJU undergraduate research fellows (Olivia Nguyen; Priscilla Rodriguez; Kevin Cooney; and Sara Lathrop). We have received a generous donation from the Dooner Family to evaluate and implement a site for helping to combat the opioid epidemic. Our research is taking a look at Insite, a Safe Injection Facility (SIF) in Vancouver, Canada.
A SIF, also known as a Comprehensive User Engagement Site (CUES), is a safe space where drug users can inject themselves while having access to a sterile environment, supplies and the ability to get medical assistance should the need arise. We are exploring the feasibility of a CUES site in Kensington, Philadelphia, as a part of a harm reduction technique modeled after the successes in Vancouver. Harm reduction is an approach focused on minimizing the negative results that go hand-in-hand with drug abuse.
What prompted you to pursue research?
Having the opportunity to contribute to medical literature provides a means of giving back to the medical community as well as becoming a part of its history. My current experience with the Opioid Research Team is unique in that it is a partnership between a University, a Medical School and a Health Care Network. I also get to work with my classmates and future colleagues which is exciting!
What experience do you have conducting research?
I have had the privilege of working with Saint Joseph's University for the past 6 years participating in research as both an undergraduate and graduate student. The project I am most proud of was the Mercy Health Promoter Model which continues to thrive today. PCOM's Latino Medical Student Association and SJU have partnered in providing preventative screening exams to patients of St. Patrick's Church, a predominantly Spanish speaking community with many undocumented and underinsured immigrants from Mexico. I have also participated in several projects with St. Luke's University Health Network in their clinical trials department and Opioid Task Force. Currently, in addition to our opioid studies, I am fortunate to be participating in a research elective with the Ocular Oncology Service at Wills Eye Hospital in Philadelphia looking at management outcomes for choroidal hemangiomas.
What were your responsibilities in this research project?
Matt, Sid, John and I have researched Insite, Canada's first supervised injection facility. The other members of the Opioid Research Team are looking at the opioid crisis in Philadelphia—planning, costs, governance and legal issues, describing the location and layout of the CUES, in addition to a medical and an ethical analysis of a CUES site in Philadelphia. I currently serve as the coordinator between team members. In addition, Matt, Sid, John and I also serve as graduate research fellows in the Institute.
What is the broader impact of your research?
Widespread education and advocacy is important for creating an informed community which shapes the mindset regarding one's approach to the opioid epidemic as a whole. In the face of this public health emergency, it is easy to first accuse those who are responsible. However, it is the vulnerable populations and ethnicities who are often accused leading to incarcerations and stigmatism. The opioid effects compounded with the incarcerations have broken individuals and their families leaving them subject to criticism and pushed to the wayside. Therefore, acknowledging that the opioid epidemic is a multi-faceted systemic issue and providing education and awareness through research is a critical component to the public understanding of the harm reduction theory and taking the necessary steps to address this crisis. Nevertheless, it is efforts such as a Comprehensive User Engagement Site that may become an effective paradigm for Philadelphia.
Recently members of the Opioid Research Team presented our poster titled, The Safe Injection Site Project for Philadelphia at the International Opioid Conference at Harvard Medical School. HBO's Vice News has also included us as a part of their upcoming documentary, "World of Hurt," which will air later this year.

You May Also Like:


About Philadelphia College of Osteopathic Medicine
Founded in 1899, Philadelphia College of Osteopathic Medicine has trained thousands of highly competent, caring physicians, health practitioners and behavioral scientists who practice a "whole person" approach to care—treating people, not just symptoms. PCOM offers doctoral degrees in clinical psychology, osteopathic medicine, pharmacy, physical therapy and school psychology, and graduate degrees in biomedical sciences, forensic medicine, mental health counseling, organizational development and leadership, physician assistant studies, school psychology, and public health management and administration. Our students learn the importance of health promotion, research, education and service to the community. Through its community-based Healthcare Centers, PCOM provides care to medically underserved populations in inner city and rural locations. For more information, visit pcom.edu.
For more information, contact:
Orla Moloney
Public Relations and Marketing Specialist
Office: 215-871-6334 | Cell: 267-449-1360
Connect with PCOM