Student Research Spotlight

Winston Hamilton (DO '20)
April 16, 2018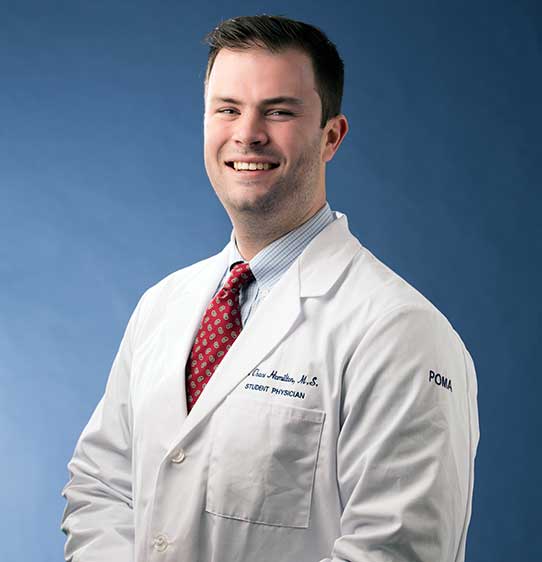 Winston ("Chase") Hamilton (DO '20) is interested in a career in anesthesiology; in addition to his studies at PCOM, Mr. Hamilton worked as a research fellow in the Department of Anesthesiology at Thomas Jefferson University. His research fellowship focused on the testing of novel insulin formations designed to enhance the absorption of insulin into the bloodstream. His mentors were Jeffrey I. Joseph, DO '83, director of the Jefferson Artificial Pancreas Center and Marc Torjman, PhD. Mr. Hamilton received an MS from Drexel University College of Medicine and a BA from Johns Hopkins University.
What did you study?
We investigated whether adding other drugs to commercial insulin will enhance the speed and consistency of insulin absorption below the skin surface. Theoretically, this drug combination will cause less inflammation and scar tissue around the catheter site than insulin alone, leading to faster and more consistent absorption of insulin over time.
What prompted you to pursue research?
The summer after the first year of medical school is the last designated "summer" of our lives and a unique time to–quite literally– do whatever you want. I knew I wanted to spend that time involved in medical research in some capacity, specifically as it related to anesthesia. I learned about the Foundation for Anesthesia Education and Research's (FAER) Medical Student Anesthesia Research Fellowship Program (MSARF)—which funded my research fellowship—and it seemed like the perfect opportunity.
Research underlies and dictates the practice of medicine. No matter what specialty I go into, I want to be active in the procurement of new medical knowledge that leads to the advancement of patient care. I wanted to see what research was like from a clinician's perspective, as this is something I am interested in pursuing throughout my medical career.
What experience do you have conducting research?
The FAER MSARF program consisted of eight weeks of focused research related to anesthesiology. I was placed with a dedicated mentor—Dr. Joseph—who provided training in research techniques and scientific methods. I began at the lab prior to the initiation of the study, so I was able to participate in the work from beginning to its conclusion. This was a great experience, as I got to see the progression of the study through three rounds of experiments. I witnessed the amount of expertise required not only to run a translational experiment but to prepare for it months in advance.
Dr. Joseph also emphasized the importance of attaining strong medical knowledge and clinical skills in conducting sound research. He took the time to lecture us on topics relating to the project and always found time for teaching-moments—even in the middle of an experiment. In this way, my research experience was also a transformative educational experience.
What were your responsibilities in your research project?
We compared a new insulin formulation designed to enhance the rate and consistency of insulin absorption from the subcutaneous tissue into the bloodstream to a commercial rapid-acting insulin routinely used by people with type 1 diabetes. Insulin infusion catheters were inserted into the subcutaneous fatty tissue of the abdomen and connected to an insulin pump. Insulin was continuously infused into the subcutaneous tissue throughout each 8-day experiment in one catheter and a non-insulin formulation was infused through a second catheter as a control.
Every other day, a solution of glucose was infused into an intravenous catheter and the rate of infusion adjusted upward/downward to keep the blood glucose concentration within a narrow range. The amount of IV glucose infused over time provided an objective measurement of the glucose-lowering (pharmacodynamics) effect of the insulin.
We also sample blood every 5 minutes to measure the concentration of insulin in plasma over time to calculate the pharmacokinetic profile—essentially, how a drug is metabolized by the body. Each study subject was studied for 8 days using commercial insulin, new insulin formulation at a low dose and new insulin formulation at a higher dose, to compare the pharmacokinetic and pharmacodynamics, using each subject as their own control.
I was intimately involved in all levels of the project, from set-up and break down of each study, to the collection and analysis of samples, to the operation of various devices necessary for running the study. In addition, I helped analyze micro-CT images of a bolus of x-ray contrast agent and insulin infused into the subcutaneous tissue, to determine the pattern of distribution, volume and surface area of insulin in contact with healthy subcutaneous tissue.
What is the broader impact of your research?
Up to 40 percent of type 1 diabetics use insulin and a continuous subcutaneous insulin infusion catheter (CSII) to regulate their blood glucose levels. Insulin pump therapy has been shown to improve blood glucose control and lifestyle flexibility compared to multiple-daily insulin injections. A pump allows the user to set a base insulin rate and then enter a larger dosage of insulin with each meal.
However, this technique comes with several issues. If a catheter is used for more than three days, it can cause inflammation and build-up of scar tissue, which can inhibit the flow of insulin, causing varying degrees of insulin absorption. Inflammation at the catheter site can also trigger an immune response, which can metabolize or degrade the insulin. Further, some insulin infused into the subcutaneous tissue can also leak back onto the skin surface, leading to hyperglycemia (high blood glucose level) and diabetic keto-acidosis. Slow and variable absorption can also lead a mismatch between the absorption of food after a meal and the glucose-lowering effect of insulin, leading to hypoglycemia (low blood glucose level). Severe hypoglycemia can cause a seizure, unconsciousness, cardiac arrhythmias and sudden death.
The research project in which I participated sought to evaluate whether the new insulin formulation will decrease the formation of inflammatory tissue around the CSII tube, increase local capillary blood flow and increase flow into local lymph vessels. The goal is to make insulin absorption faster and more consistent from dose-to-dose and increase the longevity of a functioning CSII catheter (from 2-3 days to 7 days). We hope this research will lead to improved blood glucose control and reduce the personal burden of insulin therapy, improving the quality of life for people with type 1 diabetes.
You May Also Like:


About Philadelphia College of Osteopathic Medicine
Founded in 1899, Philadelphia College of Osteopathic Medicine has trained thousands of highly competent, caring physicians, health practitioners and behavioral scientists who practice a "whole person" approach to care—treating people, not just symptoms. PCOM offers doctoral degrees in clinical psychology, osteopathic medicine, pharmacy, physical therapy and school psychology, and graduate degrees in biomedical sciences, forensic medicine, mental health counseling, organizational development and leadership, physician assistant studies, school psychology, and public health management and administration. Our students learn the importance of health promotion, research, education and service to the community. Through its community-based Healthcare Centers, PCOM provides care to medically underserved populations in inner city and rural locations. For more information, visit pcom.edu.
For more information, contact:
Orla Moloney
Public Relations and Marketing Specialist
Office: 215-871-6334 | Cell: 267-449-1360
Connect with PCOM