Student Research Spotlight

Nicole McAndrew (DO '20)
June 18, 2018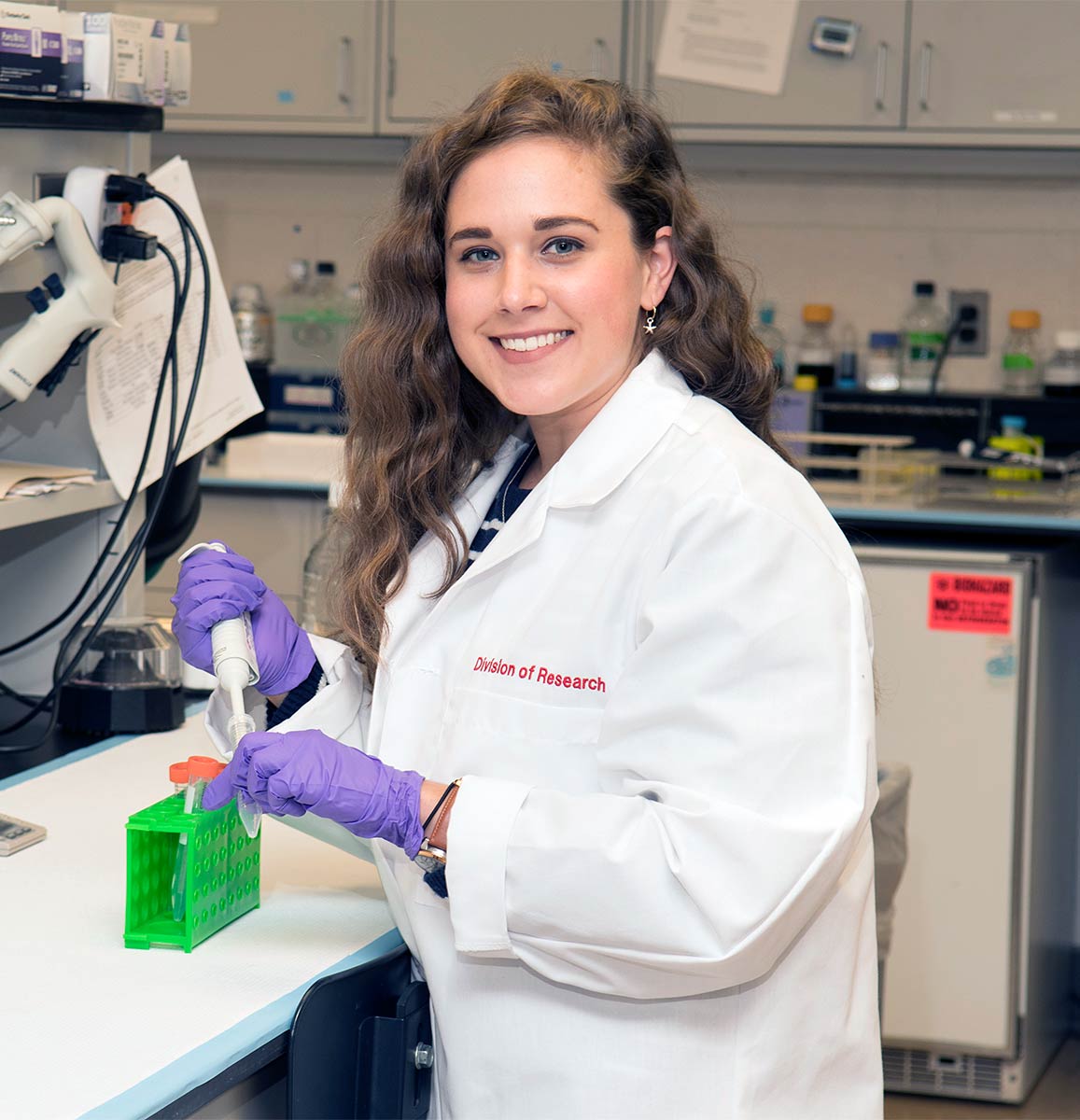 Nicole McAndrew's (DO '20) research hopes to shed more light on neuroblastoma, a little understood form of pediatric cancer.
---
Neuroblastoma largely affects immature or developing cells, most often found in infants and young children. It is rare in children older than 10 years. There are roughly 800 new cases of neuroblastoma in the US each year, and its cause remains largely unknown. Nicole McAndrew (DO '20) is studying cellular mechanisms associated with this form of cancer, in hopes of someday developing an effective therapeutic.
What are you studying?
I am studying a specific type of cancer called Neuroblastoma, which is the most common solid tumor in infants, accounting for 6 percent of all childhood cancers and 15 percent of all tumor deaths in children. Neuroblastoma arises from immature nerve cells in many areas of the body, most commonly being the adrenal glands that sit on top of the kidneys.
These immature cells can differentiate into neuron-like cells after being exposed to many different exogenous agents. My research looked into neuroblastoma cells' sensitivity to a specific Vitamin A derivative called Retinoic Acid. The study looked at the effects of nanomolar concentrations of retinoic acid in two different neuronal cell lines.
Each cell line was treated with retinoic acid at many different concentrations for up to 6 days. Morphology changes were quantified, protein expression and localization were observed using immunocytochemistry, and calcium imaging using pharmacological agents was used to identify neuron-like activity.
The results of these experiments showed that one specific cell line developed neuronal characteristics in response to the retinoic acid treatment. Some noted changes were the development of neurite processes and the expression of neurofilament-200, which provides structural support for the axon. There was also increased responsiveness to acetylcholine and epinephrine, and decreased responsiveness to nicotine. Essentially, this means that the process for these cells' differentiation into specific neuronal phenotypes was ultimately driven by Retinoic acid.
Other important results showed that retinoic acid treatment increased nuclear trafficking of a protein CRABP2, which aids in the transport of retinoic acid to the nucleus and is associated with cell signaling pathways related to differentiation.
Overall, the results of the study showed that specific nanomolar concentrations of retinoic acid could induce structural as well as functional neuronal changes in specific neuroblastoma cell lines using CRABP2.
What prompted you to pursue research?
I started to become interested in research while taking a cellular biology course as an undergraduate at the University of Scranton. At the end of the term I was required to complete my own research project. This small class assignment prompted me to join my teacher's lab, design and conduct my own research project, and expand on my ideas that I had in that class. I liked the challenge and the critical thinking that came along with research over the past few years, but I also loved the freedom that the lab gave me. It is a great feeling to see how far my research has come.
What experience do you have conducting research?
Since 2013 I have conducted my neurobiology research with my mentor, George Gomez, PhD, associate professor, biology, at the University of Scranton.
What were your responsibilities in your research project?
I developed and conducted this research project, along with a fellow classmate at Scranton, Emily Harasym and Dr. Gomez. Some of my responsibilities in the lab consisted of cell culturing, retinoic acid treatment, as well as immunocytochemistry and immunofluorescence microscopy. I also helped in writing and editing our paper for publication. I have prepared and presented posters of this research at the American Society for Cell Biology conferences in Philadelphia and San Diego.
What is the broader impact of your research?
The cause of neuroblastoma is not clearly understood. The majority of cases are sporadic and non-familial and most are very aggressive and therefore don't clinically manifest themselves until they have already spread to other parts of the body. This makes it very difficult for an early and accurate diagnosis. I believe that this study can provide insight into the truly complex mechanism of cancer proliferation, neuronal development, and therefore provide implications for chemotherapeutic design for the near future.

You May Also Like:


About Philadelphia College of Osteopathic Medicine
Founded in 1899, Philadelphia College of Osteopathic Medicine has trained thousands of highly competent, caring physicians, health practitioners and behavioral scientists who practice a "whole person" approach to care—treating people, not just symptoms. PCOM offers doctoral degrees in clinical psychology, osteopathic medicine, pharmacy, physical therapy and school psychology, and graduate degrees in biomedical sciences, forensic medicine, mental health counseling, organizational development and leadership, physician assistant studies, school psychology, and public health management and administration. Our students learn the importance of health promotion, research, education and service to the community. Through its community-based Healthcare Centers, PCOM provides care to medically underserved populations in inner city and rural locations. For more information, visit pcom.edu.
For more information, contact:
Orla Moloney
Public Relations and Marketing Specialist
Office: 215-871-6334 | Cell: 267-449-1360
Connect with PCOM